Dallas Cowboys owner Jerry Jones said the Colin Kaepernick workout wasn't about football and was more of a circus.
Over the weekend, Kaepernick was scheduled to attend an NFL-held workout in Atlanta, but triggered more controversy when he didn't attend and held his own at a nearby high school field.
Jones was asked by a local Dallas radio station about whether the workout was a circus, and he mostly agreed.
"I think so," Jones said, according to Yahoo Sports. He added: "That situation from the get-go probably had a lot more that wasn't about football involved in it, and consequently we got the results of that dynamic."
Jones, 77, is one of the few NFL owners to have offered a public remark about it. The Cowboys didn't attend the event, according to the Dallas Morning News.
He suggested that the media spectacle surrounding the workout distracted from the ability of NFL teams to perform proper scouting of Kaepernick, who hasn't played in nearly three years.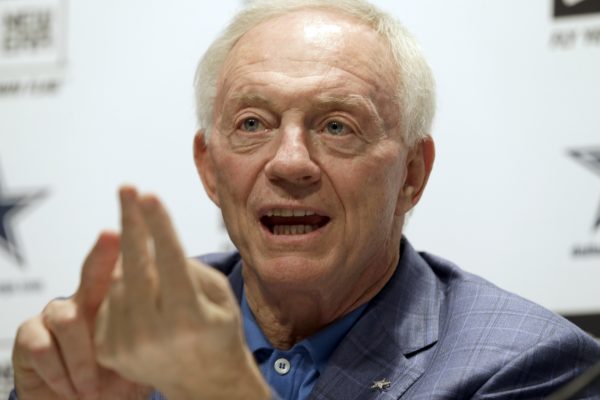 "I think it's unfortunate that you can't just zero in on the business at hand, and that is evaluating a player that might or might not help you win a football game or move the chains within a football game," Jones continued, according to Yahoo.
Kaepernick, a former quarterback for the San Francisco 49ers, perhaps best known for kneeling during the national anthem before games, said he did it to protest against police brutality and racism. A number of fans, however, threatened boycotts and expressed displeasure over the move.
Previously, Jones has stated that Cowboys players would have to stand for the playing of the national anthem.
"There's one way to do it right in our mind, and that's [going] toes on the line and stand for the anthem," Jones previously said, CBS Sports reported.
Recently, the Cowboys traded to acquire defensive end Michael Bennett, who has protested during anthems. According to Yahoo, he has stood since joining the Cowboys.
In the interview, Jones said that he didn't send a representative as the team is pleased with starting quarterback Dak Prescott.
"We're very fortunate right now that our quarterbacking is real good," he remarked.
Following the workout, Kaepernick told reporters that the league and all 32 teams need to make a move now.
"I've been ready for three years, I've been denied for three years," the 31-year-old said, reported ESPN. "We all know why I came out here, showed it today in front of everybody. We have nothing to hide. So we're waiting for the 32 owners, 32 teams, Roger Goodell, all of them stop running. Stop running from the truth. Stop running from the people. We're out here, we're ready to play. We're ready to go anywhere. My agent, Jeff Nalley, is ready to talk to any team. I'll interview with any team at any time. I've been ready."
Regarding the move of the workout to another location, the NFL said it was disappointed but noted that it wouldn't threaten his future employment opportunities.
"We are disappointed that Colin did not appear for his workout," the NFL said in a statement, reported ABC News. "He informed us of that decision at 2:30 p.m. today along with the public."
"All 32 clubs, their head coaches, general managers, and other personnel executives would have received video footage of the interview and workout, shot by the Atlanta Falcons video crew," the NFL added in a statement, CNN reported. Only a fraction of those teams attended his workout at the new venue.