Dallas Cowboys defensive end Robert Quinn said the media has twisted NFL players' national anthem protests around.
He was asked as to whether he would protest during the playing of the national anthem before lecturing reporters on why players began protesting.
"Why did the protest start?" Quinn asked the reporters, according to The Dallas Morning News. "Then what did you all turn it into? I'm asking you. You're media, right? You all took the message and made it into what you all wanted to make it. Now, I could sit there and beat this over the head, beat this over the head."
He added: "Again, I'm not going back writing the story. At the end of the day, y'all know what's being done. Y'all see what's being done about it. You want to know what I'm about, you come speak to me in my personal space, not at work. And you'll see how I really roll."
Quinn didn't elaborate on the actual message of the protest or explain how the media twisted it around.
He is among a handful of players who protest during the playing of "The Star-Spangled Banner."
In December of last year, Quinn also attacked the media for a different reason: they weren't covering his anthem protests.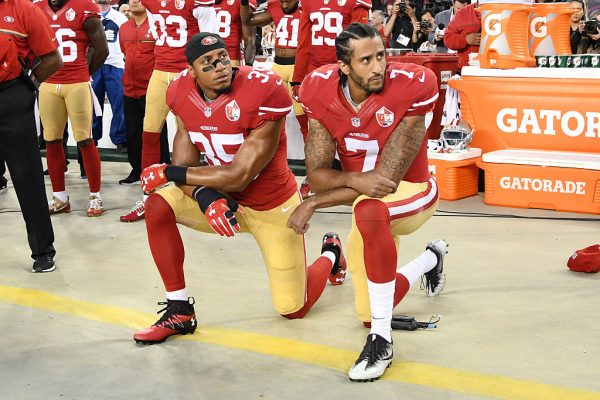 "Y'all ignore it. Because when I gave my first message on trying to bring unity, y'all swept it under the rug. It's not me. When you don't give a problematic story, y'all just ran away," he said at the time, reported the Miami Herald.
He said in 2018 during a Sports Illustrated profile that he will continue to protest until "they get rid of me," without elaborating.
Quinn, Houston Texans wide receiver Kenny Stills, Miami Dolphins wide receiver Albert Wilson, and Carolina Panthers defensive back Eric Reid are among the few players who protest during the playing of the anthem before games.
The trend was started by out-of-work quarterback Colin Kaepernick in 2016 during preseason games. Kaepernick and the other players have said that the protest was to raise awareness about police brutality.
Kaepernick's Agent Reaches Out
Kaepernick, meanwhile, has reportedly reached out to three teams amid a slew of high-profile quarterback injuries.
Pittsburgh Steelers quarterback Ben Roethlisberger, New Orleans Saints quarterback Drew Brees, and Jacksonville Jaguars quarterback Nick Foles were injured during the first two games of the season. Roethlisberger is expected to be out for the rest of the season, and Brees is expected to miss a number of games.
Meanwhile, there are reports that Carolina Panthers quarterback Cam Newton may be out with a foot injury, and New York Jets quarterback Sam Darnold is expected to miss a number of games due to mononucleosis, according to reports.
CBS Sports reported that three teams were contacted by the agent. It's not clear what teams those are.
Before and during his anthem protest, Kaepernick was benched twice by two San Francisco 49ers coaches for poor play. During the 2012-2013 season, Kaepernick helped lead his team to a Super Bowl loss against the Baltimore Ravens.
In March 2017, he officially opted out of his contract with the 49ers and became a free agent. He hasn't played a snap since the 2016-2017 season.
Last year, Kaepernick and former teammate Eric Reid reached a confidential settlement with the NFL after alleging that the league tried to prevent him from playing.