A suspect in five Louisiana shooting deaths has been arrested in Virginia, said officials on Jan. 27.
Dakota Theriot was captured in Richmond County, Virginia, said a statement from Livingston Parish Sheriff's Office and the Ascension Parish Sheriff's Office.
Theriot, 21, was taken into custody after a night on the run following his being named as the suspect in the slayings of his girlfriend, his mother, his father, his girlfriend's father, and her brother. The shootings took place in two separate incidents near Baton Rouge, Louisiana.
Elizabeth and Keith Theriot were at home when the younger Theriot allegedly shot and killed them, Ascension Parish Sheriff Bobby Webre said.
When officials arrived on the scene, his parents, who were still alive, told officials that his son shot them, USA Today reported. His parents would later die at a nearby hospital.
"He will be transported back to Ascension Parish at a later date and booked on two counts of first-degree murder, home invasion, and illegal use of weapons," the Ascension Parish Sheriff's Office said in a statement.
The officials added, "Sheriff Webre would like to thank our law enforcement partners at the Livingston Parish Sheriff's Office, Greater Baton Rouge Crime Stoppers, the Louisiana State Police Fugitive Apprehension Task Force, and other agencies who assisted during this investigation."
Dakota lived briefly with his parents, but they told him to leave and not come back, Webre said.
The other three victims were identified as Billy Ernest, 43; his son, Tanner, 17; and daughter Summer, 20, in Livingston Parish, USA Today reported.
Livingston Parish Sheriff Jason Ard said Theriot was in a relationship with Summer Ernest.
Crystal DeYoung, Billy Ernest's sister, said they had just started dating.
SUSPECT ON THE RUN: Authorities believe a man accused of killing his parents and three others is heading to Mississippi and is considered armed and dangerous. >> http://bit.ly/2Tg3Cyp

Posted by WAFB Channel 9 on Saturday, January 26, 2019
"My family met him last weekend at a birthday party and didn't get good vibes from him," DeYoung was quoted by USA Today as saying. "My mom is a good judge of character and she just thought he was not good."
According to CNN, Theriot was also living with the Ernests for several weeks, but they also told him to leave and not return.
Following the shooting, a 7-year-old and 1-year-old child were found in the Ernests' home, but they were not harmed. They're now with their mother, officials told the news network.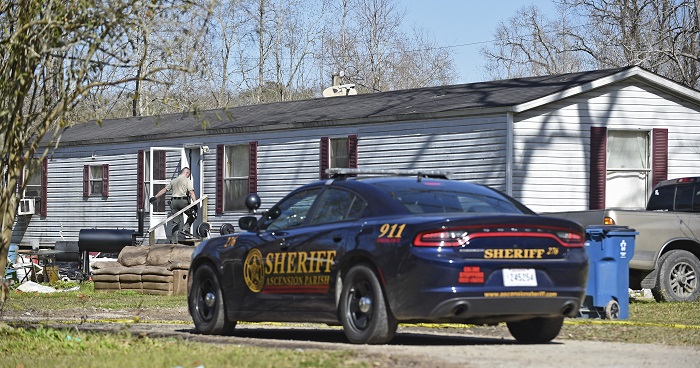 Officials think the shootings stemmed from a "boyfriend [and] girlfriend type of dispute," according to WAFB.
"This is probably one of the worst domestic violence incidents I've seen in quite a while," Webre told station. "For a young man to walk into a bedroom and kill his mother and his father, and then kill friends in Livingston that he had a connection with."
"We do not have a motive," noted Ard, NPR reported. "There is no red flags, no sign of anything."
There were no signs that Theriot would commit such an act. He had no other run-ins with the law other than a drug paraphernalia charge, officials said, CNN reported.
Prior to his arrest, Webre warned: "I would not approach this vehicle. We feel no doubt that Dakota is going to be armed and dangerous and we need to bring him to justice really quick," reported The Associated Press.
Webre also said they believe the suspect is heading east and that there was no reason to think he was now targeting someone else but warned that because he's armed and dangerous, "Anybody he comes into contact with could be a target."