A single father decided to take his 6-year-old daughter out for dinner.
Unbeknownst to them, a pair was "spying" on them.
Later, they left the father a letter that read:
"Hi there!
Sorry to spy, but my husband and I saw you out with your little date and were so impressed with what a great Dad you are.
From two adults who grew up without dads, it's so important to have a male role model at a young age.
Keep up the good work Dad!
Dinner is on us!"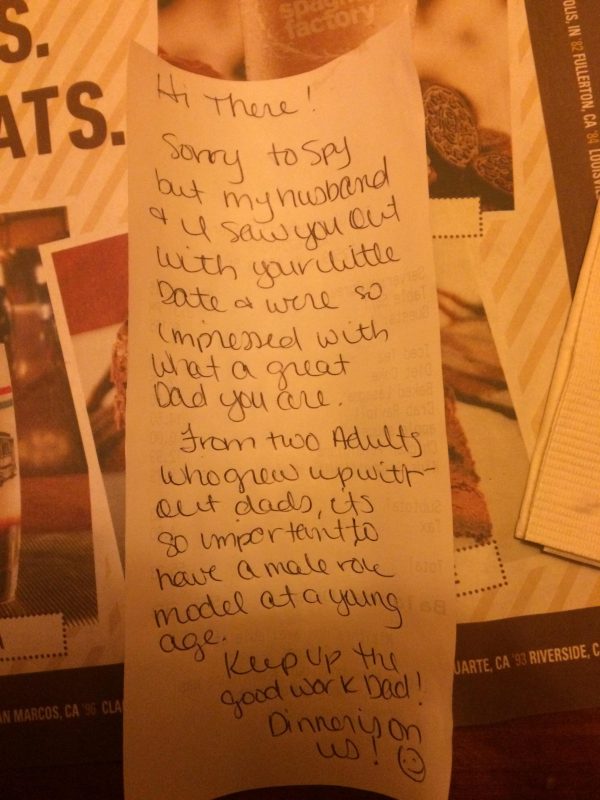 The father, who hasn't been named, revealed that he is, in fact, a single parent.
"As a single dad, I took my six year old daughter out to valentines dinner tonight when this happened. I wont lie, I teared up at the table. So, thank you random strangers. Thank you," he wrote on Imgur.
The post was met with praise for the man.
"So important. So damn important. Her future expectations are set on these memories. You are the best," said one person on Imgur.
Wrote another, "Thats awesome! Good on them and good on you 🙂 My dad is my hero, she will always remember these moments with you."
Said another person, "This made me tear reading it, because my son's father barely comes to see him anymore. It makes me happy to know men like you exist."
Fatherhood Statistics
According to Fathers.com, "As supported by the data below, children from fatherless homes are more likely to be poor, become involved in drug and alcohol abuse, drop out of school, and suffer from health and emotional problems. Boys are more likely to become involved in crime, and girls are more likely to become pregnant as teens."
And meanwhile, according to the National Fatherhood Initiative, some 20 million children in the United States live without a father in the home. That's more than one in four children.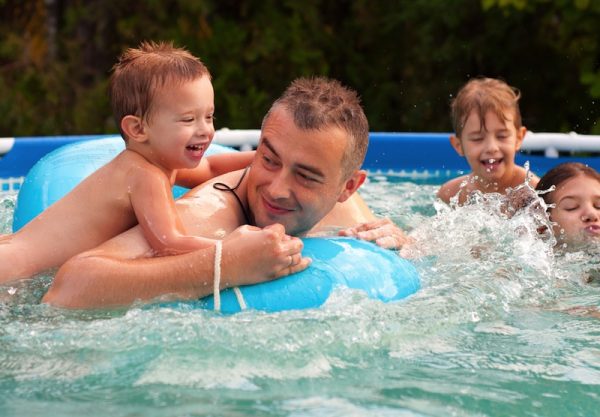 "Children in father-absent homes are almost four times more likely to be poor. In 2011, 12 percent of children in married-couple families were living in poverty, compared to 44 percent of children in mother-only families," says Fathers.com. "Children living in female headed families with no spouse present had a poverty rate of 47.6 percent, over 4 times the rate in married-couple families."
Meanwhile, the group noted a higher instance of drug and alcohol abuse.
What's more, "Adolescents living in intact families are less likely to engage in delinquency than their peers living in non-intact families. Compared to peers in intact families, adolescents in single-parent families and stepfamilies were more likely to engage in delinquency. This relationship appeared to be operating through differences in family processes—parental involvement, supervision, monitoring, and parentchild closeness—between intact and non-intact families."