A father took extreme measures to punish his son, who he claimed was bullying other students.
However, after Timothy Robenhorst, of Wisconsin, brought his son's punishment to social media, he got criticism.
According to the Daily Mail, Robenhorst said his son was bullying a classmate, prompting him to force his son to complete a tough workout, gardening duty, and instructions to apologize.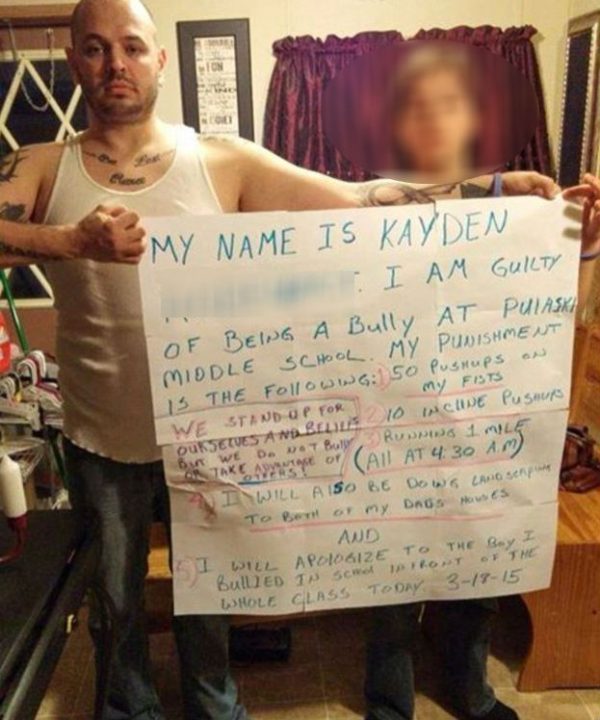 Kayden had to get up at 4:30 a.m. and do 50 push-ups on his fists. The boy then has to do ten incline push-ups before running a mile, the outlet reported.
The boy then had to do landscaping work at two houses that his father apparently owns.
Kayde was also forced to apologize to his classmate in front of the entire class.
Robenhorst then posed for a photograph (see above) with a poster that detailed his punishment.
The following text was also included with the photo: "This is what happens when dad finds out you are being a bully at school. My golden rule is you don't start fights or touch anyone unless they lay hands on you first. Feel free to tell Kayden how wrong it is to be a bully or share stories to help him understand the effects of these actions on the victoms. DO NOT ATTACK MY SON THIS IS TO BE A POSITIVE ACTION NOT NEGATIVE. *******PLEASE FEEL FREE TO SHARE THIS AS WELL TO HELP STOP THIS FROM HAPPENING OTHER PLACES AS WELL! THANK YOU!"
According to the Mail, the boy had to upload the same photo on his Facebook page and use it as his profile picture.
The move drew praise and criticism.
One commenter opined: "Now this is what I call proper parenting. Parents can't control everything their children do but having consequences to the wrongs they do is the way to go. I wish more parents did this."
Added one: "So surprised at all the comments on here praising the father for his 'good parenting skills,' this kid obviously gets his bullying behavior from his father!"
Another said, "Dad sounds like a great role model. Hopefully others will follow his example. So much bullying in schools now." But one person responded with: "Dad sous like a horrible role model. Hopefully none will follow his example. So much bullying in the homes now."
But a number of other people said that posting the photo on social media might also be a form of bullying itself.
Other details about the matter are not clear.
Anti-Bullying Group Lends Support to Boy Named Trump
An 11-year-old boy who was bullied because of his last name was honored by an anti-bullying group for his courage in the face of being tormented.
Joshua Trump, 11, was bullied so severely after Donald Trump first announced his plans to run for the White House in June 2015 that his mother is thinking of changing his last name to that of his stepfather.
The years-long bullying prompted Teach Anti Bullying, a national nonprofit based in Pennsylvania, to award Joshua their Anti-Bullying Medal of Courage.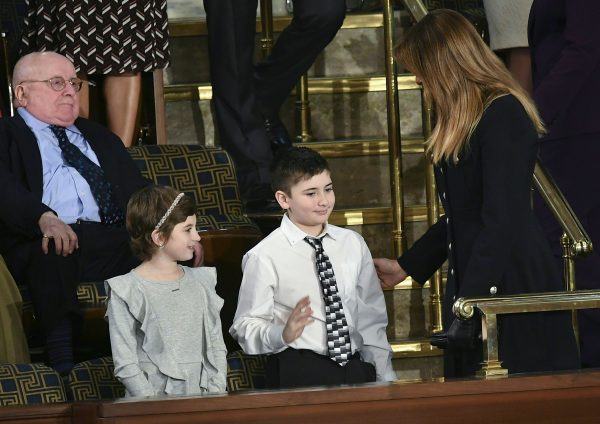 A ceremony was held at his home in Delaware. Pictures show the founder of the nonprofit holding a plaque and presenting it to Trump.
Teach Anti Bullying said they wanted to reward his strength in the face of the torment.
"His story, while tragic over its content, provides greater awareness to many, as he now becomes a role model over the fact that you are who you are," Claudio Cerullo, founder of Teach Anti Bullying, said in a statement.
"And no one should have to change over the ridicule of your name."
Cerullo urged Joshua's parents not to change his name because of the bullying and said that he learned many students who bullied the middle schooler have apologized for their actions.