Czechs Cautiously Optimistic After Crackdown on Corruption
Former minister of the interior explains corruption from its roots
July 14, 2013 3:42 pm Last Updated: July 14, 2013 3:43 pm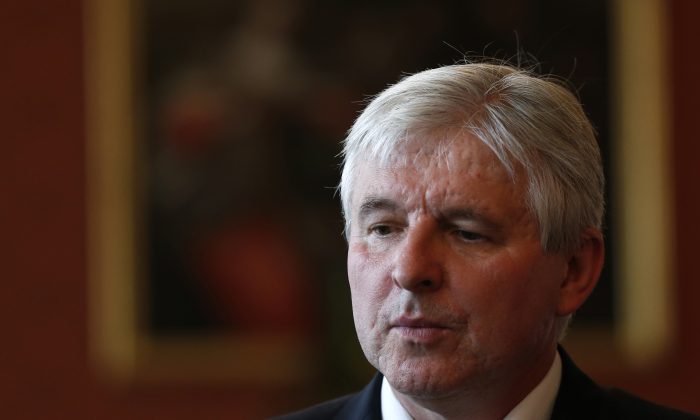 PRAGUE—Corruption charges against high-level government officials in Czech Republic recently caused some international embarrassment—but at home it seems the public has a new hope that justice prevails. 
The Czech cabinet dissolved in June after then-Prime Minister Petr Necas resigned over corruption charges against his chief of staff Jana Nagyova. Another seven high-profile officials were arrested, including the chief of military intelligence and two former members of parliament.
While the news might have been a shock abroad, it came as no surprise to the Czech people for whom a general dissatisfaction with corruption at all levels of government has long been quite strong.
Stepan Rattay from the "Corruption-less" initiative under the nongovernmental organization Oziveni, said the crackdown is cause for cautious optimism. 
"As soon as there's a precedent of successful police action, it certainly gives people some confidence that the rules are working," he said. 
And the truth is, Czechs could really use some confidence in the system.
Corruption-less focuses more on the mid- and lower-levels of government. "We feel there's still a greater chance to influence those people," Rattay said. "The high-level politicians actually get recruited there," he added. 
But the reality is harsh. "We encounter good practices, but the bad ones are prevalent," he said.
So, it wasn't a surprise to the Czechs that the high-level officials were involved in corruption, but it was a surprise the police actually arrested them. Behind the arrests was a joint effort by honest officials, police investigators, and anti-corruption organizations. 
That's the happy ending. The story as former minister of the interior (2010–2011) Radek John tells it, begins with the the Velvet Revolution.
Young Democracy and 'Tentacles of the Corruption
After the Velvet Revolution and fall of communism in 1989, there was an elated atmosphere in Czech society.
Radek John was a successful investigative journalist at the time. He described what it was like: "We believed the people who went into politics [then] really wanted to do well. And maybe they did—at first." 
Soon after the Velvet Revolution, the political parties realized they needed money for election campaigns, John said. So it started.
They gave government contracts in exchange for campaign donations. "A few million here, a few million there," John said, "but then they wanted more—not only for the party, but for themselves as well. And before long they did it with billions instead of millions."
"The problem was, we noticed it too late," John said, adding that after a while "the tentacles of corruption grew too thick" to sever. 
John later had first-hand experience with government workings as minister of the interior from 2010–2011. John promised to fight corruption. After nine months in office, however, he was dismissed due to disagreements with then-Prime Minister Necas.
The Way Out
He described the system in which the government had a tight reign on police operations: Every police investigation and public prosecution case had to be reported to the police chief or supreme state attorney, who would in turn report to the government. 
Several corruption cases were nipped in the bud, and the reputation of the police and the state attorney's office suffered as a result, John explained. 
"So what we managed to do was to change the chief of police and the supreme state attorney," John said. "The new people immediately changed this rule." Once the system was decentralized, police investigators were free to investigate corruption cases without high-level officials being alerted to the fact. 
"You have to realize there are many police detectives and public prosecutors who want to do a good job. When they go to a bar and their friends are telling them, 'Why don't you put somebody behind bars? There's corruption everywhere!' they felt bad and they were angry. They also wanted to do something about it," John said. 
Rattay agrees: "I really think some fresh air got in. And I hope we also contributed."
The nongovernmental organizations certainly had a hand in it. Besides international organizations, such as Transparency International, several Czech anti-corruption organizations worked to raise awareness.
Anti-Corruption Endowment
Perhaps the most prominent example is the Anti-Corruption Endowment, a nongovernmental organization set up by Czech billionaire Karel Janecek. With support of well-known businesspeople and even celebrities, the Endowment was able to employ top analysts and investigators, including former chief of military intelligence Karel Randak.
It also provides funding to Czechs trying to fight corruption—by paying their legal bills, for example—and every year gives out tens of thousands of dollars as "whistle-blower awards."
With only a few years since its founding, the organization has already provided police with leads on a number of corruption cases. Its legal action against Jaromir Drabek for misuse of authority even led to his resignation as minister of Labor and Social Affairs in 2012.
Both Corruption-less and the Anti-Corruption Endowment emphasize the solution must be reached on the moral level. 
The last sentence of the Endowment's mission statement reads, "Corrupt elements will come to grief if there are more people of character and determination."
Corruption-less's Rattay said: "We have to serve as watch-dog, we have to ask for information, we have to press charges, but we have to work on the moral level as well. We have to get the morality back in the education system."