The speaker of the Czech Senate, Milos Vystrcil, says that his visit to Taiwan has been approved in a resolution and that the Czech Republic cannot be a lackey of China, referring to a threatening letter sent by the Chinese Embassy that warned his late predecessor to cancel his planned visit to Taiwan.
The Czech Senate passed a resolution on May 20 criticizing the Chinese regime for the Jan. 10 letter it sent to the country's second-highest public official, former Senate Speaker Jaroslav Kubera, with regard to his upcoming visit to Taiwan. The resolution condemned the threatening tone of the letter, which stated that Kubera's trip to Taiwan would create "complications for Czech companies trading with China."
"This communication has crossed the line to interference in the internal affairs of the Czech Republic and is in conflict with the declaration of the Ministries of Foreign Affairs of the Czech Republic and the People's Republic of China from 2014," the resolution said.
The visits of Czech parliamentary delegations to Taiwan are "in line with the long-term foreign policy interests of the Czech Republic," and the Czech Senate supports the Senate speaker's visit accompanied by a business delegation, it added.
The resolution was adopted with 50 votes in favor, while one senator voted against it and one abstained.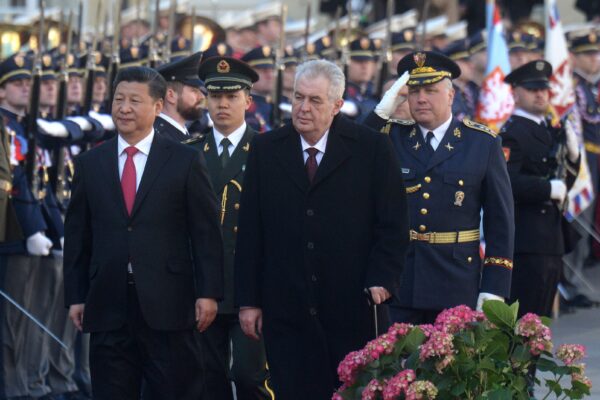 Vystrcil told Radio Prague International that Czech President Milos Zeman told him in a meeting on May 19 that a mission to Taiwan wouldn't contribute to the Czech economy.
Zeman is an advocate of closer economic and political ties with the Chinese Communist Party (CCP), according to Sinologist Martin Hala from Charles University in Prague.

Vystrcil also told Czech newspaper Jihlavsky denik that Zeman said he had warned Chinese officials against telling Czechs what they could or couldn't do, as it would be "counterproductive, as it hurts mutual cooperation." However, the Czech President's warning only intensified Chinese officials' aggressiveness and their interference, Vystrcil said.
Chinese officials "dictate whether I can take a picture with the Taiwanese flag," whether he can attend a ceremony when Taiwan presents a gift to the Czech Republic, and they "tell the director of my office whether or not to go on TV," Vystrcil told the newspaper. They even told him not to congratulate the elected President of Taiwan on her inauguration, he said.
After a review of the government's response to the Chinese Embassy's letter, Vystrcil said the Senate "took a clear position" that the official reaction had been "lengthy, insufficiently vigorous, and not very confident."
"This means, first, that we find ourselves in the position of a lackey because if you do not respond strong enough, your partner—if you can still talk about a partner in this case—considers you a subordinate," Vystrcil said. "Secondly, the sovereignty, originality, and independence of the Czech Republic are weakened, because you admit that its policies can be influenced by the powers with similar threats.
"In this case, it is the People's Republic of China, a power that has a totalitarian character."
Vystrcil added that he was convinced the letter had interfered in the internal affairs of the Czech Republic and that Czechia should have responded to it "with a note or a clear statement."
Sudden Death of Former Speaker

Kubera died from a heart attack at the age of 72 on Jan. 20, just three days after he and his wife returned home from a "tense" Lunar New Year banquet at the Chinese Embassy in the Czech Republic. He wasn't known to be suffering from a serious illness at the time of his death.
More than three months after his death, Kubera's widow, Vera Kuberova, and his daughter, Vendula Vinsova, told Czech media that they believe the threats that Kubera was receiving from the CCP to deter him from visiting Taiwan had contributed to his death.
His wife said in an April 26 interview with Czech television that they had discovered two letters in Kubera's suitcase—one from the Chinese Embassy and one from the Czech president's office.
A Jan. 10 letter was from the Chinese Embassy addressed to the Czech president's office. It warned that if Kubera followed through with plans to visit the autonomous island of Taiwan, Czech companies with operations in China would "pay."
"I read it and I was afraid," his widow said. "It seemed quite threatening to me."
The letter had a stamp of receipt from the presidential office and was handed to Kubera by Zeman during lunch on Jan. 14, prompting MPs to demand an explanation.
The letter threatened that Czech companies operating in mainland China, such as Volkswagen subsidiary Skoda Auto and lender Home Credit Group, would suffer if Kubera visited Taiwan.
Kubera last year said when announcing his Taiwan visit that the move wasn't anti-China but pro-business. He noted that Taiwan, also known as the Republic of China, is the Czech Republic's third-largest trading partner in Asia.
Zeman and Czech Prime Minister Andrej Babis had previously expressed concern that Kubera's plans to visit Taiwan could lead China to retaliate against Czechia's business community.
Isabel van Brugen contributed to this report.