Cyprus Bank Collapse Hits Ukrainian Investors
March 28, 2013 2:43 pm Last Updated: April 6, 2013 9:25 pm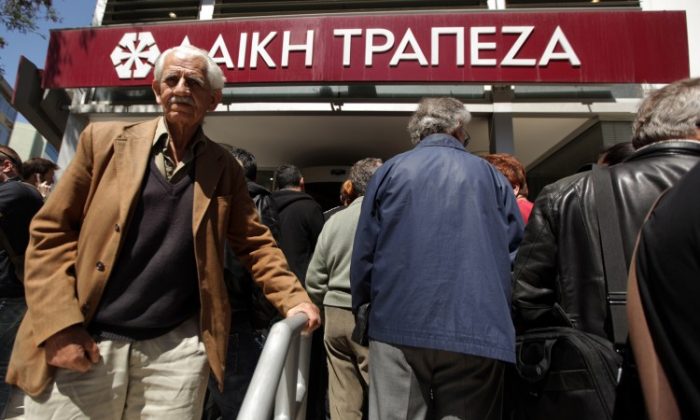 KYIV, Ukraine—The little island of Cyprus was the largest foreign investor in both Russia and Ukraine before the collapse and restructuring of its banks. 
Many wealthy Russians and Ukrainians deposited their money in Cypriot banks to avoid higher fees at home; they would then reinvest it from their Cypriot accounts into their businesses back in Russia and Ukraine respectively. 
In 2012, $3.92 billion was invested in Ukraine from Cyprus—that is 65 percent of total foreign investments in Ukraine, according to the Ukrainian state statistics website.  
"It's not a secret that, of course, that money doesn't belong to Cypriots," said Viktor Suslov, head of the commission on regulation of financial services and former Ukranian minister of economy, at a press conference in Kyiv on March 22. "That is Ukrainian money that is returned and invested, money [belonging to] Ukrainian business, that was taken to Cyprus before."
The sum of Ukrainian money in Cypriot banks is about $13 billion, estimated former deputy chairman of the National Bank of Ukraine Olexander Savchenko on a Radio Svoboda (Radio Liberty) broadcast. Yaroslav Soltis, director of institutional relations for the Joint-Stock Company UniCredit Bank, told Radio Liberty he thinks it's more like $25 billion. 
It is hard to pinpoint the figure, as some Ukrainians invest illegally. To open an account in a foreign bank legally, a business or individual must obtain a license from the Ukrainian National Bank.
Voice of America reports that Russians have a total of about $32 billion deposited in Cypriot accounts. 
Now, the big investors are scrambling to shift their funds to other low-tax countries—Switzerland, Virgin Islands, Austria, or Liechtenstein, to name a few.
Big Investors Move Funds to Switzerland
Dmitro Pichugin, a specialist in Swiss tax law based in Kyiv, said his clientele increased more than ten-fold from mid-March onward. 
His agency, Goldblum and Partners, used to serve about one client per week—"Now, we meet with more than 10–15 clients weekly who want to solve in some way their problem with Cyprus."
Cyprus agreed to restructure its banks this week, meeting stipulations attached to European Union (EU) bailout funds. Laiki Bank, one of the largest banks in Cyprus, will be completely shut down, with its healthy assets being absorbed by the other major bank, the Bank of Cyprus. 
As Ukrainians turn to other low-tax or tax-free zones, many Ukrainian analysts forecast that this will only be a temporary solution. American and EU pressure to eliminate these zones may put an end to this phenomenon of mass amounts of money being kept in foreign bank accounts. 
To bring Ukrainian money back to Ukrainian banks, officials must change the system, said Sergei Kravchenko, an expert on the council of entrepreneurs under the cabinet of ministers. Ukrainians must be assured of greater protections for private property, and their faith in the domestic banking system and government must be won, Kravchenko said. 
State-run Businesses Also Have Cypriot Accounts, Says Group
Not only private businesses move capital across Ukrainian borders—state-run enterprises have done the same, said Denis Chernikov, program director at the Ukrainian watchdog organization Laboratory for Legislative Initiatives. 
Depositing money in foreign bank accounts "is a means of preserving assets, a means of business survival in circumstances of tax pressure, in circumstances of obscure state support, [and] selective government support," Chernikov said. He said that "Profits, which are got through [state-run industry], are [also] going offshore: metallurgy, energy, coal, chemical industry, financial services."