Cyber Monday was on track to bring in a record $7.8 billion in U.S. online sales, as millions of shoppers scoured for steep discounts on everything from Lego sets to big-screen TVs.
The marketing event was expected to pick up steam this evening as West Coast shoppers nab deals after work and those on the East Coast make purchases before bed, according to Adobe Analytics, which measures transactions from 80 of the top 100 U.S. retailers.
"Many shoppers have waited on certain purchases, with three hours tonight expected to bring in as much revenue as an average full day," said Taylor Schreiner, director of Adobe Digital Insights.
Target Corp and Amazon.com Inc were pulling out all the stops by offering free delivery with no minimum order requirement and bombarding shoppers with promotional emails. Companies had logged $531 million as of 10 a.m. ET, Adobe Analytics found.
Shares of Amazon were up 5 percent in afternoon trade. Macy's Inc, Kohls Corp, and Target shares rose as well.
In a different estimate, Mastercard SpendingPulse forecast a 25 percent jump in e-commerce sales volume to at least $3 billion. That figure was based on sales via the Mastercard payments network and estimates for other payment forms such as cash and check.
These U.S. forecasts still paled in comparison to Alibaba Group Holding Ltd's "Singles Day" earlier this month, which raked in $30.7 billion in sales.
The promotional efforts ahead of the U.S. shopping frenzy drew the ire of some who complained they woke up to even more Cyber Monday emails than in years past.
"Yes retailers, I'm aware it's Cyber Monday even without the 150 emails," tweeted Keina (@RealMamaEagle), a user from Delaware.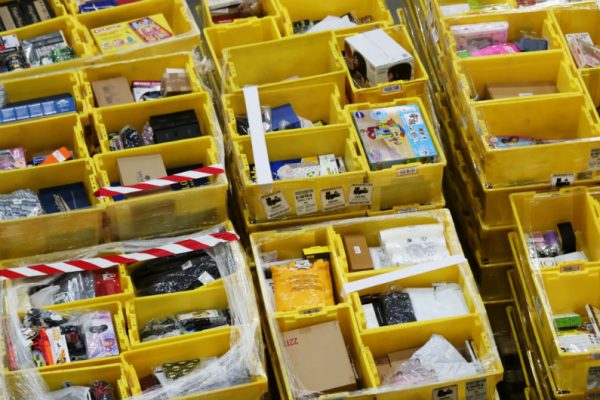 Deep Discounts On Toys
Drawing an estimated 75 million shoppers, the day was a test of retailers' online platforms and delivery operations.
If not backed with the right IT infrastructure, the heavy traffic could have caused hours of glitches like those during Amazon's Prime Day marketing event in July.
But as of 2:30 p.m. ET on Monday, no big U.S. chain had technical difficulties, according to outage tracker DownDetector.com. On Black Friday some websites including apparel retailer J.Crew and home improvement chain Lowe's Cos Inc had temporary outages.
Consumers are increasingly buying holiday gifts online, diluting the importance of Black Friday, when shoppers had traditionally flocked to brick-and-mortar stores for the best deals.
"I find Cyber Monday to be more convenient than Black Friday," said Jeissy Casilla, 23, a retail worker in Puerto Rico, adding that it allowed her to browse multiple stores and offers and avoid long lines.
"I think that Cyber Monday is better in terms of how much you can get done while doing so little – basically a better chance at the best deals," she said.
Toys were expected to have the biggest discounts, Adobe Analytics said, as retailers rush to fill the void left by the bankruptcy of top U.S. toy retailer Toys 'R' Us.
Target offered 30 percent off on select toys, while Kohl's discounted Lego sets between 30 percent and 40 percent.
Social media conversation tracker Brandwatch said out of 13,000 social media mentions of #Cybermonday, the Apple Watch and the Red Dead Redemption 2 video game were two products that were highly discussed.
The National Retail Federation forecast U.S. holiday retail sales, including online, in November and December will increase between 4.3 percent and 4.8 percent over 2017, for a total of $717.45 billion to $720.89 billion.