CVS Pharmacy recalled some of its herbal tea on April 24, after the manufacturer said the tea may be contaminated with Salmonella.
One of the ingredients used in CVS's Gold Emblem Abound Organic Spiced Herbal Tea tested positive for Salmonella, according to a Food and Drug Administration (FDA) release.
The tea was packed in 1.4 oz cartons with "best by" date of March 18, 2018, (UPC code 0 50428 541043). No other "best by" dates are affected.
CVS has already removed the affected products from its stores, but not before some 200 cases were sold. The tea was available at CVS stores nationwide. CVS has over 9,600 locations in the U.S.
People who bought the tea can return it to a CVS store for a full refund.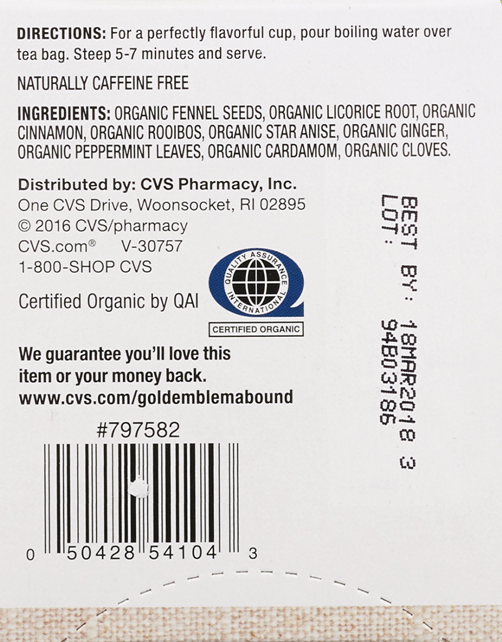 "The Company is not aware of any reported cases of illness to date related to this product and it has issued this voluntary recall as a matter of precaution," FDA stated.
The affected ingredient tested positive for Salmonella in a different company's product, but the producer supplied the same ingredient to the manufacturer of the CVS's tea.
Salmonella can cause fever, nausea, diarrhea, vomiting, and abdominal pains. For young children, frail, or old people it can even be fatal, FDA warns. Symptoms usually develop between 12-72 hours after exposure.
Salmonella Again
Last month federal authorities linked about a dozen salmonella cases across nine states to contaminated pistachios sold by Trader Joe's, Wonderful, and Paramount Farms. At least two people were hospitalized.
For Trader Joe's, this was the second Salmonella contamination recall this year. A batch of "Trader Joe's Raw Cashew Pieces" were recalled on Jan. 15.
The FDA lists 24 salmonella-related recalls, withdrawals, and safety alerts since the beginning of the year. Half the cases involved pistachios or macadamia nuts. Two were teas. Last year the FDA listed 69 salmonella recalls.
If you believe you've been infected, the CDC urges you to contact your health care provider.