Chinese Yuan May Appreciate Before Treasury Report
March 22, 2010 12:52 am Last Updated: October 1, 2015 8:32 pm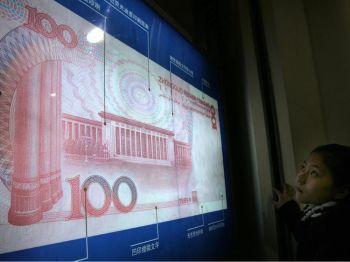 As the due date of the semiannual U.S. Treasury report quickly approaches, how China reacts to being labeled a "currency manipulator" will draw extensive attention from economists and foreign policy experts.
In the semiannual report, the U.S. Treasury Department will have no choice but give an unequivocal indication on whether China is manipulating its currency. If China is dubbed a "currency manipulator," countervailing duties will be imposed. If not, the Treasury would have to spell out why China is not controlling the yuan's exchange rate.
Pressure from the United States
In the U.S. Commerce Department report issued on March 11, the U.S. trade deficit with China increased from $18.1 billion in December 2009 to $18.3 billion in January.
On the same day, President Barack Obama delivered a rare speech on the currency issue, pressuring China to embrace a "market-oriented" exchange rate for its currency.
A letter, signed by 130 U.S. representatives on March 15, pressed the Treasury Department to use "all available resources" to seek an end to China's currency manipulation.
One day after, a bipartisan bill was introduced in the U.S. Senate arguing that the Treasury Department has failed under successive administrations to combat China's currency policy of keeping the yuan at low values against the dollar.
International Monetary Fund Managing director, Dominique Strauss-Kahn, has also stated that the yuan is greatly undervalued.
China Keeps Adamant
The response of the Chinese Communist regime has been resistive. Chinese Premier Wen Jiabao has said that, "I don't think the yuan exchange rate is undervalued," when the exchange rate has been frozen since August 2008.
Chinese state media published a number of articles criticizing the pressure from the United States. A Xinhua report on March 19 asserted that the "West are playing the game of politicizing China's RMB exchange rate again."
In a CCTV report on March 18, Zhang Wei, vice chairman of the China Council for the Promotion of International Trade, said that a rise in the yuan "would be disastrous" for labor-intensive exporters in country.
A Different Voice
An exclusive report from the 21st Century Business Herald revealed that China's Ministry of Finance would conduct a stress test in the latter half of March to see what effect, if any, an appreciation of the yuan would have on China's public companies. This news was rapidly picked up by major news outlets around the world.
The report said the China Chamber of Commerce for Import and Export of Machinery and Electronic Products (CCCME) has finished a stress test report. "The Yuan appreciation would have a significant impact on three categories of industries: large complete sets of equipment industry; competitive industries such as home appliances, electronics, and general machinery; and vulnerable industries such as shipbuilding, automotive, steel, and mobile phone," said the CCCME report.
"Most companies dealing with home appliances, electronics, general machinery exports are small-or-medium-size companies, with an export profit margin of around 3 percent. It may take at least 2-3 months to complete the process of taking orders, shipping, and the settlement of exchange. Most such companies wouldn't be able to survive if the yuan is appreciated during the process," the CCCME report read.
Zhou Xiaochuan, CEO of the People's Bank of China, talked about Beijing's currency policy at a press conference in the annual meeting of China's National People's Congress. He referred to China's current policy as a "special measure" to help China weather the financial crisis. Zhou's talk was regarded as a clear signal for potential rise of the currency's value.
Later, Su Ning, the vice governor of the Chinese Central Bank, claimed that, "A steady and gradual appreciation of [the yuan] will benefit China."