New York Gov. Andrew Cuomo warned against reopening the state's economy too quickly, saying progress made in the battle against the CCP virus may otherwise be lost.
"Think about what we've gone through. Think about how many New Yorkers we've lost and are still losing. We must tread VERY carefully now. The worst thing that can happen is for us to go through this hell all over again," he wrote April 19 on Twitter.
New York reported 507 deaths from the CCP (Chinese Communist Party) virus in the previous 24 hours, which is the state's lowest daily death toll since April 6, Cuomo said at his April 19 daily briefing, adding that total hospitalizations have continued to fall. So far, about 13,869 people have died from the virus in the state, he said.
"If the data holds and if this trend holds, we are past the high point and all indications at this point is that we are on the descent. Whether or not the descent continues depends on what we do, but right now we're on the descent," Cuomo said.
"We've been watching this 24 hours a day … the total hospitalization rate is down again in the state of New York, we're down to 16,000," he said, adding that the "high point was [actually] a plateau" and the state has stayed at the same level for days.
Cuomo last week joined Govs. Ned Lamont of Connecticut, Phil Murphy of New Jersey, and Gina Raimondo of Rhode Island to develop a region-wide plan for reopening the region's economy. Governors on the West Coast and Midwest have come up with similar plans.
"Don't get cocky," Cuomo said. "Don't get arrogant. This virus has been ahead of us every step of the way. This is only halftime in this entire situation."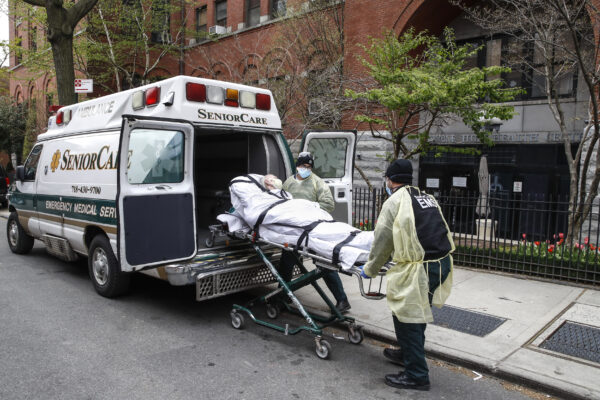 In another warning, the governor said that New Yorkers "can control the beast … but the beast is still alive. We did not kill the beast—and the beast can rise up again."
Cuomo, along with dozens of other governors, shut all businesses deemed nonessential to limit the spread of the potentially deadly CCP virus, while warning that he might keep those businesses shut for several months unless he can guarantee public safety.
President Donald Trump said in late March he hoped to reopen the U.S. economy by Easter Sunday (April 12) but pushed the date back to May 1, as the number of infections and deaths mounted nationwide. The Trump administration also recommended staggering the reopening of the economy, starting with areas that have fewer cases and giving more time to outbreak epicenters such as New York or Michigan.