CUNY's Finest Students Start Community Work
September 29, 2013 10:26 pm Last Updated: September 30, 2013 7:59 pm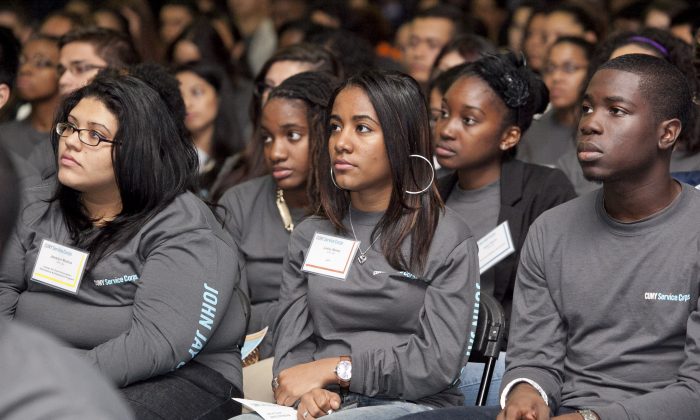 NEW YORK—On Monday about 800 of CUNY's finest students will start working at government agencies, nonprofit, and community service organizations, as part of the first CUNY Service Corps program.
Soon after the devastation left behind by Superstorm Sandy, CUNY Chancellor Matthew Goldstein saw a need for students and staff to help people in dire need of community services.
The program was created over the summer. Although Goldstein retired, he passed on the responsibilities to interim Chancellor William P. Kelly.
The 800 students went through a two-week training course, and on Friday they went to a kickoff celebration at the John Jay College of Criminal Justice.
"We hope that this becomes a remarkably productive experience for you, a critical part of your education," Kelly said to the students.
The 24-week program will pay the students to work 12 hours a week in the selected organizations chosen by CUNY faculty and staff. These include the 9/11 Memorial and Museum, Brooklyn Community Services, Care for the Homeless, Visiting Nurse Service of New York, Literacy Partners, and Green City Force.
In addition to helping communities, the program also provides an opportunity for the students to get experience in real work environments that are aligned with their future careers.
"It's not just about filing, making copies, learning how to conduct yourself in a business atmosphere. … It's way beyond that," said University Director CUNY Service Corps Rachel Stephenson.
The rigorous selection process for the program started in June with 1,961 applications. Students were required to have a good GPA, 24 credits, references, and they had to go through a group interview.
Stephenson said they looked for future leaders who had good communication, problem solving and teamwork skills.
"What you're seeing here are students that are everything," she said.
Dami Iroko from the CUNY John Jay College of Criminal Justice has been involved in community service organizations all his life. Growing up in Bedford-Stuyvesant, Iroko said he was in group camp a lot. Now working as a mentor himself for young children, teaching them to be conscientious has changed his outlook on life.
"It's good to know that you're part of something that's going in the right direction," he said. Iroko will work at District 45 with Council member Jumaane D. Williams on community-based budgeting.
"I've always looked for an opportunity like this," Iroko said.
Karee Davis was also at the kickoff event, as a student leader of Kings Borough Community College (KBCC) program participants. Her professor suggested applying for the program.
"I've always been involved, since I was in high school, but she really opened my eyes to this environment," Davis said about her professor. She wants to pursue a bachelor's in social work, and be a youth counselor or a mentor.
"It's hard to help when you're so far away, but when it's right here in your face … you have to help," Davis said.
Davis is placed in the CUNY adult literacy program and will be mentoring and counseling people of all ages motivating them to pursue higher education.