DAEGU, South Korea—Daegu is known as an Oriental cultural city in South Korea. Shen Yun Performing Arts' sixth visit to the city has made quite a splash. Mr. Wu Shigui, director of the Busan Cultural Artistic Planning Troupe, was among the celebrities who attended the Shen Yun Performing Arts New York Company's premiere of its 2012 Korea tour at the Daegu Suseong Artipia on Feb. 24. After seeing the performance, he said the only word to describe the show was "Fantastic!"
Traveling all the way from Busan to Daegu, Mr. Wu Shigui said that because he didn't have the opportunity of appreciating traditional Chinese culture in his daily life, he exclusively came from Busan to watch Shen Yun.
A New York-based performance company, Shen Yun is dedicated to restoring and reviving traditional Chinese culture, according to the company's website. Using classical Chinese dance, original scores combining Western and Chinese classical instruments, and heart felt songs, Shen Yun takes the audience on a journey through China's 5,000-year-old divinely inspired culture.
Mr. Wu Shigui enjoyed the many aspects of Shen Yun. "From the fantastic stage and the backdrops, to the powerful dance movements and the gorgeous costumes, everything was very harmonious. It is beyond any words to express my deeply-touched feelings.
"In particular, the great unison of the dance movements performed on the stage as well as the animated backdrops were really fantastic," he said.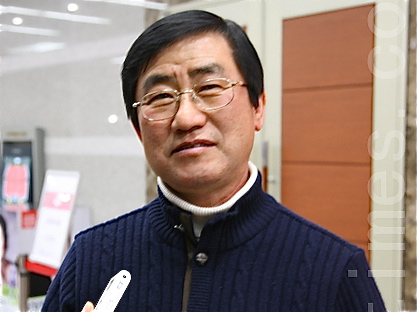 Korean Dr. Lee Sang Heng experienced a marvelous trip to a heavenly world on the evening of Feb. 24 at Daegu Suseong Artipia, where Shen Yun presented its first of an 11-performance series in Korea. Drawn to the performance by Shen Yun's popularity, Dr. Lee praised Shen Yun for bringing out the best in the audience.
Dr. Lee traveled from Gyeongju, 55 km east of Daegu, to watch Shen Yun on a friend's recommendation. "Shen Yun was introduced to me as a very excellent performance. After watching it today, I am convinced that it deserves its reputation." He admired Shen Yun for presenting to him a world beyond all expectations, "feeling as if I were transported to a heavenly world."
Awestruck by the magnificence of divine presence and the solemnity of the heavenly world presented by Shen Yun, Dr. Lee said, "By watching the performance, I realize, how incompetent and tiny humans are in the presence of divinity. Therefore, I think humans must live a life of kindness."
Full of praise for Shen Yun performers' excellent presentation, he said, "Female performers are indeed beautiful, while male performers display masculinity, really good." Also impressed with the costumes, he said, "The costumes are very gorgeous and splendid."
The Shen Yun Orchestra combines the best of Chinese and Western composition. He said admiringly, "How terrific is the Shen Yun Orchestra that brings together traditional Chinese and Western instruments!"
Reporting by Li Daina & Billy Shyu and Li Zhixing & Amy Lien
Shen Yun Performing Arts, based in New York, tours the world on a mission to revive traditional Chinese culture. Shen Yun Performing Arts New York Company will perform in various cities in Korea until March 4 and then continue to top venues in Taiwan, Australia and New Zealand.
For more information visit ShenYunPerformingArts.org
Read the Chinese article
Read the Chinese article