A Cuban artist has accused the Black Lives Matter movement of disregarding Cuban black lives, after the organization put out a statement blaming the U.S. government's "cruel and inhumane" economic embargo for the current unrest in Cuba.
"For #blacklivesmatters all black lives matter, except Cuban black lives," wrote Havana-based producer and director José Luis Aparicio Ferrera on Facebook.
The Marxist-inspired organization has faced strong criticism since posting a statement on July 14 in response to protests that have erupted in multiple cities across Cuba. Demonstrators have called for freedom and an end to the communist regime.
In its statement, Black Lives Matter also praised the communist regime for its "solidarity" by granting asylum to "black revolutionaries."
The statement came in response to demonstrations that erupted in Cuba nationwide on July 11 amid widespread shortages of basic goods and demands for political rights.
The regime admitted some of its shortcomings last week, but mostly blamed the protests on U.S.-financed "counter-revolutionaries" exploiting economic hardship caused by U.S. sanctions.
Leader Miguel Díaz-Canel, who also heads the country's Communist Party, said that Cuba's "enemy has once again thrown itself into destroying citizen's sacred unity and tranquility."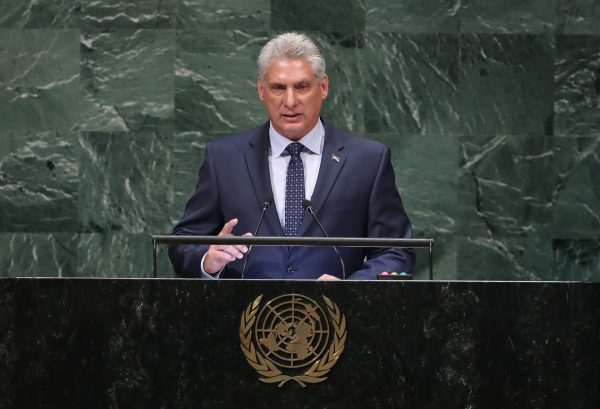 He said it was no small matter to call a rally as the country saw increasing numbers of CCP (Chinese Communist Party) virus cases.
"We convened you to denounce once more the blockade, the aggression, and terror," Díaz-Canel said.
Rep. Alexandria Ocasio-Cortez (D-N.Y.) echoed Blacks Lives Matter's sentiment on July 15, when she blamed the suffering of "everyday people" in Cuba on the nation's 60-year-old embargo.
"We are seeing Cubans rise up and protest for their rights like never before. We stand in solidarity with them, and condemn the anti-democratic actions led by President Díaz-Canel," the self-proclaimed democratic socialist said in a statement.
"Last month, once again, the U.N. voted overwhelmingly to call on the United States to lift its embargo on Cuba. The embargo is absurdly cruel and, like too many other U.S. policies targeting Latin Americans, the cruelty is the point. I outright reject the Biden administration's defense of the embargo. It is never acceptable for us to use cruelty as a point of leverage against everyday people."
Cuban American Sen. Marco Rubio (R-Fla.), whose family fled communist Cuba, was quick to denounce Black Lives Matter for their comments.
"The extortionist ring known as the Black Lives Matter organization took a break today from shaking down corporations for millions & buying themselves mansions to share their support for the Communist regime in #Cuba," Rubio posted on social media.
Rubio called on the Biden administration last week to simultaneously maintain sanctions on Cuba and stand with the Cuban people in their fight against communism.
"They're shooting people that literally are unarmed … and we should be clear. We should be clear in our language. We don't just condemn this tyranny, we condemn this communist, this Marxist, this socialist tyranny," Rubio said on the Senate floor. "No. 2, we should make clear, nothing's going to change. There's not going to be any sanctions changed as a result of this."
President Joe Biden and White House press secretary Jen Psaki have both spoken against the ruling regime, with Psaki describing communism as a "failed ideology" last week.
Masooma Haq and Reuters contributed to this report.