Customers of a Canadian cryptocurrency exchange are not able to access $190 million in funds after the founder died with the passwords needed to access it.
Gerald Cotten, the 30-year-old founder of QuadrigaCX, died after complications of Crohn's disease, reported Sky News.
Jennifer Robertson, his wife, confirmed that he died while traveling to India to open an orphanage.
$190 million of cryptocurrency and traditional money have been inaccessible since the one person who knew the passwords died.

由 Fox News 发布于 2019年2月5日周二
Cotten held "sole responsibility for handling the funds and coins," and no other members of the QuadrigaCX team could access the money, she said in an affidavit on Jan. 31.
The $190 million in cryptocurrency and normal money is in "cold storage," she said.
Robertson has her husband's laptop, but she doesn't know the password. A technical expert they hired hasn't been able to bypass the encryption, she said.
"The laptop computer from which Gerry carried out the Companies' business is encrypted, and I do not know the password or recovery key," Robertson said, Coindesk reported. "Despite repeated and diligent searches, I have not been able to find them written down anywhere."
Robertson said that she and her colleagues have been threatened by online cryptocurrency communities, namely Reddit communities.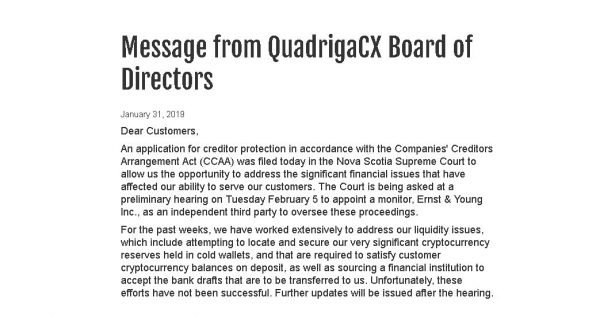 The firm's board of directors also applied for creditor protection.
A statement from the company's board said: "For the past weeks, we have worked extensively to address our liquidity issues, which include attempting to locate and secure our very significant cryptocurrency reserves held in cold wallets, and that are required to satisfy customer cryptocurrency balances on deposit, as well as sourcing a financial institution to accept the bank drafts that are to be transferred to us."
The statement added: "Unfortunately, these efforts have not been successful."
Other details about the case are not clear.
QuadrigaCX customers have been criticizing the firm.
Ally Shapoval wrote: "Hello, Quadriga! I withdrew money from my Quadriga account to my bank more than 2 weeks ago. WHERE IS MY MONEY? STILL NOT THERE."
"I sent you emails, you are not responding," she said, Sky reported.
Another wrote: "I have sent lots of emails, but I just get automatic responses, I'm not even able to get my crypto out."
Lawyers acting for creditors will receive the laptop of recently deceased Gerald Cotten, CEO of major Canadian exchange QuadrigaCX

由 Cointelegraph 发布于 2019年2月5日周二
Some people have questioned whether Cotten is really dead, and others have accused the firm of lying to them.
Violent Crime in the US
The number of murders and violent crimes committed in the United States dropped slightly in 2017, according to new crime statistics released in September 2018.
"Crime declined nationwide last year, consistent with our earlier analyses of 2017 data in the nation's 30 largest cities," Ames Grawert, senior counsel for the Justice Program at the Brennan Center for Justice in New York, told the Washington Times.
The founder's widow said "repeated and diligent searches" for a password have failed.

由 CBS News 发布于 2019年2月4日周一
"That's the good news. The bad news is that even while crime is falling, the number of Americans incarcerated remains near-record highs. Now is the time to address the problem."
The number of cases of manslaughter and murder dropped 0.7 percent in 2017 from the prior year, the report said.
Rapes rose by 3 percent and aggravated assault rose by 1 percent, but overall violent crimes dropped 0.2 percent, the report added.