Republicans appear to have enough votes to approve the nomination of Judge Amy Coney Barrett to the Supreme Court, Sen. Ted Cruz (R-Texas) said on Tuesday.
"I believe we have the votes. I believe we'll get it done," Cruz said during a virtual interview with the Washington Post.
President Donald Trump nominated Barrett, a federal judge, to the nation's highest court late last month.
Sens. Susan Collins (R-Maine) and Lisa Murkowski (R-Alaska) were the only two Republican senators to publicly oppose considering Trump's nominee before the election.
"Even if they vote no, as I see it, we have a solid 51 votes right now. And from the conversations in the conference, I don't see that changing," Cruz, a member of the Senate Judiciary Committee, added later.
Collins committed before Trump's announcement to vote no on his nominee, no matter who it was. Murkowski has since said she's open to voting for the nominee.
Republicans hold a 53–47 majority in the Senate. They only need a simple majority to approve Barrett.
Committee hearings on Barrett's nomination will start on Oct. 12, Chairman Lindsey Graham (R-S.C.) confirmed this week.
The vetting will continue through Oct. 15, with a committee vote expected that day or shortly thereafter.
Many Republicans hope to approve Barrett's nomination by the Nov. 3 elections.
"What I think is critical is that the Senate confirm Judge Barrett before Election Day. I think it's very important for the country that we have a fully functioning Supreme Court with nine justices come Election Day," Cruz said.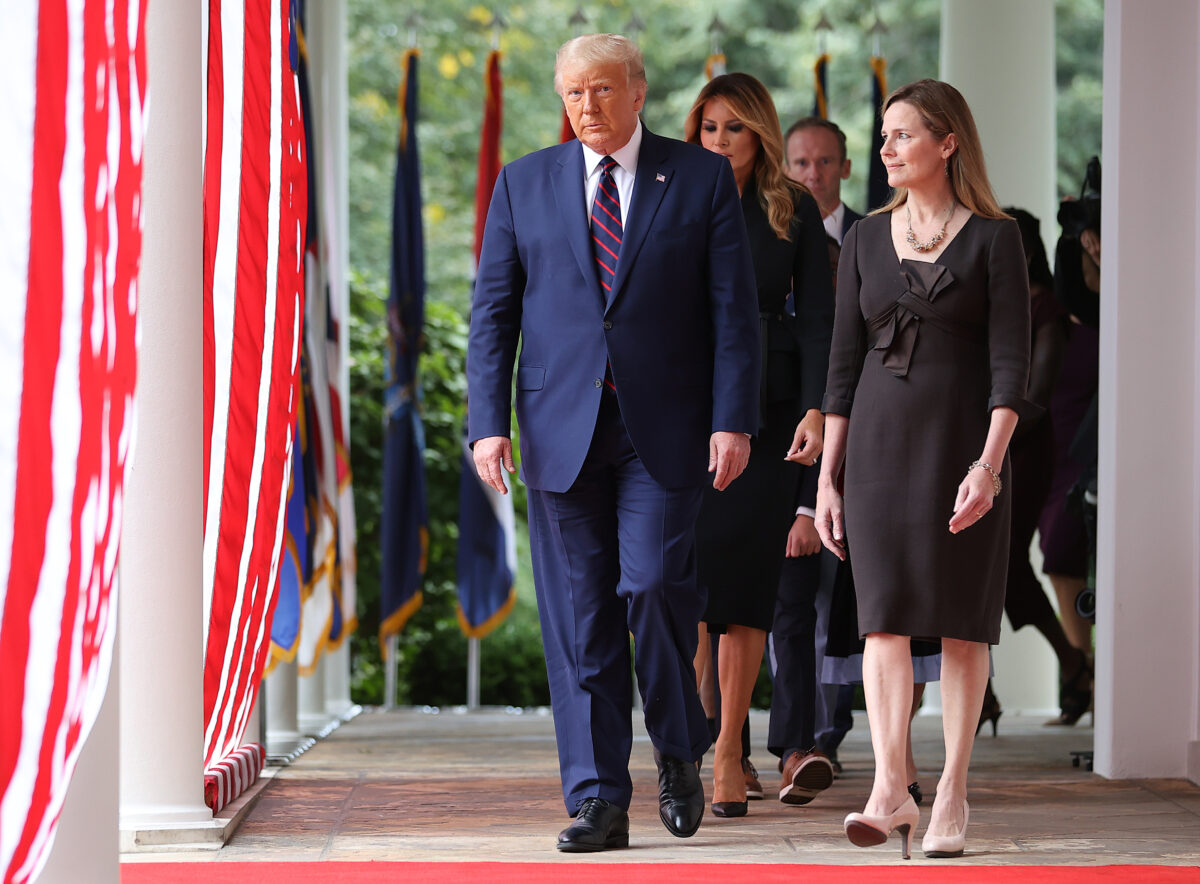 Parliamentary experts who Republicans consulted with were confident that no matter what delay tactics Democrats employ, starting the hearings in mid-October will leave enough time for committee approval and then approval by the full Senate, he added.
The hearings will be a hybrid, with some senators, including Cruz, attending virtually at least some of the days.
Sens. Mike Lee (R-Utah) and Thom Tillis (R-N.C.), members of the committee, tested positive for COVID-19 last week.
Cruz is also in isolation because he was in close contact with Lee. Cruz tested negative for COVID-19 on Friday.
He plans on taking another test in the future, especially before returning to the Senate building.
Top Democrats have repeatedly urged Republicans not to consider Barrett's nomination before the election, arguing voters should be able to decide who takes the open seat by electing either to keep Trump in office or replace him with Democratic presidential nominee Joe Biden.
GOP lawmakers and Trump have noted that voters chose to keep the Senate in Republican control in the 2018 midterms, and voted for Trump in 2016.
In the latest letter, Senate Judiciary Ranking Member Dianne Feinstein (D-Calif.) and the other nine Democrats on the committee urged Graham "not to rush through a Supreme Court nomination and further endanger health and safety."
Feinstein and Senate Minority Leader Chuck Schumer (D-N.Y.) penned a separate statement last week, saying Graham shouldn't "commit to a hearing schedule when we do not know the full extent of potential exposure stemming from the president's infection and before the White House puts in place a contact tracing plan to prevent further spread of the disease."
Trump tested positive for COVID-19 on Oct. 1. A number of Republicans, such as Lee, tested positive in the following days. Some had attended the nomination announcement ceremony at the White House featuring Barrett.
Barrett tested negative, as did White House chief of staff Mark Meadows and a slew of others who had contact with the people who tested positive.