Tens of thousands of protesters gathered in cities across Europe over the weekend to demonstrate against government-imposed lockdowns and other restrictions amid the COVID-19 pandemic.
Protests against lockdown measures were seen continent-wide on March 20, including in Austria, the UK, Finland, the Netherlands, Romania, and Switzerland.
Although largely peaceful, many of the protests resulted in arrests, clashes with law enforcement officers, and conflict between demonstrators angry at government-imposed restrictions and counter-protesters.
Many European countries are grappling with a resurgence of the CCP virus, even as vaccines are being rolled out.
The virus has reportedly killed more than 2.7 million people worldwide, with cases up globally by 14 percent in the past week, according to data from Agence France-Presse.
Various groups, including Worldwide Demonstration, had called for protests March 20 in countries across the globe.
Worldwide Demonstration on its website called on "all opponents of the Coronavirus Restriction policies of their own government" to participate in a global protest, saying that livelihoods and freedoms have been "destroyed" by lockdowns and border closures.
"We have had our bodily autonomy violated by mask mandates, and plans to mandate coronavirus vaccinations are being rolled out internationally. These are unacceptable constraints on our freedom," its website states. "As one massive, united, and peaceful community, we will stand up and demand an end to the current restrictions and authoritarian control measures."
The group states that it stands for peace, freedom, democracy, and solidarity.
In the central German city of Kassel, where the action group was formed, more than 20,000 people defied a court ban to protest lockdown measures, DPA reported. According to the news service, some officers and journalists were attacked by protesters.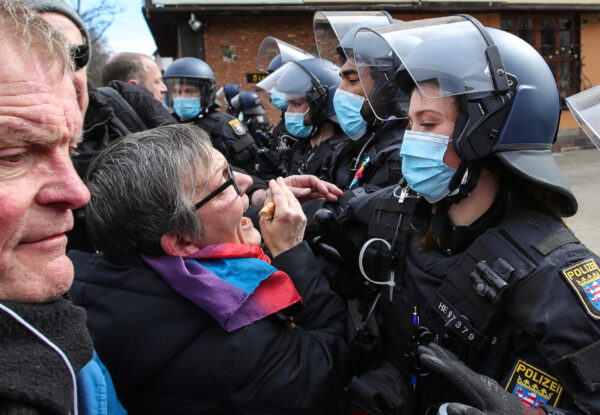 The majority refused to comply with protocols put in place to curb virus transmission, such as wearing masks. Federal police, who were brought in beforehand from other parts of Germany, used water cannons on the crowds, according to DPA.
The demonstration came as CCP virus infections have recently reportedly surged in Germany, and the government is set to decide on how to react in the coming days. Chancellor Angela Merkel said on March 19 that the country will have to apply an "emergency brake" and reverse some recent relaxations of restrictions.
Elsewhere in central London, at least 33 people were arrested March 20 for breaching COVID-19 restrictions, according to a Twitter statement from the Metropolitan Police.
Some demonstrators in Romania were seen holding signs opposing COVID-19 vaccinations. According to The Associated Press, they held signs that read "Parents, protect your children."
Signs reading "Vaccination kills" were held by some other demonstrators in Switzerland.
In Finland, some 400 maskless demonstrators gathered in Helsinki to rally against government-imposed COVID-19 restrictions, police said. Smaller demonstrations were scheduled in cities across the country.
Hundreds of people in the Finnish capital were heard chanting slogans such as "Let the people speak!" and carried signs with messages such as "Facts and numbers don't add up."
Helsinki police said on Twitter that while the registered march and rally took place peacefully, it violated social distancing requirements and Finland's current limits on public gatherings.
The Associated Press contributed to this report.