Canada Wins Olympic Hockey Gold on Crosby's Overtime Goal
February 28, 2010 6:09 pm Last Updated: February 28, 2010 11:16 pm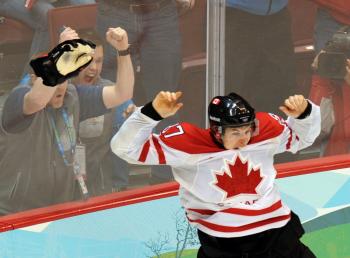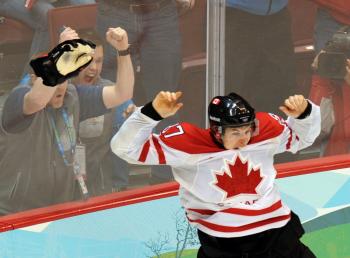 It was a hockey game for the ages, and Canada won the gold medal. Hockey is Canada's game once again.
Canadian hockey hero Sidney Crosby fired a quick shot through U.S. goalie Ryan Miller at 7:40 of overtime to win one of the most exciting and most anticipated hockey games of all time 3–2. The packed Canadian Hockey Place crowd went into absolute delirium.
Jarome Iginla dug the puck out of the corner and fed Crosby for the quick finish.
"He [Iginla] had his back turned to me, facing the boards. I didn't think he'd know I was there. It was a pretty little pass down low," said Crosby.
Team USA's Zach Parise forced overtime when he shoveled a loose puck into the Canadian net with only 25 seconds left to go in the third period, tying the game at 2–2 and silencing the standing crowd.
The Americans had been pressing but to that point, Canada had weathered the storm and seemed headed for gold. U.S. coach Ron Wilson pulled Miller in favor of the extra attacker and it paid off.
But Canada recovered from the obvious disappointment of being 25 seconds away from gold.
"Our guys did a great job staying poised and getting it done at the end," said Canadian forward Ryan Getzlaf.
"Just believe that it's going to happen. You have to think positive thoughts," said Canadian captain Scott Niedermayer.
A bitterly disappointed Patrick Kane of the U.S. team said, "It's a fitting finish for Canadian fans and for media too. It's what you want to see—such a tight game and overtime."
"It burns a lot right now, I'll tell you that."


Scoring First
Both teams knew that scoring first was going to be key with these two, evenly matched teams.
Of the 29 Olympic hockey matches this year, the team that scored first has won 26 of them.
The undefeated U.S. team had not trailed at any point in the tournament. But Canadian forward Jonathan Toews changed that just over halfway through the first period when he flipped a Mike Richards rebound over the left shoulder of Miller.
Toews's first goal of the Olympics ended a Miller shutout streak of more than 120 minutes. Toews is one of seven members of Canada's team who won gold at the World Junior Hockey Championships in 2005 along with Crosby.
"He's unbelievable," said Toews about Crosby. "There's nothing that kid can't do or hasn't done already. There's no coincidence that he was the guy [to score the winner]. He's a heck of a guy, heck of a player."
Toews, who will be rejoining Kane, his teammate with the Chicago Blackhawks, added, "It was such a hard fought game. I can imagine the disappointment on their side. "
Miller, who backstops the NHL's Buffalo Sabres, has been a standout in the tournament, allowing just five goals in five games. Three of those came in the round-robin win over Canada a week ago.
Corey Perry made it 2–0 midway through the second period when he took a Getzlaf pass and fired it past Miller.
But minutes later, Team USA cut the lead back to one goal. On an up-ice rush, Ryan Kesler tipped what appeared to be a harmless shot from Kane, allowing the puck to trickle past Canadian goaltender Roberto Luongo.
Means Everything to Canada
The game has been billed as the most anticipated event in Canadian sports history. At least two-thirds of Canadians watched at least part of the 5–3 U.S. victory against Canada a week ago, but the stakes of this game were far higher.
A commentator with Canada's CTV network reported lines two-blocks long outside Vancouver bars in the morning, four hours before the game began.
Prime tickets for the game were said to be going for $5,000 to $10,000 each.
Even in far off Kandahar, Afghanistan, Canadian soldiers filled a Canada House. One soldier held a placard reading, "Canada–USA: Brothers in arms, not on the ice."
The two teams have met in the Olympic gold-medal final six previous times, with Canada taking five of the contests. The U.S. won in Squaw Valley 50 years ago.
The U.S. team also won the gold medal on home soil 30 years ago, when a team of college players upset some of the world's best players, defeating the Soviet Union in Lake Placid. That event became known as the "Miracle on Ice." Many had referred to the U.S.'s run in Vancouver as possibly a "Miracle on Ice Part II."
Canada spoiled the U.S. party on home soil in the most recent gold medal meeting in Salt Lake City in 2002.
The Americans hoped to return the favor in Vancouver this year. But it was not to be. Their young team has a very bright future and along with Canada, they are the two strongest hockey nations in the world.
With the gold medal, Canada won its 14th gold medal of the games, the most any nation has ever won at a Winter Olympics.
With additional reporting by Matthew Little in Vancouver.