Turns out robbers and jelly-filled donuts might have something in common—a soft (in)side.
One of three suspects holding up a Houston donut shop last month handed out donuts to customers in the middle of a robbery, according to surveillance video released by Houston police this week.
Police: Robber passes out donuts during robbery. Video: https://t.co/GflGCDyGZ7 pic.twitter.com/n0PlCV1lUJ

— FOX 32 News (@fox32news) November 9, 2017
The robbery took place on Oct. 16 at a Shipley's Do-Nuts in north Houston, reports the New York Post.
Police released surveillance video this week showing three male suspects with concealed faces enter a restaurant and walk by a table at which two customers are seated.
According to surveillance video, the first of the perpetrators pulls out what appears to be a gun and jumps the counter.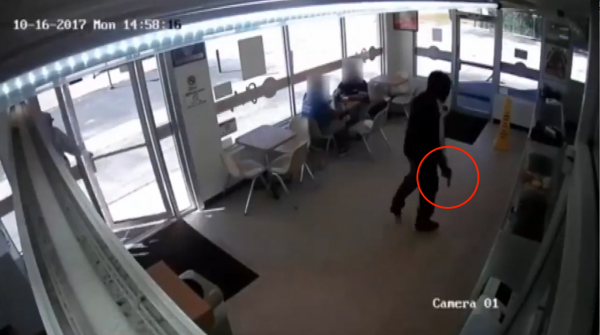 The camera cuts to a different view. The armed suspect appears to order a restaurant employee to open the cash registers, then proceeds to the back of the store. Another suspect tugs at the cash register and when it doesn't open, beckons to the employee, who appears to take steps to open it.

Meanwhile, the third suspect walks over to the seated customers and takes their cell phones. He then jumps over the counter, exchanges words with the customers, and picks out a few donuts from the rack. The man then gingerly hands the donuts to the customers and the thieves leave.


Police continue to search for the suspects, who are wanted for aggravated robbery with a deadly weapon.

Anyone with information about the incident is asked to contact the police at 713-222-TIPS (8477).