Criticisms of Green Dam Filtering Software Banned
June 15, 2009 3:37 am Last Updated: October 1, 2015 9:44 pm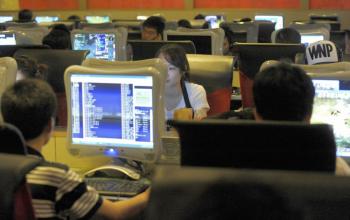 The Chinese regime's propaganda department on June 10 issued a notice to all mainland media and propaganda departments at all levels that requests no criticism be made of about the recently released internet filtering software "Green Dam-Youth Escort." Beginning July 1 all computers sold in China are required to have Green Dam pre-installed.
The notice requests that all media give the public "positive guidance" by "organizing experts' and parents' comments, providing answers by targeting people's doubts, and clearly supporting such a movement that protects the healthy growth of youth."
Meanwhile, the notice requests all media to strengthen their control over their websites, to "timely block and delete" articles critical of Green Dam on the BBS.
According to mainland hackers who cracked Green Dam's keyword library and administrative codes, the software mainly filters Falun Gong-related words,. While the purpose of the software is said to be protecting children, any adult will also be forced to buy such software on new computers.
According to the regime's mouth piece—Xinhua News Agency—a spokesperson from China's Ministry of Industry and Information Technology (MIIT) claimed, "PC manufacturers must provide the software. However, the user could uninstall it as they wish." And the software "does not monitor any online activities of the user, or collect any user information."
But, Chinese bloggers report that the software also filters images, key words and even monitors mouse and keyboard activities. The software also links the user PC to a database, which lists all the banned websites in China. The database is updated from time to time, and Green Dam is meant to filter politically sensitive information and prevent visiting such websites.
According to MIIT, besides such PC filtering software, mobile phone filtering technology is on its way.
Read original Chinese article.