A family law attorney representing domestic violence victims at Women Against Abuse (WAA), Nicole Levitt has brought suit against her employer, alleging the nonprofit organization created a racially hostile work environment and censured her for simply raising concerns about anti-Semitism.
Co-author of a paper with David Bernstein and Daniel Newman in 2021 called "How Social Justice Extremists Spawned a Generation of Progressive Anti-Semites," Levitt believes the social justice training at her workplace is part of a larger movement that is anti-Semitic.
"Critical social justice is anti-Semitic at its core. Why? Because … it divides everything into a binary of black and white, oppressor versus oppressed. And those aren't categories that Jews fit into," she said during an interview with EpochTV's "American Thought Leaders" Program.
"So, discrimination against [Jews], it's fine. It doesn't matter. They have power, they have privilege," Levitt said. "And the end result is there's a huge argument on Twitter over whether Anne Frank had white privilege."

Levitt cites an incident prior to her lawsuit when her colleague tried to circulate an article addressing the anti-Semitism in the social justice movement and Levitt sent an email saying she hopes it will be included in WAA's reading materials.
"That just set off a firestorm of controversy. And I got back a ton of, let's say, disapproving emails that accused me of furthering white supremacy, taking the spotlight away from black and brown people, saying that anti-black racism is so much worse than anti-Semitism," she said.
Levitt wanted anti-Semitism included in the conversation about social justice because "we were being asked to espouse a very specific ideology of oppressor versus oppressed. And the way that they characterize Jews is on the side of oppressors; everything is black-and-white in a binary. And I have found it and scholars have found it to be pretty anti-Semitic."
Black Lives Matter (BLM)
In addition, BLM endorsed Boycott, Divestment, Sanctions, a movement to sanction Israel in any form of investment, including teaching, that's "very anti-Semitic," said Levitt.
"There were a few BLM leaders that actually traveled to Israel and met with some Palestinians, and included in the group of people that they met with were some known terrorists," she said.
The Epoch Times reached out to BLM for comment.
The ideology of "anti-racism" gained more followers during the "racial justice" protests in the summer of 2020 often led by BLM to protest the killing of George Floyd while in police custody. Critical race theorists claim that because of the history of black enslavement and segregation, America's social, legal, and economic systems are inherently racist and argue that its institutions must be dismantled and, as Marxists teach, wealth redistributed.
"The power inequities that exist in an abusive relationship mirror centuries of white supremacy and racism, in which power is reserved only for a few. WAA believes 'all forms of oppression must be 'dismantled,' reads the non-profit's website.
"And it came to a point where I felt the training [sessions] were all relying on stereotypes, discrimination, [and] scapegoating," said Levitt.

WAA's Social Justice Training Program
The Jewish Institute for Liberal Values (JILV) has set up a defense fund to support Levitt's case against WAA, which is currently before the Equal Opportunity Employment Commission.
A spokesperson for WAA told The Epoch Times while it "cannot comment on this open EEOC claim," it believes "our actions in relation to Ms. Levitt and our racial equity work were legal."
Levitt said that during the training staff was split into groups by race (blacks or whites) and required to talk about racism (their own), or how they are impacted by it, and she found the sessions to be "regressive" and "divisive" and decided she would stop attending.
Regardless, her workplace continued to "bombard" staff with materials related to "anti-racism" about how white people were racist and how they were influenced by white supremacy, which Levitt felt was "excessive" and "illegal."
It all came to a head when WAA's attorneys were asked to sign a contract that would govern their behavior in the legal center, including an item that said all white people must acknowledge that they are racist, "and I'm not the exception."
"There was no way I was going to sign a statement saying that I was racist or that all white people were racist, or that all of any race was anything. So, I refused to sign it," said Levitt.
Because she did not sign, she had to attend a meeting with a Diversity, Equity, & Inclusion (DEI) consultant at the time, which ended up being a "90-minute-long session on thought reform," to ascertain if she was safe for her black and brown colleagues to be around, said Levitt.

The DEI trainers also said that "the worship of the written word was white supremacy" but Levitt argued she had to be good at reading scores of written materials so she could do her job representing domestic abuse clients.
Levitt said she was also told that punctuality and thoroughness were a part of white supremacy, which she found offensive.
"And frankly, I found that to be very disempowering for black people," she said, "or you're concerned about being punctual, or you're concerned about being thorough, that that's white supremacy, and it's not a characteristic of black people. That's flat out racist."
After that, Levitt said some of her colleagues distanced themselves from her.
Civil Rights Laws
"The civil rights laws are for everyone, no matter what your color. And you know, it's true that we haven't always lived up to the civil rights laws and to our ideals in this country. But that doesn't mean we shouldn't stop trying," said Levitt.
In a nutshell, the civil rights laws say "don't discriminate on the basis of race," Levitt said. But the trainings were based on a presumption of guilt, instead of taking each person as an individual, and whites were asked to admit their guilt of white supremacy and privilege and "decolonize their bookshelves."

Defund the Police
Levitt said the racial justice training included anti-police rhetoric and she was asked to encourage her clients to use alternatives to calling the police—like social workers. Levitt feels this rhetoric is very dangerous to abuse victims.
"While there are problems with the police, just like there are problems with almost anything, our clients need the police to stop the abuse," said Levitt.  "And I found the messaging that it's dangerous for black and brown people to call the police in domestic violence situations to be dangerous."
Levitt has seen domestic violence situations to be some of the deadliest calls police officers have to deal with, so does not believe a "restorative justice" trained social worker could handle that scenario without police assistance.
This "hysteria" against police was brought on by how the media covers the shooting of black people, said Levitt.
"I think that we were just being whipped up into hysteria about it. And the people who are saying 'defund the police,' I think most of them really thought that that would save people from getting shot by the police."
While police may not be perfect, she believes abuse victims will only suffer more if police funding continues to decrease and said her city can't afford to be more dangerous, especially for her clients.
Many people living in areas with above average crime rates have told Levitt they have been forced to get a gun to protect themselves.
"I don't think, in the end, that this 'defund the police' did any good. I think actually the opposite—that it harms people and did harm people."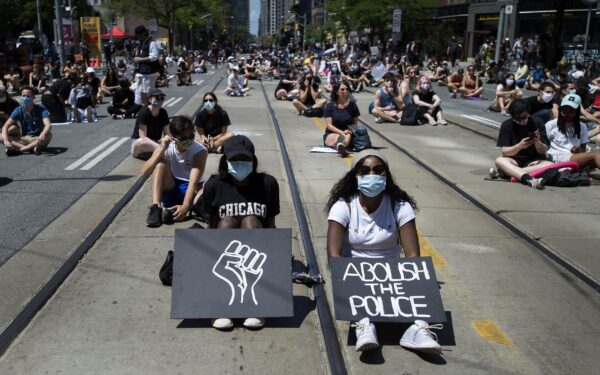 Focus Should Be on Humanity
Levitt's lawsuit against WAA aims to have the non-profit end the divisive anti-racism training and replace it with ideas and practices that unite staff and bolster their work with abuse survivors, she said.
Unlike the training WAA is using, she said there are training programs that work on ending racism by emphasizing our common humanity like Irshad Manji's Moral Courage Trainings and Sheena Mason's Theory of Racelessness.
"[DEI] pulls organizations away from their core missions, and it's very divisive. There are DEI programs that are not divisive that will bring people together, and those are more humanistic."
The anti-racism training used by WAA is developed specifically using the work of Ibram X. Kendi, which argues that racism is prejudice plus power.
Kendi writes in his book "How to Be an Antiracist" that "The only remedy to racist discrimination is antiracist discrimination. The only remedy to past discrimination is present discrimination. The only remedy to present discrimination is future discrimination."
The Epoch Times reached out to Kendi's office for comment.
"Why are we keeping the discrimination? To me, that's the part we have to get rid of. It's not a remedy," said Levitt.
"Although [standing up to DEI training] is often painted as a right-wing issue, it's not about left or right. It's about right or wrong. Are we going to allow discrimination, or are we ready to stop it?" said Levitt.
Correction: A previous version of this article incorrectly stated that the Jewish Institute for Liberal Values (JILV) is representing Nicole Levitt. The group is supporting her financially using a defense fund. A comment from WAA has also been added.