HUNTINGTON BEACH, Calif.—Efforts to clean up the contaminants from a massive oil spill in Orange County proceed as wildlife is threatened and visitors are forbidden from entering the waters until further notice, officials said Oct. 4.
The U.S. Coast Guard told The Epoch Times at a news conference on Oct. 4 in Huntington Beach that it was unclear when the ocean would be fully cleaned and visitors would be welcomed back.
"It's a process of continual assessment," Coast Guard Capt. Rebecca Ore said. "It would be unfair to promise a timeline on beach opening and beach closures. We're really relying on our public health professionals to continuously make that evaluation, but I would say for the time being, as we continue to see oil come onshore, that the beaches that are closed are probably going to remain closed."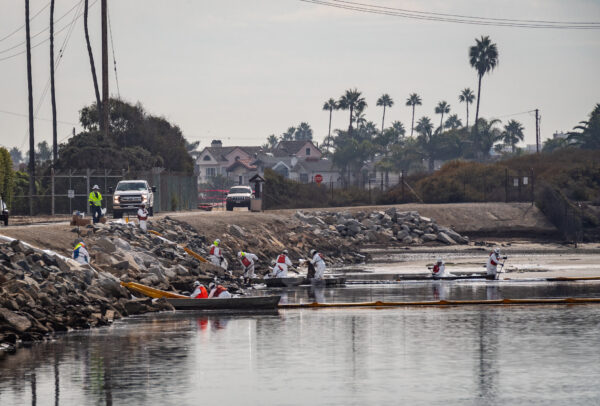 The spill was likely caused by a pipeline leak from a facility operated by Amplify Energy about five miles off the coast, officials said—a spillage that released around 127,000 gallons of oil into the ocean resulting in three seabirds in critical condition and one euthanized.
According to Martyn Willsher, president and CEO of Amplify Energy, his company is sending down scuba divers to investigate the pipeline using remotely operated vehicles to assess the cause of the leak.
The investigation began on the afternoon of Oct. 3, resulting in more than 8,000 feet of pipe being examined with an insight into the potential culprit.
"We've isolated one specific area of significant interest," Willsher said. "I wanted the divers to go down there to the area before we commented further. They will be down there this afternoon."
Willsher acknowledged there has been speculation regarding a ship anchor as the possible cause of the pipe leak but refused to comment until more answers were released through the investigation.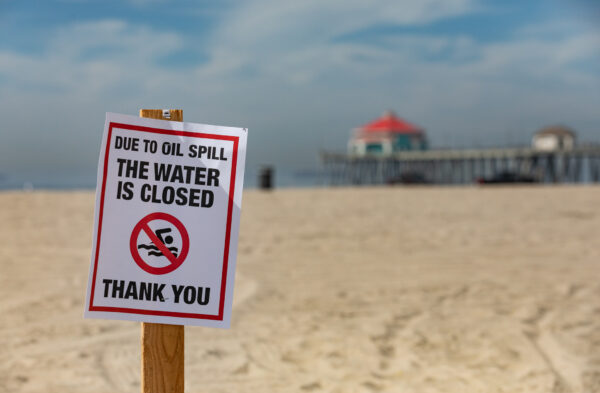 Amid Willsher's taking responsibility for the leakage, Orange County District Attorney Todd Spitzer questioned the legitimacy of allowing the responsible party to conduct the private investigation.
"He indicated today that his divers are going to go down and try to determine the location of the rupture to the pipeline," Spitzer said during an Oct. 4 press conference. "The company should not be responsible for leading its own investigation with respect to the hundreds of millions of dollars of devastation that it did to our environment and our economy. We are going to feel the impacts of this oil spill for generations.
"They shouldn't be able to go anywhere near that pipeline. They are biased. They're self-interested, and they're going to do everything they can to try to reduce their damages."
On Oct. 2, around 12 p.m., the U.S. Coast Guard received the first notice of the spill that would result in the cancellation of the Pacific Airshow's last day in Huntington Beach on Oct. 3.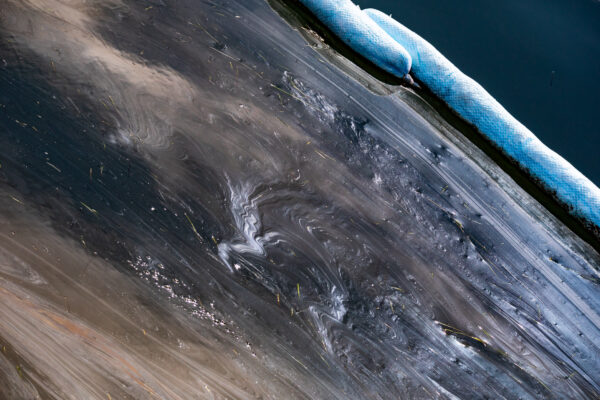 The spill started from the Elly Platform, which currently continues to draw oil from the Beta Field, with Amplify Energy Corp being a parent company. Elly is one of Southern California's 23 oil and gas platforms on the coast and receives oil from two other platforms nearby, accounting for 70 oil wells in total.
The potential source of the leak is about 4.5 miles offshore, along a 17-mile pipeline where oil is transported to a refinery.
As of Oct. 4, the spill spread to Dana Point and is foreseen to continue moving south, Ore said. To contain the spill, a fleet of boats have been sent out along the coast with shoreline assessment teams.
Orange County Chief Health Officer Dr. Clayton Chau released an advisory following the leakage urging residents who were in contact with the oil spill to seek medical assistance.
"The effects of oil spills on humans may be direct and indirect, depending on the type of contact with the oil spill," Chau said in a statement. "People may come in direct contact with oil and/or oil products while walking in a contaminated area (e.g., beach). An initial irritation will be obvious. … Please contact your family physician or call 911 if you are experiencing adverse symptoms."