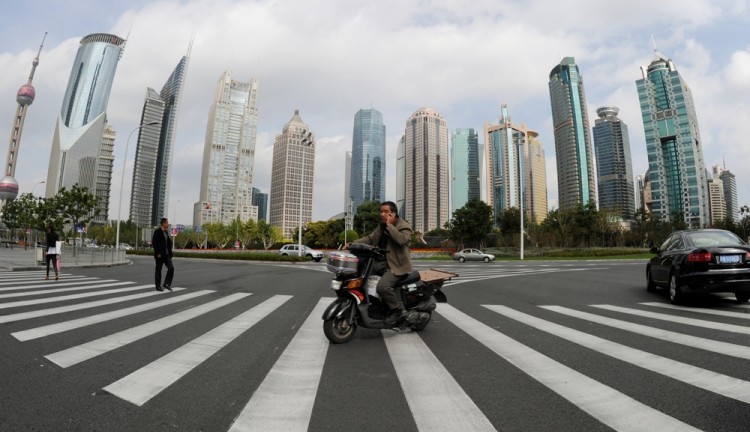 About 600 private enterprises in China are experiencing a credit crisis. This crisis was triggered by the collapse of two companies entwined in a reciprocal credit guarantee structure in Hangzhou, the capital city of eastern China's Zhejiang Province. 
According to the Chinese business newspaper, 21st Century Business Herald, these 600 companies have recently written a letter to the provincial authority seeking for emergency relief funds.
As reported by 21st Century Business Herald on July 17, the sudden financial problems at these 600 companies resulted out of a chain reaction caused by the collapse of two major Hangzhou-based corporations, Zhongjiang Holding Co. Ltd and Tianyu Construction Co. Ltd.
The report said that companies in Zhejiang had created a reciprocal credit guarantee network, to satisfy the requirements of guarantors while seeking loans from banks and financial institutions. 
After Zhongjiang's collapse and Tianyu's bankruptcy, banks in Hangzhou started recalling loans given to many firms tied to the network, affecting more than 600 companies linked to Zhongjiang or Tianyu in Hangzhou. 
The total volume of loans in the credit guarantee scheme is estimated to be about 10 billion yuan ($1.56 billion). If banks continue to recall their loans from every company in the chain, these companies could face a severe liquidity crisis. 
On the one hand, they may not be able to repay the loan right away or provide adequate collateral in case the loans were guaranteed by Zhongjiang or Tianyu. 
On the other hand these small to mid-sized companies cannot provide the losses banks incurred on credit extended to Zhongjiang or Tianyu if they acted as credit guarantors for either of the two. 
The report says that an official at the Zhejiang Provincial Financial Office confirmed the news about the letter from 600 affected companies in the Hangzhou area. 
The letter contains two requests. The first is to urge the provincial and local authorities to form a coordinating team to rapidly settle this loan crisis in an effective way. Among these authorities are the Zhejiang provincial government and Zhejiang Province Economic and Information Commission, the Zhejiang Provincial Financial Office, and the Zhejiang Office of the China Banking Regulatory Commission.
The second request is that the Zhejiang provincial government should mediate to prevent the banks from recalling loans. The banks can then be persuaded to use the loan repayments already collected to temporarily refinance these companies in the chain of mutual guarantees. 
This way, the group of businesses experiencing temporary liquidity problems could continue to operate. Moreover, the government should negotiate with the banks so that they will not, in the next three years, curtail loan limits to these companies.
The Domino Effect
Patrick Chovanec, economics professor at Tsinghua University in Beijing of China, explained how Tianyu's sudden failure produced the domino effect of defaults which is pulling down every member in the network of mutual guarantees and thus devastating their lenders as well.
In the credit guarantee network in Zhejiang, Chovanec said, company A acted as a guarantor of company B, and some subsidiary of company B ended up acting as a guarantor for company A. 
If either of the companies went bankrupt, banks would be worried about the loans they made to other companies guaranteed by the collapsed company, so banks ended up recalling loans for each link in the chain. These interlinked companies might have guaranteed loans for more companies, spelling trouble for other enterprises as well. 
Chovanec quoted Caixin's June 26 report saying that 62 companies, from furniture makers to import-export traders, have been affected to a varying degree by the bankruptcy of property developer Tianyu Construction Co. Ltd in late 2011. 
The Zhongjiang group's collapse is the other trigger for the whole stack of mutual guarantees to come crashing down, threatening numerous banks and businesses.
According to a July 9 report by Chinese financial magazine Caixin, Zhongjiang kept borrowing several billions of yuan from banks for their investments and acquisitions, including 3 billion yuan (US$47 million) from China Construction Bank (CCB)'s Zhejiang branches. This business group also owes other banks and 68 companies about 5 billion yuan ($US78 million). The final insolvency of Zhongjiang sucked its creditors into a full-blown financial crisis. 
Zhongjiang chairman Yu Zhongjiang was detained by police for illegally soliciting funds on June 14, according to the Caixin report. Yu also faces allegations of having forged loan applications. The case involves a total of 8 billion yuan (US$1.25 billion) in outstanding debts. 
Who is Responsible?
According to Caixin, one credit analyst said Zhejiang banks have been blindly trusting loan guarantors without any scrutiny. Some company managers blamed the banks for acting greedily during periods of easy credit access but pulling back at the first sign of trouble. 
"Zhejiang's business owners were spoiled by easy access to credit, especially in 2008 and 2009," said a credit manager of a bank.
"The reciprocal nature of the guarantee network has removed any value from bank loan guarantees. The system has made all its participants mutually vulnerable to an economic downfall," another banker said. 
In an interview with The Epoch Times, an insider of Carleo Group Co., Ltd admitted that their group is among the 600 enterprises that asked for the provincial financial support. She said that all firms strive to have a better business environment and wish that the banks would relax loan rules, and that "this is what every enterprise has hoped for." 
Cheng Ping, a business specialist in Hangzhou's Xiaoshan Development District, told The Epoch Times that the actual situation of enterprises in a sluggish economy is even worse. 
"Many small- and medium-sized enterprises in Hangzhou experienced strategic and operational difficulties half a year ago," Cheng said. "Now it is even harder. In the early years of development and expansion, the small export firms got larger loans to acquire land, purchase equipment, and build factories. Now it has become impossible for them to cope with financial restraint."
But even if the 600 companies were to receive assistance, Chovanec pointed out, "Bailouts, when they do happen, don't make losses go away, they just impose them on someone else—the drag on growth remains." 
Read the original Chinese article. 
The Epoch Times publishes in 35 countries and in 19 languages. Subscribe to our e-newsletter. 
Click www.ept.ms/ccp-crisis to read about the most recent developments in the ongoing crisis within the Chinese communist regime. In this special topic, we provide readers with the necessary context to understand the situation. Get the RSS feed. Get the new interactive Timeline of Events. Who are the Major Players?