Creating a Modern Landmark Home
April 4, 2014 5:21 am Last Updated: April 3, 2014 12:25 pm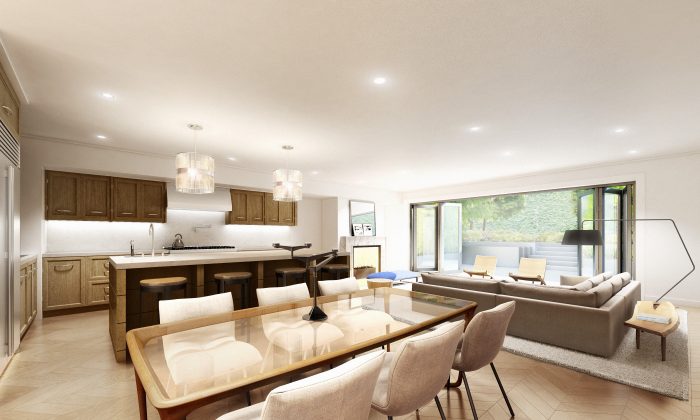 Jetsetters are buying glassy luxury condos, but pre-war and historic buildings will always have a place in New Yorkers' hearts.
In today's market, properties are competing to have the best of amenities, whether it's a new development or a turn-of-the-century co-op. Sellers of older buildings understand this. By updating the interiors of a historic building—be it the plumbing or a new gym—buyers are getting the best of both worlds.
On 57th Street, or "billionaire's row," pre-war co-ops stand alongside super-tall, super-skinny skyscrapers that boast 360-degree views of the city. But both are pushing for state-of-the art finishes inside the units.
In the West Village, an apartment building built in the 1870s is now being converted into a modern townhouse. The once 10-unit building located in the Greenwich Village Historic District was restored to landmark status and turned into a six-floor townhouse.
"We are restoring every facet of the property down to its bones, transforming it into one of the most highly sought after single-family residences in all of downtown Manhattan," stated Jeffrey Simpson, head of property development at Greystone.
The building is spacious inside and out, with a 775-square-foot, two-level outdoor patio and a 1,200 square foot rooftop terrace. The views from the terrace are on par with other new developments, giving unobstructed views of 1 World Trade Center, the Hudson River, the High Line and the Empire State Building.
It was the perfect location to create "the ultimate luxe townhome," said Tom Ryan, an executive with Greystone.
Every facet of the building that was landmarked and needed to be submitted for approval to the Landmarks Preservation Commission, Ryan explained. The facade is a common piece, but the rear of the building is fully visible from the High Line and needed to be approved as well.
"You don't get a general construction permit without Landmarks approval, so everything is hinging on that initial process," Ryan said.
It's a lengthy process because every aspect depends on another, but worth it. With floor to ceiling windows, two fire places, a wine cellar, custom lighting, and modern finishes, Ryan says it's a "truly cosmopolitan" property.
"The end result is a truly authentic structure with gorgeous lines, details and original materials," Ryan said. "A mix of old tradition and new design that's true to form."