HONG KONG—Defending champions Craigengower Cricket Club successfully kept the title but all eyes were on Island Lawn Bowls Club who finished as champions in at least four divisions.
CCC were leading second-placed Hong Kong Football Club team B by one point before the final game against mid-tabled Tuen Mun Sports Association at home last weekend, Feb 25. The three CCC teams skipped by Lee Ka Ho, Stanley Lai and Simpson Chang did not have  a problem in dispatching their opponents and the match finished 8-0.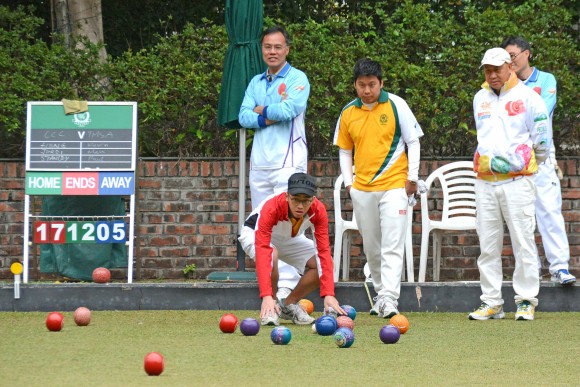 Meanwhile, second-placed HKFC-B played at home against relegation-threatened Kowloon Cricket Club. The match finished 6-2 but in the end the score did not matter as CCC took full points from their game to clinch the title by three points.
At the other end of the table, bottom team Club de Recreio defeated third-from-bottom Kowloon Bowling Green Club team-B 2-6, and surpass them. But it was not enough to get them out of trouble as second-from-bottom KBGC-A won 8-0 at home against Filipino Club. CdeR will join KBGC-B in Division 2 next season.
In Division 2, the Hong Kong Youth Development Team clinched the title on shot difference and will make their debut in the top division next season. The B team of HKYDT finished runners-up in Division 6 to achieve their third consecutive promotion. The results proved that the youngsters have benefited from the systematic training program offered by the Hong Kong Lawn Bowls Association and have become a strong and competitive force in the bowls community.
While CCC won the Division 1 title and were runners-up in Division 2 and 3, it was all smiles for ILBC members as they have secured four championship wins so far, including Division 3 and 6 for men and Division 1 and 5 for women. The tally may increase over the weekend as one of their women's teams is currently leading Division 4 by 4 points.
Although there were good results for CCC and ILBC, it was a season to forget for clubs based at Victoria Park. All four teams entered by Victoria Lawn Bowls Club, including three men's and one women's team, were relegated. Two of the four City Lawn Bowls Club teams were also relegated.
This weekend will see the final action for the women and from men's Division 9 and 10. As ILBC have already won the women's Division 1 title all eyes will be on the bottom half where four teams, Indian Recreation Club, KBGC, the Police and CdeR, will fight for their survival.
All games will start at 3:00 this week.
Triples League Final Standings – Men

Claudius Lam is an officer of the Hong Kong Lawn Bowls Association.