With flagging ratings and viral photos showing half-empty stadiums, Dallas Cowboys owner Jerry Jones talked about the national anthem protests.
"There is no question," Jones told Dallas Morning News reporter Brandon George on Sunday, Oct. 22, about whether the NFL is suffering due to the protests during the singing of "The Star-Spangled Banner" before games. Players have said that they're protesting police brutality and racism, but critics—including President Donald Trump and Vice President Mike Pence—have contended the kneeling is disrespectful to the flag and veterans.
"There is no question the league is suffering negative effects from these protests," Jones said.
Jones, in September, said that the national anthem isn't the right time or place to protest.
"I do not think the place to express yourself in society is as we recognize the American flag and all the people that have made this great country," Jones told Fox News at the time. "That's not the place to do anything other than honor the flag and everybody that's given up a little for it," he added.
In early October, the longtime Cowboys owner apparently was more displeased and he reportedly told his team that if they protested, it would spell dire consequences.
"If there's anything that is disrespectful to the flag, then we will not play. OK? Understand? If we are disrespecting the flag, then we won't play. Period," Jones said, according to reports at the time.
"We're going to respect the flag, and I'm going to create the perception of it. And we have. I'm not aware and wouldn't know what you're talking about. I'm not aware of that. . . . We as a team are very much on the page together. We have made our expression that we're together," Jones added.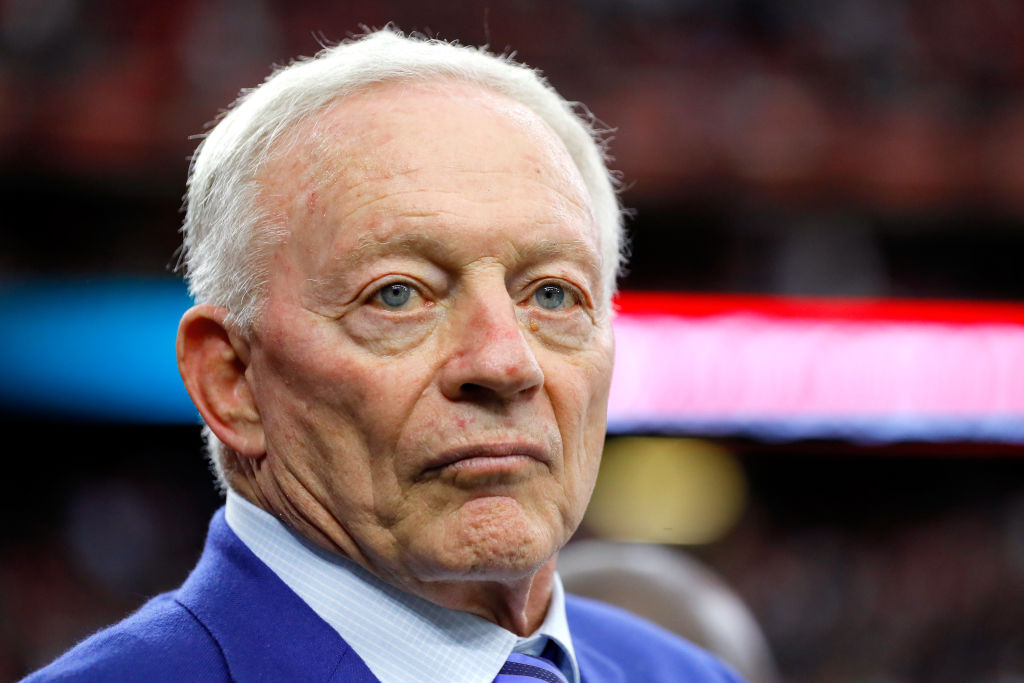 His comments drew criticism from the NFL Player's Association.
Before the Cowboys' 40-10 demolition of the San Francisco 49ers on Sunday afternoon, four 49ers players took a knee. No members of the Cowboys did.
Former 49ers quarterback Colin Kaepernick is credited with starting the protests last year. Kaepernick this month, through his lawyer, filed a grievance with the NFL and all 32 owners, accusing them of colluding to keep him out of the league. Kaepernick had exhausted "every possible avenue with all NFL teams and their executives" before filing it, his high-profile lawyer, Mark Geragos, said in a statement to the New York Times.
On Monday morning, President Trump criticized the NFL after players across the league took a knee.
"Two dozen NFL players continue to kneel during the National Anthem, showing total disrespect to our Flag & Country. No leadership in NFL!" he wrote.
Two dozen NFL players continue to kneel during the National Anthem, showing total disrespect to our Flag & Country. No leadership in NFL!

— Donald J. Trump (@realDonaldTrump) October 23, 2017