By the end of Halloween, some visitors in Shanghai Disneyland found the longest waits were for the COVID-19 test, rather than the roller coaster, as everyone had to be tested before leaving the resort.
The resort sealed the entry and exit gates late on Oct. 31 and said on China's Twitter-like Weibo that operation would not resume until Nov. 3 at the earliest. Footage on social media shows dozens of health workers in protective suits assembling in the park on Sunday evening.
The high-profile shutdown came hours after authorities in the nearby Hangzhou city found a positive case in someone who had been at the theme park a day ago.
Hunting out cases and stamping out new infections are China's zero-tolerance tactics toward COVID-19. This time, the hardcore approach saw visitors stranded inside Shanghai Disneyland on Halloween night—a day that tens of thousands of visitors flocked to the resort to join the festivities.
The Epoch Times called the resort but the call was not answered.
The venue operator also required patrons and staffers in the theme park during the past two days to immediately undergo coronavirus testing.
Headteachers at kindergartens, elementary schools, and secondary schools in Shanghai contacted every student to record the names of those who had been to Disneyland during the past weekend, said state media.
As of 8 a.m. on Monday, nearly 34,000 people at Disneyland had tested negative, according to the report.
On Oct. 30, Universal Beijing Resort said it tested all staff after health authorities notified them of a CCP virus case in a person who visited the park.
Across the nation, about 500 domestically transmitted cases with confirmed symptoms were reported in the past two weeks. Although many provinces claimed that they were free of the CCP (Chinese Communist Party) virus, commonly known as novel coronavirus, authorities are sparing no effort in minimizing transmission risks.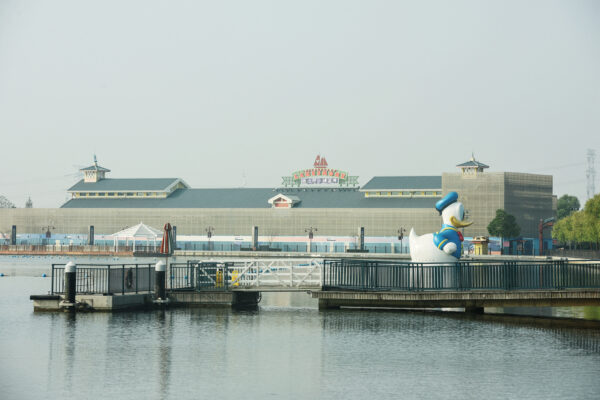 In northern Heilongjiang Province, where the daily tally of new infections peaked Oct. 29, Jiamusi city and Mudanjiang city on Oct. 30 announced temporary closures of various indoor entertainment venues.
Yichun city said people arriving from outside on leisure trips would be barred from entering tourist sites until Nov. 6. The three cities have reported no infections so far from the current outbreak.
In southern Dongguan city, also infection-free for now, an international exhibition center suspended various events.
Many cities with local infections, including the capital Beijing, halted some indoor leisure venues such as internet cafes, chess and card parlours, and cinemas, while a number of marathon races, concerts, and theatrical performances were delayed or cancelled.
On the evening of  Oct. 30, local police in Yanshan county in Jiangxi Province issued an emergency notice to adjust all traffic lights to red in a bid to reduce traffic flow.
The announcement was later deleted.
Shares of China's consumption-and-tourism-related companies were down in early trade on Nov. 1. The consumer staples sub-index slipped 1.5 percent, while the tourism sub-index retreated by more than 4 percent.
Reuters contributed to this report.