China's state media have been reporting in recent days that the CCP virus is flaring up in different parts of the country, leading to international events being postponed, districts going into lockdown, and residents in outbreak areas being tested overnight.
Local authorities in Yingkou, in the northeastern province of Liaoning, on May 15 reported that 13 local cases of CCP (Chinese Communist Party) virus transmission, linked to a photography studio. Nine areas across the city of 2 million people have been elevated to medium CCP virus risk, and tens of thousands of residents were lining up to be tested overnight.
According to the official report, all confirmed cases are employees of the Golden Childhood Photography Studio and are close contacts of individuals, named Li and Lu, who tested positive in Anhui Province on May 13. That's led to local officials in Anhui and Liaoning blaming each other over the outbreak.
On May 13, five cases were confirmed in Anhui's provincial capital of Hefei, as well as in Lu'an city. The official notification identified Li, a resident in Feixi county of Hefei city who had visited three other provinces and five cities in the past 18 days, as the source of the local cluster. The Anhui Provincial Office of Epidemic Prevention and Control issued a notice on May 14 stating that Li had traveled to Dalian, in Liaoning, and was in close contact with an infected patient there, while the Dalian Center for Disease Control and Prevention rejected the claim.
The actual numbers of infected people in Yingkou and Anhui province are unknown, since the Chinese communist regime has a history of downplaying or covering up crises.
The cases triggered local officials to track down 3,048 people as close contacts. Both provinces have also postponed events, including the Anhui Huangshan International Marathon, the 14th Anhui International Tea Industry Expo, and Dalian International Walking Festival.
The Bayuquan district of Yingkou and residential neighborhoods in Lu'an have been under lockdown since May 14.
Meanwhile, mandatary mass testing for the CCP virus, commonly known as the novel coronavirus, has been carried out in both provinces.
Tens of thousands of people have already been tested in Feixi County in Anhui.
A resident in Shangpai Town of Feixi, which is listed as a medium-risk location, told The Epoch Times that while the area isn't under lockdown, people within a several-kilometer area have been forced to get tested.
"They shouted in the middle of the night and knocked on doors from house to house to get us to do the testing. Hundreds of personnel, including staff from the community offices and doctors, came to do the nucleic acid tests on us," the resident said.
Li and Lu reportedly had stayed in the Bayuquan district of Yingkou and had traveled repeatedly between the Golden Childhood Photography Studio and Aiju Jinyang Hotel before arriving in Anhui.
A video posted online showed that at 10:30 p.m. on May 14, residents of Bayuquan, including children and the elderly, were still on a long line to be tested. Yingkou city officials reported on May 15 that the district completed its first round of mandatory testing for all residents, and a second round had been scheduled to start on May 16.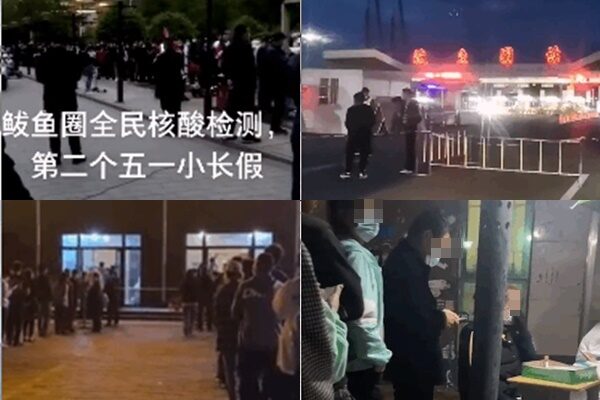 Currently, nine neighborhoods and villages in Yingkou, including one in Gaizhou and eight in the Bayuquan district, have been upgraded to medium-risk areas. Vehicles and personnel in the district aren't allowed to leave without special reasons; those needing to leave are required to show a negative test within 72 hours of departure.
Meanwhile, a shop owner in Gaizhou told The Epoch Times that there was also a confirmed case in Yangdian village; the whole village has been blocked off and residents cannot leave.
"We are very close to [Yangdian Village], and we are not allowed to go out," he said. "Although some stores are still open, there are no people on the street. I haven't gone out for a day, and there are no customers after opening [the store]. "
He added that the local residents had all undergone nucleic acid testing on May 14.
A staff member at Aiju Jinyang Hotel, where Li had stayed, told The Epoch Times that the hotel is now a facility for isolation and isn't taking any bookings; all hotel staff members are now quarantined in the hotel. The staff member declined to answer other questions about the situation.
The Golden Childhood Photography Studio didn't respond to a request by The Epoch Times for comment.
Hong Ning, Zhang Bei, Xiao Lusheng, Gu Xiaohua, and Zhang Yujie contributed to this report.