Australian Prime Minister Scott Morrison has called for a "common sense" approach to measures against COVID-19, saying there was no need to mandate masks, police people with QR code tracing, or require PCR testing for interstate travel.
In particular, Morrison suggested that Australia's states and territories didn't need to resort to imposing mandates for things that people could self-manage using "common sense."
"Our systems need to respond differently to the way they did in earlier phases of the pandemic, where, because the case numbers were so much less, you could have more of a direct government intervention and control of these responses," Morrison told reporters in Canberra on Dec. 22.
"Going forward with Omicron, there will need to be more of a role for individuals in self-managing and self-regulating their responses."
Chief Medical Officer Paul Kelly said that while Omicron cases were growing, concerns of its deadliness had been abated after the nation hadn't seen a rise in hospitalizations.
But while Morrison fervently encouraged people to wear masks, if only out of consideration of others, he believed Australians had enough common sense that further mandating their use was unnecessary.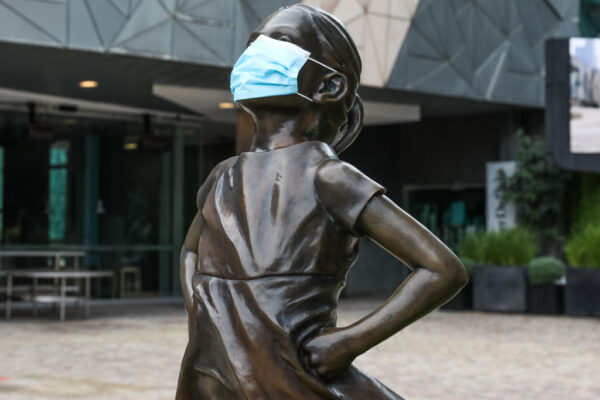 "Mandates are enforcement mechanisms," Morrison said. "Mandates also require enforcement, and that requires resources to be applied to enforcement."
"Wear a mask in an indoor setting, you don't need to be forced to do it. It's a very clear message, wear a mask."
Australian health advice also highly recommends wearing masks to combat the spread of COVID-19, the disease caused by the CCP (Chinese Communist Party) virus. Currently, most Australian states and territories have required or will require wearing masks indoors.
But New South Wales, a state that has loosened restrictions and hasn't made masks compulsory, currently still sees around 85 percent of people wearing them.
The prime minister also said that requiring PCR tests as conditions of entry to states, such as Queensland, had inhibited testing for those who needed it.
"We've all seen the terrible queues and the long waits people have had. Some 20 to 25 percent—one in five, one in four—people waiting in those queues are not symptomatic, they're not a close contact, they're not even a casual contact. They just want to travel to another state."
"This is putting unnecessary pressure on the testing system and it is redirecting resources away from where there is better use of it."

He said that an announcement would later be released based on medical advice that would determine whether COVID-19 testing would be required at all for travel, or whether rapid antigen testing could be used in its place.
With regards to QR code contact tracing, Morrison said the method would no longer prove adequate for states with large case numbers, and referred to jurisdictions such as Queensland, South Australia, Tasmania, and Western Australia.
"In those states and territories where there are very high numbers of cases, the prospect of tracing every single person who logs into a particular venue is unrealistic, and is not a good use of resources."
He added that contact tracing would mainly provide support to inform Australians if they had been in close contact with a known case—and not to be "used to police people, or to impose sanctions on people."