Court Rules Worship Not Allowed in NYC Public Schools
April 6, 2014 10:50 pm Last Updated: April 7, 2014 6:48 am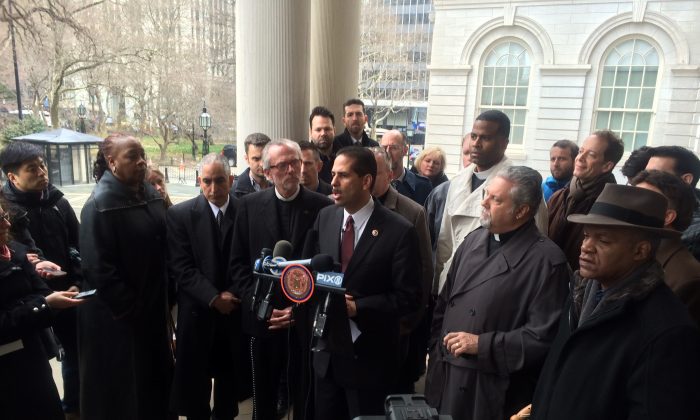 NEW YORK—In a 2-1 ruling on Thursday judges at the U.S. Court of Appeals for the Second Circuit sided with New York City's Board of Education, saying it had the right to refuse to rent public school space for religious worship.
"We conclude that the Board's prohibition was consistent with its constitutional duties," the ruling stated.
It reversed an earlier decision by a District Court in 2012 that sided with Bronx Household of Faith, a Church that was seeking to rent space from P.S.15 on weekends.
"What we have here is an issue of religious freedom," said City Council member Fernando Cabrera (D-Bronx) who stood with religious leaders on the steps of City Hall on Friday to protest the ruling.
"What we're asking for is fairness and for houses of worship to be able to function and to be able to rent with the same treatment that all the other non-profit organizations are receiving today."
He argues that renting school space not only provides badly needed revenue for the schools, but in a city like New York with notoriously high rent, it allows people of faith to congregate in areas like the Bronx where churches are scarce.
"I'm in the Lower East Side where thousands of our constituency don't really have a lot of money," said Rick Del Rio, pastor at Abounding Grace Ministries. "So when we're expected to get a public place or a place where we have to pay prevailing rent, to gather a church of about 150 people would cost $20,000 a month on the Lower East Side."
At $1,600 on average a month, he pays significantly less at P.S. 34 where his congregation currently meets. 
Opposition
Opponents argue this is "subsidizing religion" and could be misconstrued as government endorsement of a particular faith, even though they pay the same amount as any other non-profit.
Cabrera argues the current rules do discriminate against certain religious groups because some groups can still rent the space as long as it is not for worship.
"Should government be in the business of defining what worship is?" questioned Cabrera. "Quakers sit around in a circle. Under the guidelines that we have right now, Quakers would be allowed to meet, but other religious groups wouldn't." 
Of the 160 houses of worship this will affect, Cabrera says they are predominantly Christian, as well as a few Jewish, Muslim, and Bahai congregations.
"It really just comes down to what they would be doing there," said Angelica May, a resident of Queens. "If they're doing it to try to convert parents of children then I don't believe it belongs in public schools."
Edward Nunez, who lives in Brooklyn, said he is okay with public schools being used for worship, "As long as they aren't interfering with the school classes," he said.
"I think it's totally wrong for the courts to deny the churches the right to use the public schools when you allow all kinds of other community groups to do the same thing," said Kevin McCullough, a resident of New Jersey who works in New York.
New Administration
And apparently Mayor Bill de Blasio shares his view, according to a quote in the Wall Street Journal. 
Speaking about church groups renting spaces in schools, de Blasio said, "They have to go through the same application process, wait their turn for space, pay the same rent."
The mayor has the ability to make null the court ruling because it was the city that took legal action in the first case. But if the mayor reverses the decision, advocates for allowing worship in schools worry it would be a band-aid solution that could easily be reversed by the next mayor. 
If that happens, Cabrera says they are willing to take it to the Supreme Court, even though an appeal was initially denied back in 2011.
"The fact that it was denied last time gives it a greater possibility," said Cabrera when asked how confident he was in submitting it again.
Holly Kellum is a special correspondent in New York.