Couple Kristi Warriner and Justin Nelson got married next to their infant son, J.J., who was getting treatment for a lung disease in Texas.
According to NBC5, the boy was recovering in the Cook Children's Medical Center's NICU after he was born at about 1 pound and 13 ounces a month piror.
The couple also explained to the news outlets that the child was born about 15 weeks early.
As their son was recovering in the hospital, Kristi and Justin decided to get married next to the boy due to the very limited options available to them.
"It's not what you dream of as a little girl. It's even better," the bride told the Fort Worth Star-Telegram.
J.J., after several weeks in the NICU, now weighs 6 pounds, 8 ounces (2.95 kg), according to an updated report from Reuters. "He's definitely made some improvements and he is a fighter," Kristi told ABC News.
The hospital helped arrange the wedding for the couple, who wanted to get married but have been spending almost all of their spare time in the NICU with their son, Reuters reported.
"It was pretty touching and emotional knowing what the couple has gone through and overcome," Winifred King, a hospital spokeswoman, said on Wednesday.
"We thank God every day for J.J. getting better and stronger," Kristi told NBC5 after the wedding.
During the ordeal, "Our love has only grown and made us stronger. We know that after all we've been through, there's no doubt that we can make it through anything," Justin said, reported ABC.
"We've had great times and we've definitely been through some very tragic and hard times," he added.
The couple said they decided to talk to media outlets about their story to encourage other parents who have lost children in utero or struggled with a child in the NICU.
"Our mission behind all this was to hopefully let others [know] that have been there, are there, or unfortunately one day could be in a similar situation as ours, and let them know they are not alone," Warriner explained to the NBC affiliate. "It is the most heartbreaking thing to ever go through as a parent."
World's Smallest Preemie Survives
A baby described by some as the world's smallest to survive was sent home healthy several weeks ago, according to news outlets in California.
Saybie was delivered at just 23 weeks at San Diego's Sharp Mary Birch Hospital for Women and Newborns, 10News in San Diego reported.
The girl didn't even weigh one pound and was only 8.6 ounces, which is about as much as an apple, the hospital said at the time. She was born in December 2018.
"No one expects their baby to be born with complications," said Trisha Khaleghi, senior vice president and chief executive officer at Sharp Mary Birch, in a statement to 10News. "But when the unexpected occurs, Sharp Mary Birch is equipped with the latest technologies, equipment, research, and specially trained experts to care for even the world's smallest baby."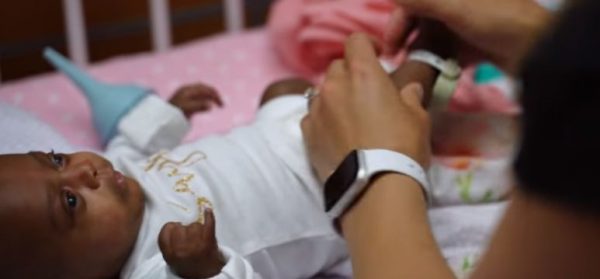 The girl was sent home sometime in mid-May, and hospital officials described her as healthy at around 5 pounds.
Reuters contributed to this report.