The lawyer for the homeless vet whose kind act sparked a $400,000 campaign said that the couple behind the fundraiser lived a lavish lifestyle with the latest phones and top-brand bags and sunglasses, while he lived in a trailer on their driveway.
Kate McClure and Mark D'Amico set up the GoFundMe campaign last fall, after homeless veteran Johnny Bobbitt came to McClure's aid when her car ran out of gas on a Philadelphia highway, spending his last $20 to get her safely back on the road.
But now Bobbitt is suing the couple, who set up an online campaign to help him, after allegedly receiving less than a quarter of the $400,000 donations.
According to the New York Post, Bobbitt's lawyer, Jacqueline Promislo, said the couple started spending the money right after they deposited the online donations meant for Bobbitt into their bank account last fall.
"They went on shopping sprees,' Promislo said. "[Bobbitt] tells me they had a Louis Vuitton bag and Chanel sunglasses, a new iPhone 10."
According to the Post, the couple had amassed hoards of expensive Nike kicks, Bobbit had told her.

"Until we have a forensic accountant go through it, I can't say that they spent his money," said Promislo. "But now that they say there is no money, where did it go?"
'Bobbitt Received Only $68,000'
A lawyer for the couple did not respond to the paper for comment. However, the couple had previously denied the accusations that they mismanaged his funds, saying that they were wary of giving Bobbitt large sums for fear he would buy drugs.
The couple is currently subject to a criminal investigation, police confirmed when they raided their house on Thursday, Sept 6.
Promislo said that the couple spent only $68,000 on Bobbitt.
"There is in my mind about $300,000 that was raised for Johnny that he doesn't have—and that they now say they don't have," she said.
Earlier last week, lawyers for D'Amico and McClure disclosed that none of the $400,000 remains.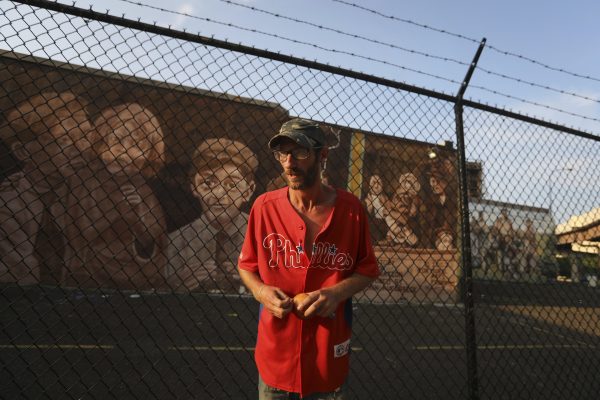 However, lawyers from the two sides disagree on how much of the $400,000 has already been spent on Bobbitt's behalf, according to the Inquirer.
Bobbitt's lawyers say he was given a total of about $75,000. But the couple's lawyer, Ernest E. Badway, claims he has received $200,000 so far.
Online fundraising site GoFundMe announced on Sept. 6 that the homeless veteran will get all of his money.
Living in a Trailer
Promislo said that the couple did buy Bobbitt a trailer and a used truck.
However, they never gave him the key to the truck. When that broke down, that left the trailer stranded in their driveway, she said.
With no money coming to him, Bobbitt eventually ditched the trailer in June and began living again under the bridge, she said.
The trailer and truck have since been sold by the couple, according to Promilso.
Kate McClure ran out of gas on the I-95 highway in Philadelphia late at night last fall. Bobbitt, who was living under a highway ramp, came to the rescue, walking to the gas station and spending his last $20 on gas for her.
Unable to repay him at the time, she returned to repay him, and for later visits.
Bobbitt, a former Marine, had worked as a paramedic and firefighter, but had fallen afoul of drugs and the law and was scraping by panhandling.
Learning more about him, McClure decided to set up a GoFundMe page in his name, hoping to raise $10,000, to help him back on his feet.
More than 14,000 people responded, and donations soared to $400,000.
McClure and her boyfriend began promising on the page to use the cash to buy Bobbitt his own home and set up two trusts.
According to Bobbitt, that never happened.
Promislo said Bobbitt spoke highly of Kate and was reluctant to sue.
"I always felt like I was in a weird situation. I didn't want to be pressuring to get a lawyer or do anything because I didn't want to seem ungrateful," Bobbitt told ABC. "I wish it didn't come to this—I hate that it came to this."