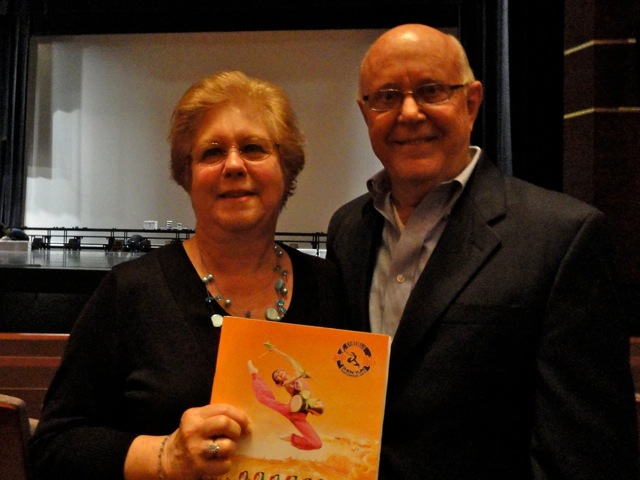 DAYTON, Ohio—Harold and Pat Mastellers celebrated their 50th wedding anniversary by attending Shen Yun Performing Arts, at the Benjamin and Marian Schuster Performing Arts Center, on May 1. The couple plans to do something special each month and celebrate all year long, starting with the world's premier classical Chinese dance and music company.
"I thought it was absolutely beautiful! The colors were gorgeous and its like rainbows flashing all over," Mr. Masteller said.
Mr. Masteller is a tenor at First United Methodist Church in Springboro and a retired attorney, formerly with Masteller Patent Services Inc.
New York-based Shen Yun is known for its classical Chinese dance, a system of dance with thousands of years of history, passed down continuously within the imperial palace and ancient Chinese theater and opera, according to the company's website.
"This is the first time I have seen something like that. It's really different and I really enjoy it. You can always be educated, not matter how long you have seen shows," Mrs. Masteller said.
Mr. Masteller said the dances "were all so brilliant and beautiful" but he and his wife were impressed with a particular dance called Snowflakes Welcoming Spring. In it, maidens throw up dazzling handkerchiefs and catch them, after they perform technically demanding moves.
As for their agreeing about a dance they both enjoyed, Mr. Masteller said, "Well, we've been married 50 years this year so you can tell we think alike. And we thought we would start out with something like this—educational." Thus the couple decided to see a cultural performance first.
Supporting the Shen Yun dancers is a full orchestra which combines both Western and Chinese instruments. A trio of bel canto style soloists  pianist are also featured in the presentation.
"I like the singing very much," Mr. Masteller said. "The orchestra was wonderful!" he added.
Mrs. Masteller chimed in. "Absolutely, yes, yes! I wish I could have seen them! Next time I'll sit in the front row, then I can look down."
"And I appreciated the pianist," Mr. Masteller said, explaining that his daughter teaches piano. "So we enjoy music and appreciated everyone in the orchestra."
Mr. Masteller also appreciated the dances that spoke of oppression in modern China. "They are limited in what they can say and teach, so that was brought out very forcefully," he said.
For Mrs. Masteller, "It took me away from everything going on in life today, and the news, and all that. …It just takes you away to another time and space, and just enjoy life. So I'm very glad we came."
Both would happily tell their friends about the show.
"Yeah, I'd love to bring my daughter," Mrs. Masteller said.
Reporting by Catherine Wen and Sharon Kilarski.
New York-based Shen Yun Performing Arts has three touring companies that perform simultaneously around the world. For more information, visit ShenYunPerformingArts.org