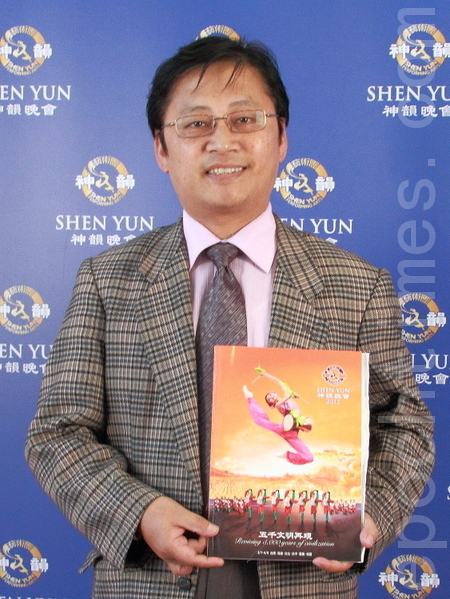 TAOYUAN, Taiwan—Hsinchu County Council member Yi-Xien Zhao was at the Taoyuan Country Performing Arts Center on Saturday afternoon, April 7, with his entire family to see Shen Yun Performing Arts New York Company.
"Shen Yun, based in New York, presents colorful and exhilarating performances of classical Chinese dance and music. A performance by Shen Yun is a presentation of traditional Chinese culture as it once was: a study in grace, wisdom, and the virtues distilled from the five millennia of Chinese civilization," states the company's website.
After the performance, Mr. Zhao said, "Shen Yun's performance was indeed very wonderful. The artists were so professional and devoted that their performance was impeccable." He was so impressed that he was considering sending his daughter to Shen Yun to learn classical Chinese dance.
Mr. Zhao said he was deeply moved by the performance: "It was great! I was deeply moved. I fully agree with the value of Chinese culture, as our great Chinese cultural community is a realm of the divinely inspired culture. I was very much touched throughout the performance. And there was a kind of excitement in my heart, especially, as I felt the meaning of life in the program."
Feeling admiration for Shen Yun, Mr. Zhao said, "I found that every artist performed wholeheartedly, and their spirits are really respectable."
He was deeply impressed with the program How the Monkey King Came to Be, noting, "[It is] very creative. With the help of digital technology, the traditional Chinese legendary story adapted from the classic Chinese novel Journey to the West is well presented with dance."
As a Hsinchu County Council member, Mr. Zhao's business card is printed with a color photo of a group of aborigines dancing together. He said, "I especially like the program of the Taiwanese Amei Dance because I am a Hsinchu County Council's aboriginal member."
In conclusion, Mr. Zhao said, "I think the U.S.-based Shen Yun Performing Arts has upgraded the level of the Taiwan Amei tribe's dance. It makes me realise that Taiwanese aboriginal dance can also be modified with professionalism, so as to promote it to the international stage."
Reporting by David Lee & Billy Shyu
Shen Yun Performing Arts, based in New York, has three touring companies that perform simultaneously around the world, with a mission to revive traditional Chinese culture. Shen Yun Performing Arts New York Company will next perform in Melbourne, Australia, April 11-15 at the Regent Theatre.
For more information visit ShenYunPerformingArts.org
Read the original Chinese article