Council Hearing Highlights Charter Schools Differences
May 7, 2014 5:10 pm Last Updated: May 7, 2014 5:10 pm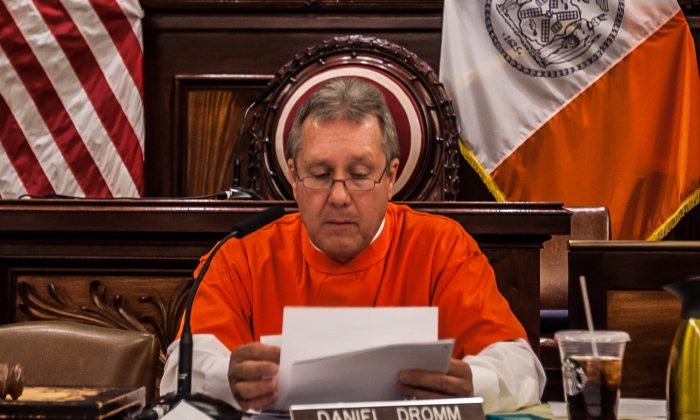 NEW YORK—A City Council hearing on charter schools Tuesday shed light on some of the finer points of the growing education sector. 
Daniel Dromm, the chair of the council's education committee, announced the hearing more than a month ago after the Success Academy charter network bussed thousands of parents and students to Albany on a school day to rally for charter schools.
The eight-hour hearing included testimonies from the Department of Education, charter schools, parents, and public school advocacy organizations.
Most of the criticism was aimed at Success Academy, the largest charter network in the city. Success Academy is currently operating 22 schools and has eight more opening in September. The speakers criticized the charter network for issues including the high student and teacher attrition and the $475,000 salary of its CEO Eva Moskowitz.
Noah Gotbaum, member of District 3 Community Education Council, said that Success Academy schools have a 50 to 70 percent teacher attrition rate. He also said that 70 to 80 percent of the students leave the school before reaching high school.
Success Academy was invited to testify, yet no representative attended. Ann Powell, senior managing director for public affairs at Success Academy Charter Schools responded by email to some of the claims.
The teacher attrition rate, she said, is 23 percent at Success. The annual student attrition rate is 10 percent.
But since Success Academy doesn't accept students to grades three and higher, the attrition would accumulate with each year leading to classes slimming down by 70 percent when reaching ninth grade.
Success Academy called for "serious leadership," rather than hearings, in its official response to the hearing. "Today's theatrics won't help the city's 300,000 kids reading below grade level or 50,000 parents stuck on charter school wait lists," the statement reads.
The long waiting list, one of the arguments for Success Academy's rapid expansion, was questioned by Dromm. "The waiting list has been on 50,000 for a number of years and it's kind of suspicious how it's always at 50,000," he said. "How do they come up with this number I don't know."
One of Dromm's major demands is increased transparency of how charter schools function. He is introducing a bill to this effect.
Dromm also criticized Success for not sharing its private funding with other schools it shares buildings with. Success raised tens of millions from private donors over the past several years.
Another charter school, Coney Island Prep, was criticized for its disciplinary measures. Dromm cited the school rules saying students who run out of points due to misbehavior have to wear orange T-shirts and other students are not allowed to talk to them. Dromm said that such a practice would be unthinkable for him during his career as public school teacher. 
"I would be taken away in handcuffs," Dromm said.
In response, Dromm was invited by Coney Island Prep to visit the school. He said he will do so, wearing an orange T-shirt throughout the hearing to protest the practice.
The Other Charters
At least a dozen charter school operators testified before the hearing, most of them members of the Coalition of Community Charter Schools (CCCS). The member schools came together in February to distance themselves from the controversy around charter schools.
Most of the charter representatives objected to being put in the same category as some of the criticized operators, specifically the Success Academy leader.
"It really could have been called a hearing on Eva Moskowitz," said Rev. Raymond Rivera, founder of Family Life Academy Charter Schools, a member of the CCCS.
Rivera and his fellow CCCS members said they are different from big charter networks, as they were created as part of their community, don't have rich private backing, and don't pay themselves overly high salaries.
Rivera noted that the recent change to the state charter school law, passed in this year's budget bill, helped the rich charters while abandoning the poor. 
The law now guarantees free space in public school buildings for New York City charters. If no space can be provided, the city has to rent a private space, as it decided to do for three Success Academy schools this Friday.
Yet the law doesn't address charter schools that already operate in their own space and pay rent for it, as many of the CCCS members do.