NY City Council Candidates Resist PACs
City Council races heavily influenced by real estate-backed PAC
September 5, 2013 7:04 am Last Updated: September 5, 2013 1:31 pm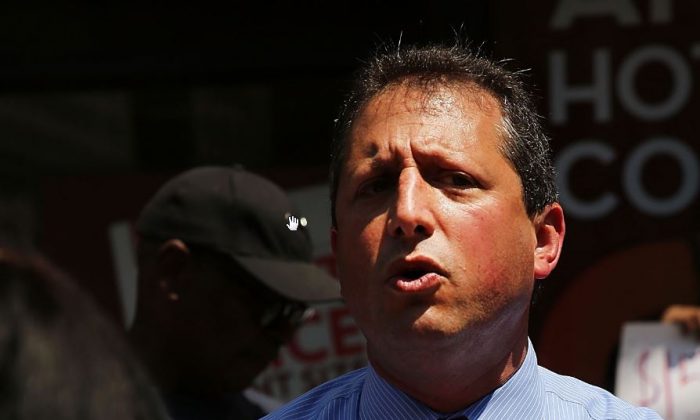 NEW YORK—This is New York City's first election cycle to be inundated with mailers, TV ads, and robocalls paid for by special interests, and City Council races are the biggest beneficiaries, despite some candidates' distaste.
With a little under a week to go before the primary, Political Action Committee (PAC) spending has topped $8.3 million—nearly half of that poured into the City Council races. Advertising both for and against candidates allow PACs to influence races without the candidates' involvement.
Some candidates are finding the introduction of PAC money into the races unwelcome—even when the money is spent in their favor—and they have little recourse to fight it.
The influence of PACs has grown widely since the 2010 Citizens United decision by the U.S. Supreme Court, which said the government could not limit spending by corporations, citizens, or unions.
In New York City, Jobs for New York, Inc. is responsible for nearly all of the PAC money in the City Council races, with $3.36 million in spending as of Sept. 3, according to Campaign Finance Board (CFB) records. Jobs for New York is backed by the Real Estate Board of New York (REBNY).
Article Continues after the discussion. Vote and comment
[tok id=9507735a1cd8db8d71de1b5913d11b7e partner=1966]
Candidates are allowed to spend only $168,000 on their campaigns, but PACs have no spending limits. The expenditures by Jobs for New York on behalf of nine of the candidates that they support have exceeded the $168,000 mark, with four topping $200,000.
PAC money can be influential, especially in City Council races, where candidates are faced with a much a smaller spending limit, a smaller voting pool, and where name recognition is crucial to getting votes.
As of Sept. 3, Jobs for New York has supported 18 candidates of the 21 vacant seats on the City Council. "Our exclusive focus is on backing candidates who will create jobs, housing and opportunities for middle class New Yorkers," said Phil Singer, spokesman for Jobs for New York, adding "the City Council plays a significant role in that process."
The Epoch Times reached out to 15 Council candidates Jobs for New York supported. Mark Treyger, Ari Kagan, Sara Gonzalez (who is an incumbent), Ritchie Torres, and Paul Vallone said they would not comment for the story.
Mark Levine, Margaret Chin (who is an incumbent), and Laurie Cumbo have all come out publicly against support from Jobs for New York.
Influence
With all of the mayoral candidates focused on affordable housing as a primary concern for New York City, the next City Council will likely face the issue of mandatory inclusionary zoning. The policy would mean developers would be required by the city to build affordable housing as part of larger development projects.
If a developer wants to use land, they must get final approval from the City Council. Negotiations begin at the Community Board level, but council members are often a part of the discussion before it heads to a vote at council. A council member's favorable view on land use matters typically has considerable sway in final decisions.
The real estate industry has opposed mandatory inclusionary zoning, preferring to make deals on each individual project. The real estate industry is generally not opposed to affordable housing—they just want to make sure they get something in return.
"I think that is going to be one of the big policy fights in the next Council: do we shift to a policy that requires affordable housing as a part of big new developments, or do we continue to leave it at the option of the developers, which then requires that we then give them a lot of subsidies?" said Council member Brad Lander in a phone interview.
The Brooklyn council member is running unopposed in his bid for reelection, and his campaign is not supported by Jobs for New York.
Please Stop
Cumbo, who is running in Brooklyn's Council District 35 to replace Letitia James, has been an outspoken critic of the PAC support. Cumbo has sent a formal letter to Jobs for New York and asked them to stop, but the PAC continues to print and sent mailers in support of her campaign. Jobs for New York has spent $149,024, according to a Sept. 3 filing with the CFB.
Despite the fact Cumbo's campaign receives none of the money and has no say in how Jobs for New York campaigns for her, rival campaigns have used the PAC's support against her by claiming she would be beholden to special interests if elected.
Cumbo says that is absolutely not true.
"This is something we have not interviewed for, requested, solicited, asked for, or desired," Cumbo said by phone, adding the mailers impede her ability to control her campaign message.
"It is something that has created an air of uncertainty in the political process and has done more damage," she said.
Putting on the Brakes
Council member Lander is proposing a bill that would require the campaign mailers to list who its top donors are, in addition to the name of the PAC (which is currently listed), so voters will know who is behind the support.
Cumbo, as well as Chin, Mark Levine, and Kirsten John Foy—all candidates who have spoken out against Jobs for New York spending on their behalf—have come out in support of the legislation.
"It is very important for communities to understand officials are not bought and paid for," Cumbo said. "It is very important that their leadership has the ability to think independently."