The twin ports of Los Angeles and Long Beach are facing one of the worst backlogs they've ever seen, as dozens of cargo ships wait at anchor in San Pedro Bay. Together, they handle as much as 40 percent of the nation's imports.
A combination of trade wars, tariffs, the COVID-19 pandemic, and a shift in spending habits of Americans have all played a part in creating the logjam, says Phillip Sanfield, a spokesperson for the Port of Los Angeles.
"This has been brewing for months," Sanfield told The Epoch Times.
He said the port has been slammed with waves of container ships carrying freight from Asia since mid-summer. The surge began in July and has not let up, and the volume of cargo in the last six months is double the amount received in the first half of 2020.
That's because Asia had slowed its production early in the year with factories closing due to COVID-19. But when factories resumed operations there, and Americans started buying more, the goods started flowing in.
While business is booming for the ports, some business owners say they are facing increased costs due to the slowdown—including tariffs that went into effect Jan. 1, adding charges to items waiting to be off-loaded from ships already in the harbor.
Don DiCostanzo, co-founder and CEO of Pedego Electric Bicycles, told The Epoch Times his Orange County-based business now pays 25 percent more on getting a shipping container from China due to the tariffs, on top of other increased costs.
That's the idea though. Tariffs imposed by former President Donald Trump were meant to dissuade shipping from China.
Trump—along with others, including Janet Yellen, the Democratic nominee for U.S. Treasury Secretary—has accused the Chinese Communist Party (CCP) of devaluing China's currency, unfair trading practices, and widespread theft of intellectual property.
The Trump Administration imposed the tariffs after trade negotiations with the CCP failed. He has said he is looking to rectify a trade imbalance that has cost Americans manufacturing jobs.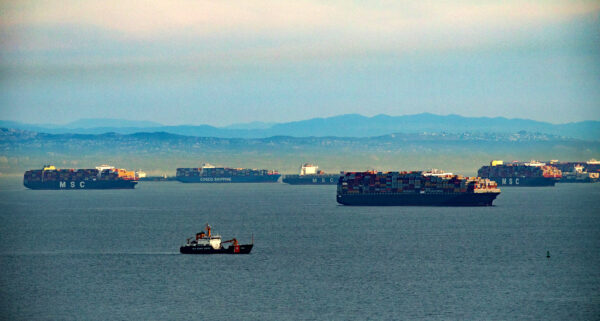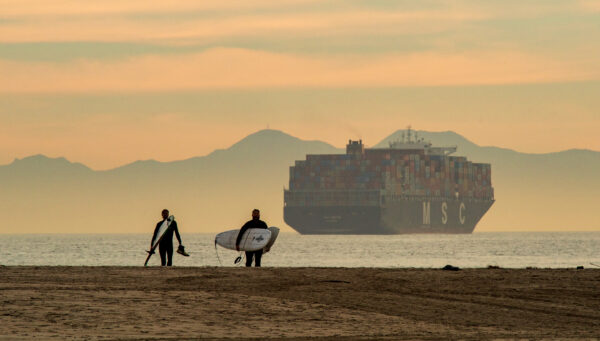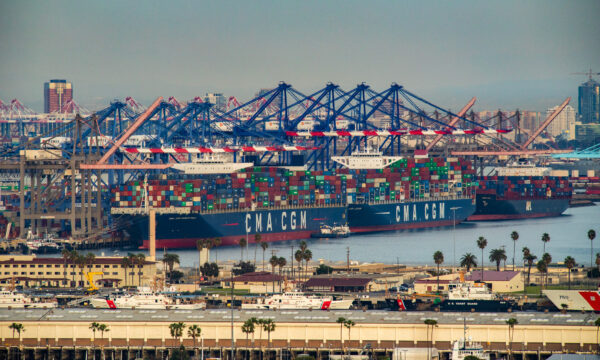 Spending Trends Shift
When the COVID-19 pandemic struck, worldwide manufacturing slowed and imports to the United States dropped by more than 20 percent in the first five months compared to the previous year, Sanfield said.
But by March—when California and other states imposed stay-at-home orders—China had begun to reopen its manufacturing facilities, and by July ships began to clog Los Angeles harbors as U.S. retailers restocked their shelves.
During the stay-at-home orders, there was "an inordinate amount of purchasing" from Amazon, drop-off delivery companies, and individual retailers, Sanfield said, as Americans spent their money on tangible goods.
"Home goods and gym equipment, and almost all of those kinds of products, began to have an incredible surge. We started to see record volumes of imports … this wave after wave of imports of goods coming into the United States, mostly from Asia," he said.
"During Christmas, the last couple of weeks before the end of the year, we saw 90 to 95 percent more cargo coming in than in 2019. So there's been this enormous surge of cargo."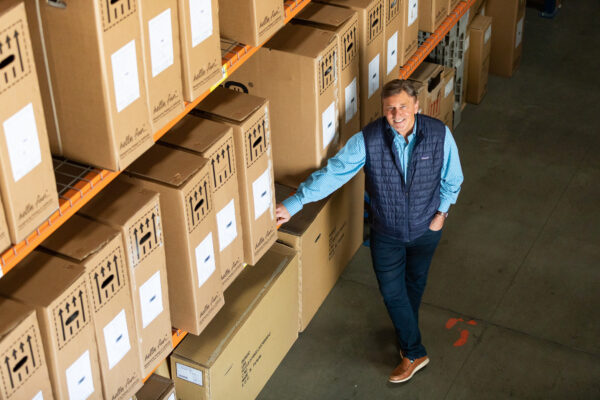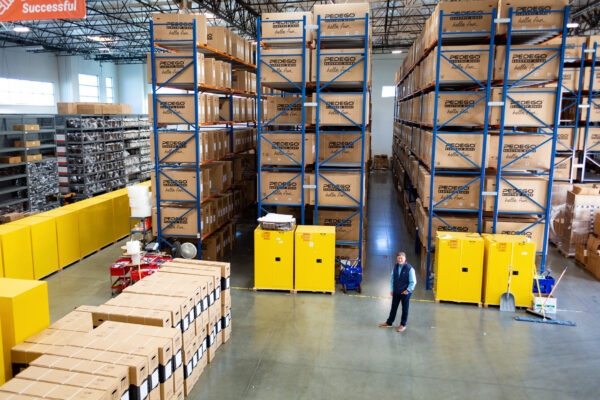 Increased Shipping Costs
Don DiCostanzo is co-founder and CEO of Pedego Electric Bicycles, based in Orange County's Fountain Valley. He says the combination of tariffs, shipping delays, increased shipping costs, and port fees is "seriously affecting" his business.
DiCostanzo's company designs, manufactures, and sells electric bicycles worldwide. The parts are manufactured in Asia, where the bikes are also assembled, then shipped as imports to the United States, where they are distributed and sold to customers.
"We get all of our products from China, Vietnam, and Taiwan," DiCostanzo said. "And so our business model is that we design them … here, and then we have them pre-assembled in those countries, and they come on a container ship because all the components come from there."
He said it used to take two weeks to get a container shipped from Asia to L.A. Now it can take more than twice that long, because of a "boomerang effect" caused by a shortage of containers due to the port delays.
"It used to cost us about $3,000 to get a container ship from China or Vietnam here. Now, it's closer to $5,000 because of all the different increased shipping costs. The container costs, port fees, and all that take it from $3,000 to $5,000 per container," DiCostanzo said. Those costs are in addition to the new tariffs, he said.
The only silver lining is that electric bike sales are seasonal, so there is still time for the company to get its inventory restocked for spring and summer, he added.
Tariffs Take Effect
Recently, three delayed containers sitting on ships anchored in the harbor cost him $200,000 more than he expected—nearly $67,000 each—because of tariffs that took effect on New Year's Day, DiCostanzo said. He figures the tariffs will cost his company about $7.5 million this year.
"So if we do $30 million worth of imports, it will cost us $7.5 million extra," he said. "We bring in accessories, too, and they are about the same. Batteries are 17 percent, and accessories are anywhere from 10 to 25 percent."
Though he has faced the challenge of increased shipping costs, DiCostanzo is still expecting higher sales revenue this year than last. The company imported about 20,000 Pedego bikes last year, which generated about $70 million in retail sales. Pedego is expecting sales revenue to be $100 million in 2021.
DiCostanzo was one of more than 90 merchants who testified before the U.S. International Trade Commission in July 2018 against the tariffs, which apply to a wide range of items including semiconductors, tractors, medical equipment, vaping devices, and electric bikes. Representatives of the National Retail Federation, the Steel Manufacturers Association, and the American Petroleum Institute also testified.
DiCostanzo testified again in August 2019. "We got those tariffs to be stayed … until Sept. 20, 2020, and then they delayed it until Dec. 31, 2020," he said. But as of Jan. 1, "everything we import now from China gets a 25 percent additional tariff on it."
Others strongly support the tariffs. On Jan. 21, when Janet Yellen testified before the Senate Finance Committee to discuss her nomination for U.S. Treasury Secretary, she noted China's challenges to America's "security, prosperity, and values," and said the United States should be "willing to make use of the full array of tools to counter China's abusive economic practices and hold Beijing accountable."
"We will take on the challenge of China's abusive, unfair, and illegal practices. China is undercutting American companies by dumping products, erecting barriers, and giving illegal subsidies to corporations," Yellen said.
"China is engaged in conduct that hurts American workers, blunts our technological edge, and threatens our alliances and our influence in international organizations. Winning the economic competition with China requires us to make transformative investments at home in American workers, infrastructure, education, and innovation."
In 2000, former President Bill Clinton eased trade relations with China after decades of political and military tensions and helped China join the World Trade Organization. Since then, U.S. trade with China has boomed, but it hasn't been an even trade.
By 2012, the U.S. trade deficit with China was $315.1 billion; in 2018, it had risen to $418.9 billion, according to TheBalance.com. In 2019, the deficit was just over $345 billion.
According to the U.S. Commerce Department, the U.S. trade deficit with China increased $3.5 billion in November to $30 billion for the month. Exports decreased $500 million to $12.6 billion, while imports increased $3 billion to $42.6 billion.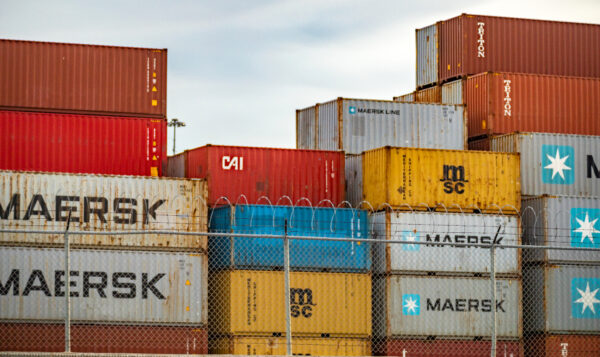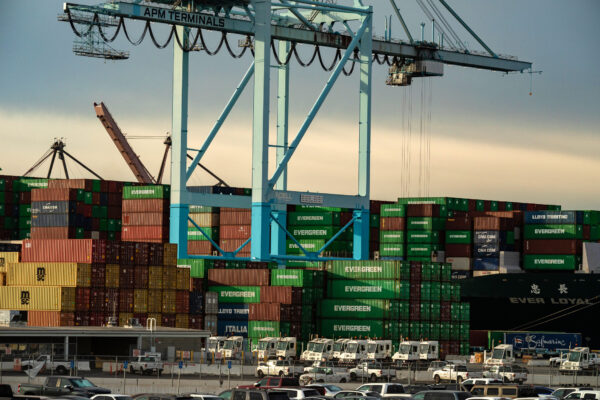 Surge in Shipping
On Jan. 11, there were 17 ships at anchor waiting to get into the Port of Los Angeles, and another 16 waiting for the Port of Long Beach, the nation's two busiest ports.
"They're averaging anywhere from four- to eight-day wait times to get in to unload their cargo," Sanfield said.
The same day, there were 12 ships already docked at the L.A. port; Sanfield wasn't sure how many were at Long Beach. "It's about evenly split waiting to get into L.A. and Long Beach," he said.
By Jan. 14, not much had changed. There were 13 container ships in port, and another 16 at anchor in the Port of Los Angeles alone, Sanfield said in an email to The Epoch Times.
Sanfield said that January and February are typically the slowest months at the ports—but not this year.
"In terms of moving cargo that doesn't appear to be the case, based on reports from the National Retail Federation, which is saying that they see strong consumer buying through spring at least," Sanfield said. "We're doing our best to work through a backlog of significant proportions."
Sanfield said there is no sign of relief on the horizon.
"We thought there might be a bit of an ease after the first of the year, but so far, there has not been. We're hearing that they may not shut down this year because of the incredible demand for product," he said.
Trade Deficit
In recent months, as many as three-quarters of the containers have been shipped back empty to Asia, illustrating the massive trade imbalance between the United States and China.
"Our container business in 2020 was the most erratic we have ever seen, with volumes plunging nearly 19 percent in the first five months of the year, followed by an unprecedented second-half surge," said Port of Los Angeles Executive Director Gene Seroka, who delivered his annual State of the Port address on Jan. 14.
"Hardest hit of all were our exports. Rarely have we seen a time when only one in four containers returning to Asia was loaded with cargo."
Seroka, who was appointed to the port's helm by Los Angeles Mayor Eric Garcetti in 2014, is against the new tariffs, especially at the height of mandatory shutdowns amid the COVID-19 pandemic.
"The present import tariffs are nothing more than taxes on American companies and consumers at a time when we need to put Americans back to work," he said.
But looking ahead, the port chief forecast a significant rebound for American business.
"In the depths of our challenges this past year, we were resilient. Because of this, there's one more R word we can take from 2020. That word is resurgence," said Seroka.
"We have endured crises in the past, like the Great Recession, from which we took more than a decade to recover. It won't be like that this time. We're positioning ourselves to bounce back faster. We will bounce back better. We already are."