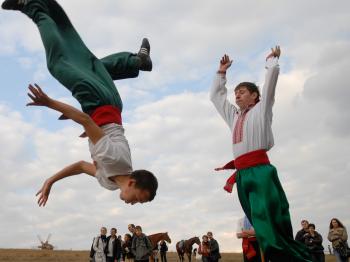 Cossacks warriors from the past danced and fought at the Combative Hopak Festival in Pirogovo, Ukraine on Oct. 3.
Cossacks were a formidable military force in the 16th century. They were considered the protectors of the Ukrainian people.
At the "Virtuous Cossacks in 2009" festival, modern-day Ukrainians reproduced scenes from centuries ago when young Cossacks and their mentors once demonstrated their physical strength, agility, and skills at using different weapons through a traditional Ukrainian dance called the "Hopak."
Hundreds of years ago, the Hopak was used by Cossacks as a training exercise as well as a means of showcasing their warrior skills.

Craftsmen such as blacksmiths, artists, and musicians also attended the festival, bringing Ukraine's cultural roots back life.
To join the Cossack army, one had to be well-disciplined, meeting a high moral and physical standard. The army also accepted into its ranks men from foreign communities such as Greeks, Turks, Germans, and Tatars as long as they met one requirement: They had to believe in Christ.