Corvette Racing ended a long dry spell by winning the GT class of the American Le Mans Series at Long Beach, capitalizing on collisions by the Team RLL BMWs which dominated last season.
Corvettes finished first and fourth in GT. Oliver Gavin and Tom Milner got their first GT win in the #4 Corvette C6 ZR1, beating Joey Hand and Dirk Müller's #56 BMW M3 by 5.68 seconds. The BMW was under hot pursuit by Scott Sharp in the #01 ESM Ferrari he shares with Johannes van Overbeek, which finished third, only 2.62 seconds behind the BMW and gaining.
"It certainly was a great job from Corvette Racing, putting together a great car right off the truck," Oliver Gavin told alms.com. "I learned a lot from Tommy [Milner]. He was a bit of a Guinea pig for me today, seeing how the tires lasted, seeing it through the longer run. Tommy did a great job staying out of trouble in the first few laps. He gave me advice on time management.
"I knew we were third going out. But I got ahead of Scott Sharp quite quickly. It was harder to get ahead of Joerg, I managed to squeeze through. Then it was about managing and saving the tires. It got a bit hairy, with extra traffic, and there were a lot of cars going off. It kept you on your toes. I had enough gap to stay ahead of the BMW."
The second Corvette finished fourth. The #3 Corvette was damaged in a first-lap accident which also sidelined the #55 BMW. Despite the damage, Antonio Garcia and Jan Magnussen managed to bring the car home only eight seconds behind the ESM Ferrari.
Two incidents changed the complexion of the GT race. On the first lap, Duncan Ende in the #25 PC Dempsey Racing Oreca tangled with Antonio Downs in the #8 Merchant Services PC Oreca. Jorg Mueller in the #55 RLL BMW slammed on his brakes to avoid the par, which got him rear-ended by Antonio Garcia in the #3 Corvette.
Apparently Mueller hit the PC cars anyway, because he ruined his cooling system. Garcia's Corvette lost its hood, which caused it to understeer for the rest of the race.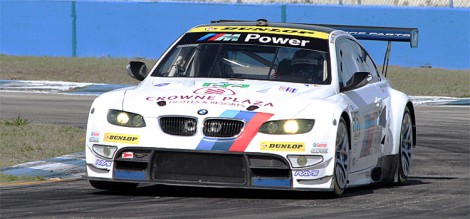 On lap 17, Tom Milner squeezed underneath Joey Hand in the #56 BMW to take the class elad. Hand, concentrating on the Corvette ahead of him, cut across the nose of Guy Smith in the #16 Dyson Racing P1 Lola-Mazda which was about to overtake up the inside. Hand clipped Smith's left front wing, breaking it while cutting his own right rear tire. Hand had to pit, which cost him a lot of track position and gave Milner in the Corvette time to open a gap.
"I got the lead in the opening stint," said Tom Milner. "I was behind Joey in the BMW. I felt I was quick behind him. I just waited for an opportunity. He got held up exiting turn 8 or 7—I stayed on it and was able to sneak by there.
"Finally, I got a win in ALMS, racing since 2006. I've had some great podiums and big heartbreaks after chances to win.
"With an unknown car from the rain sessions, it was great to get a win that meant something. I learned a bit from last year where I had put myself in bad situations so I focused on keeping out this year.
"It's a big team win today, not just about me, but the team, and my co-driver. "
Next: GT Race Goes Down to the Wire