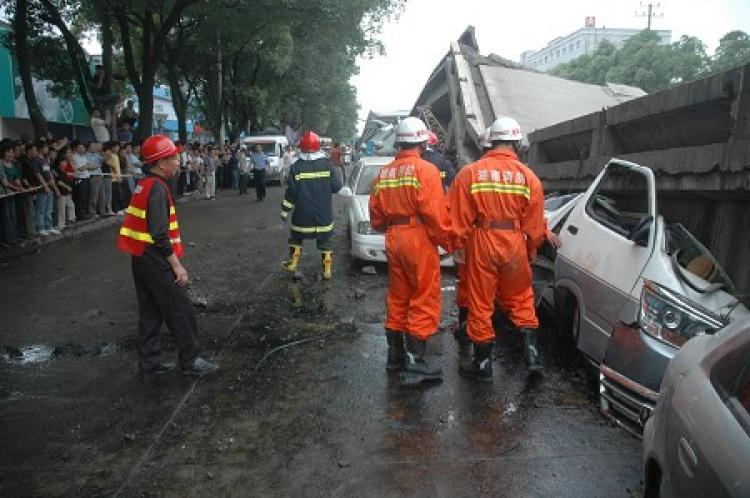 On May 17, an overpass on Hongqi Road collapsed in Zhuzhou City of China's Hunan Province, killing nine people and injuring 16. Eyewitnesses say that the actual death toll exceeded the official report. Sources also suspected that officials may have embezzled a significant portion of the funds allocated for removing the overpass.
The overpass, which has been in use since 1995, was scheduled for demolition on May 20 in order to accommodate recent changes in municipal development. The bridge was 2,750 meters (3,000 yards) long and over 16 meters (17 yards) wide, with over 100 piers that created an eight meter clearance under the bridge.
On the morning of May 15, a trial demolition was conducted to demolish piers number 66 and 67. Residents reported already seeing cracks in the overpass after the explosions. On May 17, piers were being drilled and trial demolitions continued. Zhuzhou officials deemed the explosions to be safe, and no measures were taken to divert traffic on the overpass.
Zhang, a sanitation worker who witnessed the collapse, said the overpass collapsed "section by section." A total of eight piers and nine bridge decks collapsed. Zhang said that at the time of the collapse, the bridge was packed with vehicles.
Several independent Internet forums have accused the officials of hiding the truth about the overpass collapse. The death toll reported by eyewitnesses ranged from 30 to 80 people. One eyewitness said, "What was shown on the news was only the outside lane of the overpass. The inside lanes were packed with vehicles. It's impossible that anyone from the inside lanes survived the collapse. I cried after seeing how those drivers bodies were crushed."
According to some Internet users, there was 30 million dollars granted to dismantle the overpass and the funds were to be divided among eight dismantling teams. However, only six million dollars could be accounted for. Residents are also expressing doubt about the safety of the trial explosions and asking for the names of officials who conducted the trials.
Read original article in Chinese.