Corruption Involving Resettlement Exposed in China
April 12, 2009 1:43 pm Last Updated: April 12, 2009 1:44 pm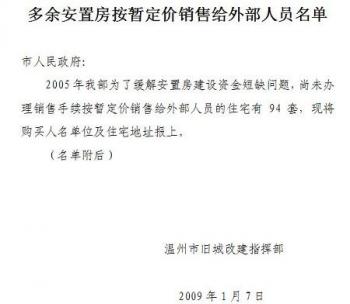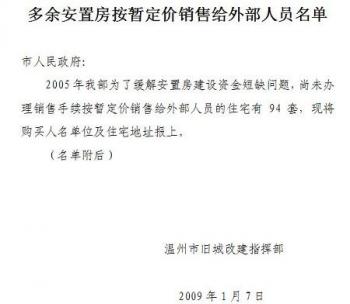 On April 7, a blogger on a popular Chinese website exposed corruption by disclosing a document filed by the Resettlement Office of Wenzhou City, an affluent city in southern China. The document listed the names of people who had purchased apartment units from the Resettlement Office at a specially discounted price. The list included 49 members of the Resettlement Office staff and 94 officials or staffers in the municipal government. The document was rapidly spread on the Internet.

Resettlement Offices in China are notorious for forced relocation and collective corruptions. The situation in Wenzhou is not uncommon. The apartments the so-called outsiders bought were actually the best units in the best locations. Many of the families who were relocated due to building demolition have not been resettled.
Reporters from the Southern Metropolis Daily visited some of the units on April 8. They found that some of the residents are the relatives of the officials listed in the document.

The blog listed several ways in which the officials have embezzled state assets. After the buildings are built, the best units are first sold to officials, their friends and relatives, at a price much cheaper than the market value. For example, the market price of the top-level penthouses may be $640 per square foot, but the estimated value is listed as $160 per square foot. For a unit with 2700 square feet, 2700 x ($640-$160) = $1,296,000 will be embezzled.

According to the Southern Metropolis Daily investigation, the original post was first discovered on another popular blog on March 23, but was quickly deleted. The poster's ID was also deleted. At present, the post has been deleted and blocked by all local blogs.
Read original article in Chinese.