With an anti-corruption campaign raging on within the Chinese Communist Party, misbehaving Chinese officials have to get creative with ways to cheat, stow away their illegally amassed wealth, and hide their trail.
So officials are now filing fake divorces with their spouses in order to covertly transfer assets outside of China and avoid detection from the authorities.
On May 16, the state-run official paper of the Chinese regime's anti-corruption agency, the Central Commission for Discipline Inspection, published an article detailing how a high-level official working at an unnamed provincial government, identified only by his last name, Zhang, divorced his wife in order to pay less taxes on a new home. Zhang discussed with his wife how to file paperwork for remarriage after purchasing the home. In this way, Zhang was able to save about 200,000 yuan (about $31,000).
Fake divorces are a common tactic.
One particularly high profile case involves Xu Chaofan, a junior manager at the Kaiping City branch of Bank of China who conspired with his wife Kuang Wanfang, several male colleagues, and their wives to embezzle about $485 million from his workplace.
Kuang and Xu arranged to get divorced in 1994, then have Kuang move to the United States and marry an American man, in order for her to obtain permanent residency and pave the way for her real husband, Xu, to immigrate to the country. Several of Xu's colleagues and their wives made similar arrangements. In 2001, Xu and his colleagues fled to North America via Hong Kong using false travel documents. An international manhunt ensued to capture the fugitive bankers. Xu was finally arrested in 2004.
In 2009, Xu and his colleagues were sentenced to U.S. prison. Their wives were sentenced for helping their husbands launder money abroad.
In September 2015, Kuang was repatriated to China after serving a prison term in the United States, to face graft and bribery charges. The case remains China's biggest incidence of bank embezzlement.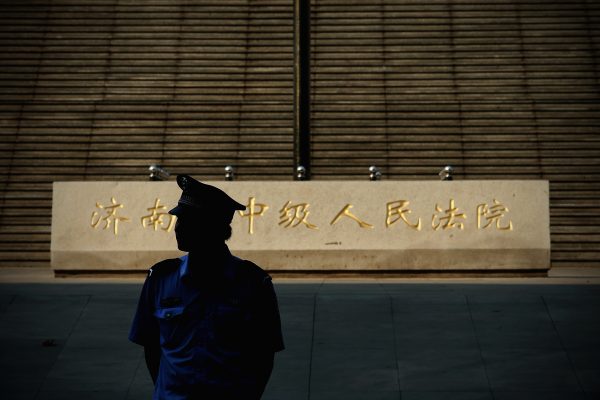 Other cases also involved small-time officials. In 2014, Diao Weilie, a former director of a Beijing tax office was sentenced to life imprisonment for accepting tens of millions of yuan in bribes.  
Diao's scheme went thusly: he would put bribe money into other people's accounts to misdirect investigators. Then, he would use the names of local businessmen to borrow loans for purchasing property. In 2005, he divorced his wife Wang Juanjuan. Afterwards, he transferred ownership of all property purchased under the businessmen's names to his wife.
One official surnamed Wu, who worked in the economic development office for Hanshan County in Anhui Province, simply divorced his wife and transferred his assets to his wife's name, while burying jewelry in his courtyard and storing expensive baijiu liquor at his relatives' homes.
Other officials use fake divorce for other means.
Chen Chunlin, an official in charge of stifling dissent in a residential area of Chongqing City, held lavish banquets in order to procure monetary gifts from his colleagues and business acquaintances, according to a recent article published on the Sina Chinese news portal. He used the excuse of celebrating his daughter getting accepted to college as the celebratory occasion in May 2016.
He wanted to hold another banquet in June as a way to get cash gifts. Knowing that the local Party committee would not allow for it, Chen divorced his wife. When the Party committee was informed that the banquet would be held by his "former" wife, Huang Meiyan, it gave the go-ahead. Chen and Huang used the same excuse of celebrating their daughter's college acceptance, and acquired 35,900 yuan (about $5,600) from 141 people.
Gu Qing'er contributed to this report.