Mainland Chinese have a name for public facility buildings that are constructed at low cost and low quality—'Tofu Waste Projects', which, in the Western world would equate to calling them Jello Buildings.
For dozens of years Chinese have suffered from and endured this problem, feeling helpless about being forced to use these buildings. This time, their hearts were hit really hard, as thousands of children were buried alive under the rubble of collapsed school buildings during the Sichuan earthquake.
Even from the rescue achievements report of the regime mouthpiece, Xinhua News Agency, it is not difficult for one to conclude that the schools were hit the hardest in the earthquake.
One school collapsed completely, burying all children within it, in Yingxio Town, Wenchuan County. Children's cries could be heard on and off. Some parents and members of the public formed a voluntary rescue team, but it was hard to take effective measures without rescue experts and specialized equipment.
The First Middle School of Beichuan County has more than 2,600 students. As of May 14, there were still around 1,000 student buried in the ruins. The cries from most of them can still be heard. According to neighboring villagers, on May 13 and early May 14, the buried students could still shout, but now they only breathe feebly.
An anonymous Shanghai structural engineer published an article on the internet saying that although it is difficult to judge just from the photo and video, the explosion like destruction of those school buildings made him suspect that not enough steel enforcement bars were used due to cost cutting.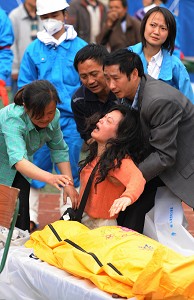 Under long time repression and fear of persecution from the regime, as well as the mentality to protect the "face" of China, the average Chinese usually avoids any exposure in foreign media.
But parents cannot help but spill out their anger to the foreign journalists: "These buildings outside have been here for 20 years and didn't collapse—the school was only 10 years old. They took the money from the investment, so they took the lives of hundreds of kids," one parent told a Guardian reporter.
"Look at all the buildings around. They were the same height but why did the school fall down? It's because the contractors want to make a profit from our children," a father told a reporter from The Times.
A widely circulated article on the internet in China sums up the feelings of the parents in Sichuan: "Every disaster repeats the same story, no matter whether an earthquake or flood happens, school buildings are the first ones to collapse! No government buildings collapse before that! It is the shame of our time!"