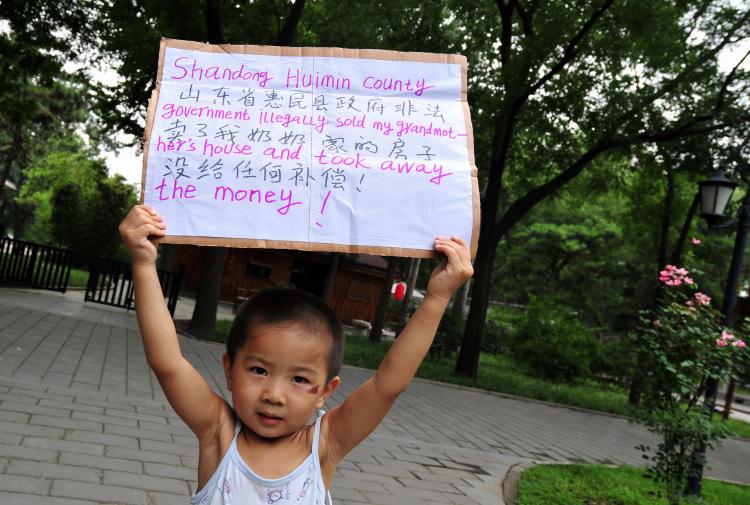 Corporate sponsors of the Beijing Olympics have failed their own principles of corporate responsibility, says New York-based Human Rights Watch.
The rights watchdog says by remaining silent in the face of obvious human right abuses occurring in China, corporate sponsors have flouted their own governance principles.
"The Olympic sponsors claim to be good corporate citizens," said Sophie Richardson, Asia advocacy director at Human Rights Watch (HRW). "But as they enjoy the games from the comfort of their seats at the Olympic stadium, they should reflect on their failure to speak up for the Chinese citizens who built the stadium and their hotels, clean their hotel rooms, serve their meals or, in the case of Chinese journalists, try to bring them their news."
Human Rights Watch is recommending the top sponsors support the establishment of a permanent body inside the International Olympic Committee to monitor rights abuses at future Olympics.
The 12 TOP (The Olympic Partner) sponsors of the Beijing Games are Atos Origin, Coca-Cola, General Electric, Manulife, Johnson & Johnson, Kodak, Lenovo, McDonald's, Omega (Swatch Group), Panasonic, Samsung, and Visa.
The HRW group said over the last year they had made repeated attempts to meet with all twelve sponsors after documenting and sending through comprehensive accounts of human rights abuses occurring in China.
Of the twelve, five agreed to meet, although all conversations were deemed off the record. The remaining seven sponsors failed to reply, the group said.
Off the record comments made by the executives included the following: "It would not make sense for us to raise the issue of Tibet with our Chinese interlocutors. The Chinese think that corporate sponsors do not have a dog in this fight."
Another executive is reported to have said, "We are not in business to be global spokespersons for causes. That is the role of human rights organizations. In this respect we are from Mars, you're from Venus."

Human Rights Watch points to statements in corporate social responsibility policies from a number of the top sponsors' websites, saying the corporations are flouting their own guidelines.
They said the "GE Citizenship" section of General Electric's website proclaims that, "GE seeks to advance human rights by leading by example – through our interactions with customers and suppliers, the products we offer and our relationships with communities and governments."
The lead-up to the Beijing Games was marred by reports of worsening human rights abuses, the crackdown in Tibet and the beleaguered torch relay. During the games, reports of huge surveillance systems, internet censorship, protesters being deported or detained, have fuelled international media to press the IOC and the Beijing organising Committee for answers.
Ms Richardson said without pressure from all sectors of the community, Chinese authorities will make less effort to address human rights.
"The sponsors' silence has only emboldened the Chinese government and allowed the IOC to ignore the human rights standards it claims to uphold," she said.