A coroner has given a warning on metal eco-straws after a woman was fatally impaled through the eye by one that was sticking out of a glass jar she was carrying.
Elena Struthers-Gardner, 60, was carrying a jar style drinking glass through her kitchen in Poole, England, last November, when she collapsed.
Held in place by a screw lid, a 10-inch reusable metal straw pierced her left eye and went into her brain, causing a traumatic brain injury. She died the next day.
Struthers-Gardner had suffered from mobility issues caused by a horse-riding accident when she was young, leaving her in pain that sometimes caused her to collapse.
A coroner's court this week was unable to establish the exact reason for her fall, establishing a verdict of "accidental death," according to The Telegraph.
The coroner warned that metal drinking straws should never be used with a lid that fixes them in place.
Assistant Coroner Brendan Allen said, "There is insufficient evidence to explain how Lena came to fall."
Struthers-Gardner was in a same-sex marriage with Mandy Struthers-Gardner, who said in a statement to the court that she found her lying on her front and making "unusual gurgling sounds."
According to the Bournemouth Echo, she saw that the glass cup was lying on the floor, still intact, and the straw still in place.
"I noticed the straw was sticking into her head. I called 999 and requested an ambulance."
"While I was on the phone, Lena appeared to have stopped breathing. The lady on the phone asked me to turn her over.
"I slid the glass off the straw and turned her over. I could see the straw had gone through her left eye."
A riding accident at the age of 21 had left her with multiple fractures to the spine, causing scoliosis and leaving her prone to collapsing "like a sack of potatoes" at random intervals, the court heard.
Interest in eco-friendly straws of various types has sky-rocketed in the UK in the last couple of years, following the broadcast of popular natural history series "The Blue Planet," which brought home the impact of plastic on the natural world.
The series, hosted by the 91-year-old zoologist David Attenborough (the brother of filmmaker Richard Attenborough), featured footage of albatrosses feeding plastic to their young, and dolphins nursing calves with plastic-contaminated milk.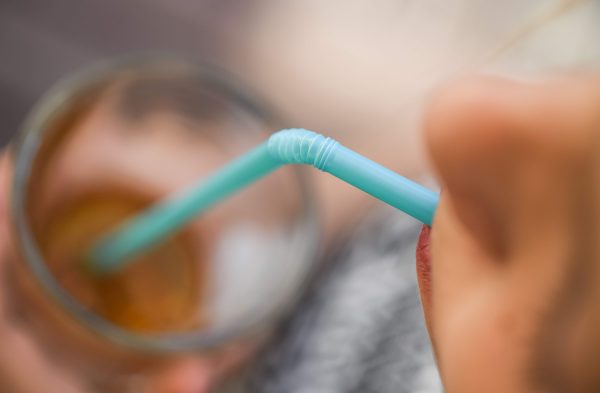 One solution is the development of straws made of biodegradable materials, which is a growing market. Another solution is reusable straws, made of various materials.
But reusable metal straws are a potentially dangerous solution when paired up with the wrong sort of lid said Brendan Allen, the coroner in the inquest into Struthers-Gardner's death.
"There is no give in them at all," Allen told the court, according to The Independent. "If someone does fall on one and it's pointed in the wrong direction, serious injury can occur."
"It seems to me these metal straws should not be used with any form of lid that holds them in place. It seems the main problem here is if the lid hadn't been in place the straw would have moved away."
Detective Inspector Wayne Seymour, who carried out an investigation into her death, said the case was very unusual.
"Medical staff had never seen an injury like that," he said.