A senior International Energy Agency (IEA) official said Tuesday that the global oil demand outlook—earlier forecast to be already the lowest in a decade—could fall even further as the deadly novel coronavirus continues to spread.
"We certainly see the lowest oil demand growth in the last 10 years and we may need to revise it …downwards," IEA Executive Director Fatih Birol told Reuters at an energy conference in London.
According to an earlier IEA forecast, demand is expected to contract by 435,000 barrels per day (bpd) in the first quarter of 2020, the first quarterly decrease since the 2008 financial crisis. For 2020 as a whole, the IEA has lowered its global demand growth forecast by 365,000 bpd to 825,000 bpd, blaming the lowered projection on the spread of the virus.
"Global oil demand has been hit hard by the novel coronavirus (Covid-19) and the widespread shutdown of China's economy," the agency noted, calling the outbreak "a major global public health emergency that has brought tragedy to many lives."
The IEA said the economic impact of the virus was "still unfolding globally," with eyes acutely on how it would affect demand from China, which last accounted for over three-quarters of global oil demand growth.
"We should not underestimate the economic disruption, as a super spreader could trigger a massive drop in business activity around the globe of proportions the world has never dealt with before," Stephen Innes, chief market strategist at AxiCorp, wrote in a note cited by Reuters.
Finance ministers from the G20 Summit acknowledged the threat to the global economy as they gathered in Saudi Arabia this week, while the International Monetary Fund cut its global GDP growth forecast by 0.1 percent, adding that it the virus spreads further or the outbreak lasts longer, that outlook may face a downward revision.
Crude prices fell about 3 percent on Tuesday, dropping for a third day, as concerns about the spread of the coronavirus and its impact on oil demand outweighed OPEC output cuts and Libyan supply losses.
Brent crude fell $1.35, or 2.4 percent, to settle at $54.95 a barrel. U.S. West Texas Intermediate crude dropped $1.53, or 3 percent, to settle at $49.90 a barrel.
Allen Sukholitsky, chief macro strategist at Xallarap Advisory, told The Epoch Times that as oil producers reduce output, prices are likely climb again.
"With oil demand expected to decline on a year over year basis for the first time in over a decade, oil prices have continued their 2020 slide, now down almost 20%. However, we continue to believe that these price pressures may be short-lived," Sukholitsky said via email. "Falling oil prices will push oil producers to cut back on production by shutting down their best wells. Later this year, we might be facing weaker demand, lower supply, and buoyant prices."
Wall Street 'Fear Gauge' Spikes
In a sign of ongoing market turbulence, the VIX volatility index, also known as Wall Street's "fear gauge," spiked to 30.2 on Tuesday, with the ceiling of 30 widely seen as the threshold demarcating major market uncertainty and investor anxiety.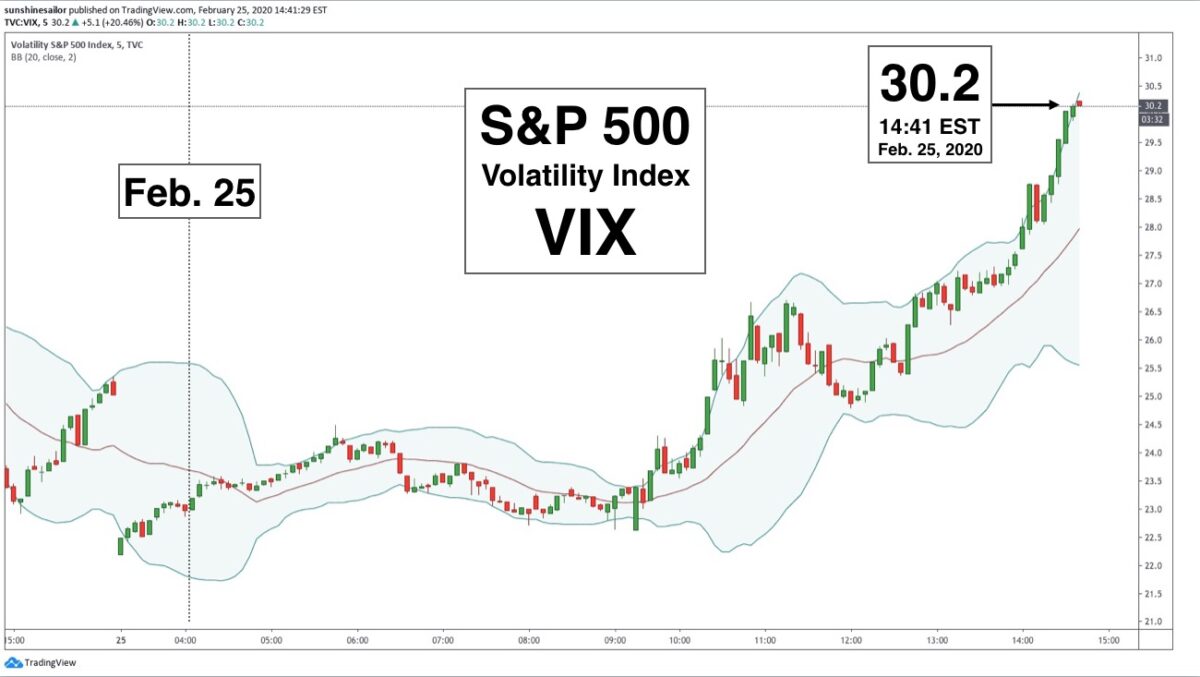 On Monday, when Wall Street was in the grip of a massive rout, the VIX shot up to 26.2.
"There is no question financial markets are coming round to the realization that this particular crisis is likely to have a slightly longer shelf life than many thought was the case a couple of weeks ago," said Michael Hewson, chief markets analyst at CMC Markets in London, according to Reuters.
"For now, there appears little prospect that financial markets look likely to settle down in the short term, which means investors will have to get used to an extended period of uncertainty and volatility," Hewson added.
'Not Clear How Virus Is Spreading'
A troubling development is that coronavirus infections have been noted in people who hadn't traveled to China or come in contact with confirmed cases, which shows that "it's not clear how the virus is spreading," a spokeswoman for the World Health Organization (WHO) said. "We're seeing some cases that don't have a clear epidemiological link."
Americans should brace themselves for virus-related disruption, an official for the Centers for Disease Control and Prevention (CDC) said Tuesday, adding "this might be bad."
"It's not so much of a question of if this will happen in this country anymore but a question of when this will happen," the CDC's Dr. Nancy Messonnier told reporters, New York Post reported.
"We are asking the American public to prepare for the expectation that this might be bad."