Several hotels in Wuhan have been designated as quarantine sites for severely ill patients infected with the novel coronavirus. A family member of one of these patients revealed that they are left unattended and don't receive proper medical care. Another patient in a different hotel, who realized that people were left there to die, managed to escape. 
No Medical Care
Ms. Yang spoke to the Chinese-language Epoch Times on Feb. 5, saying her mother started to show symptoms of the coronavirus on Jan. 20 and died seven days later. Her father developed similar symptoms around that time and then went to the quarantine hotel.
"It all happened too quickly," Yang said about her mother's death. The CT scan showed infection and opacity in both her lungs, and the test results for all her blood work were also very bad. However, her symptoms were never confirmed through diagnostic testing and she didn't receive timely treatment due to shortage of hospital beds, Yang said. Her mother was finally admitted into a hospital the day before she passed away.
Yang's father developed a fever on Jan. 23, and was sent to a quarantine hotel on Jan. 29. However, Yang learned from her father that no one was taking care of the patients there.
She said her father continued to have a fever in the past several days; his highest temperature had been 104°F. The community staff helped arrange a diagnostic test for him on Jan. 30. But as they waited for the final result, her father's condition got worse.
On Feb. 3, her father felt very sick and got permission from the quarantine hotel to visit a hospital. He used all his strength to walk 3 kilometers (1.9 miles) to the Traditional Chinese Medicine Hospital in Wuhan, Yang said. Doctors at the hospital did a CT scan and blood tests for him. Based on CT image, they said they were quite sure that the infection is caused by the coronavirus, she said.
Her father begged the doctors to admit him into the hospital, but was told there were no beds available. So he had to go back to the quarantine hotel.
Yang said she can only communicate with her father using the video chat function on WeChat. She is not allowed to enter the quarantine site. Her father is very weak, out of breath, and has chest tightness, but no one is taking care of him, she said.
"Please help us. I already lost my mom, I cannot afford to lose my dad!" she said, as she broke into tears.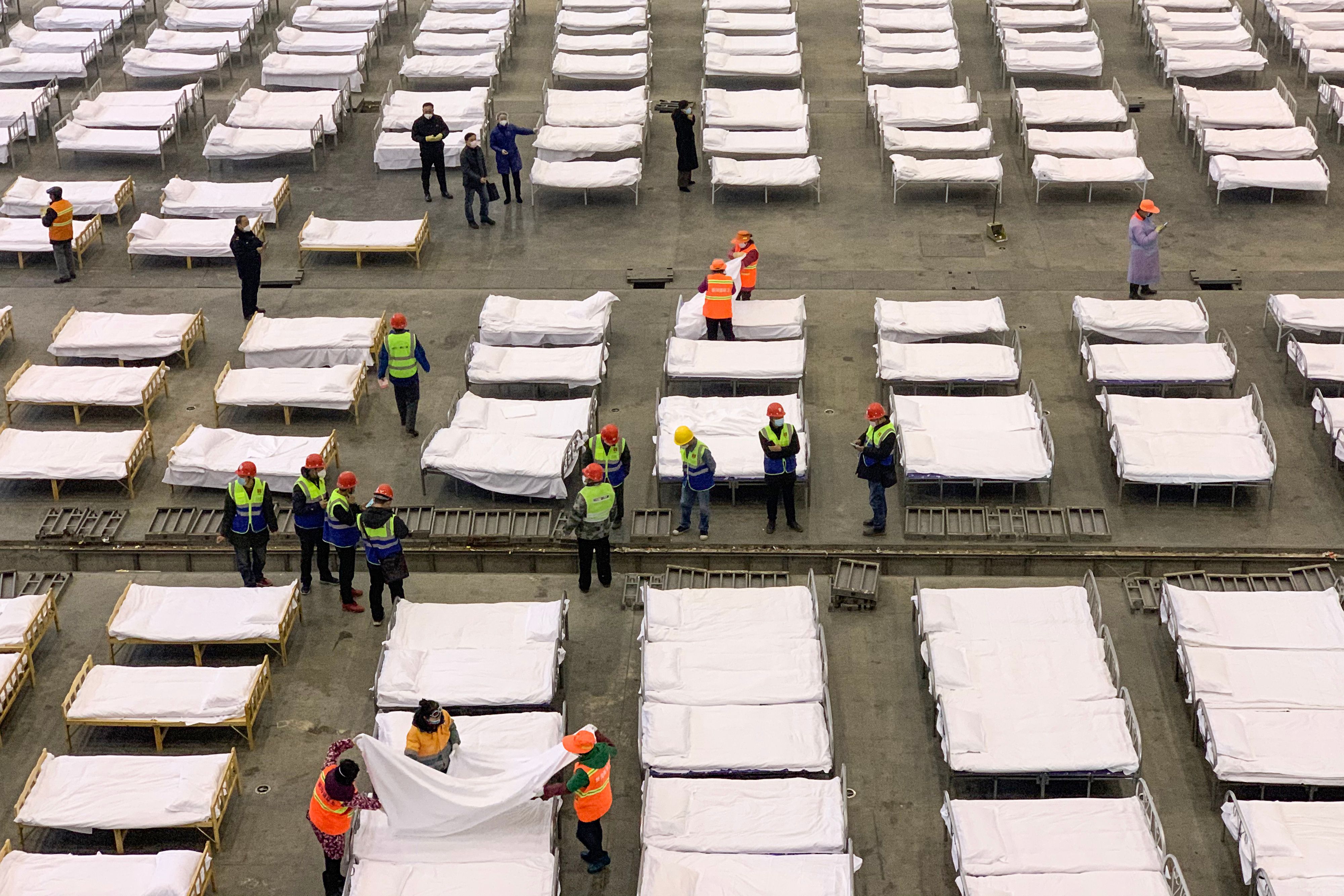 Escape From the Quarantine Hotel
Another patient named Wang Xiangkai was also sent to a quarantine hotel. But he managed to escape when he realized that patients were left there to die on their own.
Wang's daughter shared his story with the Chinese-language Epoch Times. Wang and his older brother Wang Xiangyou both had developed a fever and cough on Jan. 23. They went to a community hospital on Jan. 28 and were given CT scans which showed they both had "ground glass" opacity in their lungs. A doctor told them it was very likely that they had contracted the coronavirus, but they had no diagnosis kits to confirm it. The Wang brothers were then told to self-quarantine at home.
Wang Xiangyou's condition got worse on Jan. 29. When the two brothers went to seek treatment again at a local hospital, they were given an intravenous drip. The next day, Wang Xiangyou had difficulty breathing but the hospital wouldn't admit him because there were no beds available. However, after Wang Xiangyou's wife and relatives argued with the staff, they were told that a room would become available in the afternoon for quarantine and monitoring if they wanted it.
The family thought it was great news and agreed. The brothers were then taken to the quarantine room in the afternoon. However, when Ms. Wang talked to her father on the phone later that day, she learned that it was not a quarantine room in the hospital, but in a hotel. Many patients with a fever were kept there, but no one ever came to check on them.
"There is no treatment whatsoever. Confirmed patients and suspected patients are placed together at the quarantine site. Basically they are left to die on their own," Ms. Wang said. "When my father went to check on my uncle in the early morning of Jan. 31, he found that my uncle had already passed away."
Ms. Wang said her father decided that he needed to go back home and find a different treatment. Patients are not allowed to leave the quarantine site unless they get special permission to do so, but he somehow managed to escape—Ms. Wang did not give details.
The staff at their community office told the family that they were not allowed to see Wang Xiangyou's remains. They had to pay 800 yuan ($115) for the cremation and were told they could pick up the ashes in 15 days.
Ms. Wang said that now her aunt [Wang Xiangyou's wife], her mother, and her brother all developed symptoms of the coronavirus one after another.
"I feel helpless. I cannot handle such tragedy. They all need treatment. I have to seek help through public channels. Please help!" Wang pleaded.
2003 SARS Quarantine Measures Revisited
Many Chinese netizens wonder how China treated SARS patients back in 2003 after the Chinese regime finally admitted that it had previously lied about the severity of the SARS outbreak.
When Beijing News published an article in 2013 as a retrospect of the SARS epidemic, it revealed a photo which shocked its readers. The photo showed a suspected SARS patient being dragged away by three policemen in protective suits after he tried to escape from a quarantine site.

Many readers were appalled as the photo implied that patients or suspected patients of SARS were treated inhumanely.
It was until then that Chinese citizens realized that possibly it was the Chinese soldiers and policemen, not Chinese doctors,  who wiped out the SARS virus.
According to a 2003 report from U.S.-based Chinese media The People's News, insiders revealed that when SARS patients were sent to designated quarantine hospitals, they were intentionally left unattended. In other words, they did not receive any treatment, as the purpose of the quarantine was to let them die quickly so that SARS would be wiped out. The Chinese authorities also placed suspected SARS patients under quarantine in the same sites, as they sought to eliminate the SARS virus thoroughly.
According to one of the insiders, a high-ranking official, in many places in Guangdong, Sichuan, Jilin, Liaoning and Heilongjiang provinces, Chinese soldiers sealed off entire villages to stop SARS from further spreading. They first cut off phone lines and prohibited locals from leaving. Then they waited until everyone in the village had died, after which they had professionals go in to disinfect the whole village.
This official also revealed that in northeastern China alone, about 10,000 people died either from SARS or village lockdowns by June 2003. Chinese authorities strictly blocked the flow of information. China's Central Propaganda Department ordered all the state-run media to republish articles that only came from Xinhua News Agency on the topic of SARS.
The latest news of mass emergency medical and quarantine facilities set up in Wuhan and other Chinese cities is further evidence that the coronavirus outbreak is spreading out of control, and that forced quarantine containment is the only method Chinese authorities consider viable at this time.
Dozens of makeshift treatment centers are being set up in places like stadiums, crowded with rows after rows of closely placed beds. But with a lack of medical supplies, such as protective suits and diagnosis kits, there is no medical treatment as these are merely containment camps where cross-contamination can occur, experts warn.
Epoch Times reporters Luo Ya and Li Yi contributed to this report.