Countries around the world are taking measures to try to stem the spread of the new coronavirus disease, COVID-19, as the death toll continues to rise.
Below are Feb. 26 updates. For Feb. 27 updates, click here.
President Trump Appoints Pence as Head of Coronavirus Task Force
President Donald Trump has appointed Vice President Mike Pence as head of the coronavirus task force to oversee an "all-of-government" response to the fast-changing risks posed by the outbreak of COVID-19, which has now spread from Wuhan, China, to many countries around the world, including the United States.
During a press conference on Wednesday night, Trump also said that the COVID-19 coronavirus risk to the United States "remains very low."
Watch the press conference here.
Of the "just in case" plans that are in place, Trump said, "We're looking at worst case scenario, but I don't think we're ever going to be anywhere near that."
"Whatever happens. we're totally prepared. We are ready, willing, and able," he said.
Chinese Regime Punishes Officials for Reporting Incongruous Data on Infections
Five senior officials in Jingmen city located in Hubei province, the center of the coronavirus outbreak, were punished by provincial authorities on Feb. 26, after the city reported "-107" new diagnoses of COVID-19 patients.
In fact, 10 cities in the province also reported "negative" patients that day.
Chinese state-run media Xinhua reported that on Feb. 26, the Hubei Commission for Discipline Inspection, the Chinese Communist Party's anti-corruption watchdog agency, punished five Jingmen officials for reporting confusing data on Feb. 19.
Outbreak Not Under Control in Wuhan Despite Containment Measures, Local Officials Say
Local officials in a district in coronavirus epicenter Wuhan City have revealed the outbreak is not under control, despite the drastic steps authorities have taken to limit its spread in the city.
Since Jan. 23, the central Chinese city of Wuhan has halted virtually all ground transportation, postponed school openings, sealed off residential compounds, and built more than a dozen makeshift hospitals out of gyms and schools—at a rate of about one every two days—to accommodate the influx of COVID-19 patients.
Currently, one resident from every household is allowed to leave their residential compound once every three days to buy groceries and other necessary supplies.
"The control is even stricter than before," a government officer working in Jiujie, a sub-district under the district of Xinzhou, told The Epoch Times during an undercover phone call. "It's self-explanatory that the outbreak is not slowing down and not under control."
US Doctors Say Lung Imaging Could Lead to Quicker Diagnosis
The first U.S. doctors to analyze a COVID-19 coronavirus patients' lungs said they were able to identify patterns in the lungs as indicators of the disease as it progressed over time.
Doctors at New York City's Mount Sinai hospital became the first in the nation to use CT scans on patients from China with COVID-19, they said in a statement on Wednesday, publishing their findings in "Radiology." The new findings could result in a quicker diagnosis in patients who arrive with potential symptoms of the mysterious new virus, they said.
200 People in Self-Quarantine After Traveling Through Atlanta Airport
The general manager of Atlanta's Hartsfield-Jackson Airport said that around 200 travelers who went through the airport showed possible symptoms of the COVID-19 coronavirus and were told to self-quarantine at home, illustrating how U.S. airports are scrambling to try and contain the spread of the virus.
Microsoft Says Virus Hurting Supply Chain More Than Expected
The virus outbreak in China is hurting Microsoft more than expected, as the company said it won't meet targets that had already factored in the uncertainty.
In particular, Microsoft said revenue from Windows licenses and its Surface devices "are more negatively impacted than previously anticipated." The company said demand for Windows products is still strong, but getting the supply chain back to normal is taking longer. That goes for both Microsoft-made Surface devices and Windows products made by third parties, which include Acer and Lenovo.
Last month, Microsoft predicted it would make between $10.75 billion and $11.15 billion in revenue from its personal computing business in the January-March quarter. Microsoft's chief financial officer, Amy Hood, said on a Jan. 29 earnings call that the company had widened the usual range for its revenue forecast because of the "uncertainty related to the public health situation in China."
The company's statement Wednesday suggests that the range was not wide enough to reflect the spread of the outbreak and its ongoing effects.
About a third of Microsoft's revenue comes from Microsoft's personal computing division, which houses the company's Windows operating system, its line of Surface laptops and tablets, its Xbox gaming hardware and software and its Bing search service. Microsoft didn't say if its Xbox business has been affected by the supply chain problems.
Microsoft, which is based in Redmond, Washington, is among many tech companies relying on Chinese factories to make electronics devices and parts.
Last week, Apple warned investors that it won't meet its second-quarter financial guidance because the viral outbreak in China has cut production of iPhones. The Cupertino, California-based company said all of its iPhone manufacturing facilities in China have reopened, but production is ramping up slowly. The company said demand for iPhones was also down in China because Apple's retail stores are closed or operating with reduced hours.
Israel Recommends Against Foreign Travel
Israel urged its citizens on Wednesday to reconsider foreign travel, citing the growing spread of the coronavirus outside the country.
Two Israelis who returned home after being quarantined in Japan on the Diamond Princess cruise ship are the only confirmed coronavirus cases in Israel, and the ministry has readied quarantine facilities should more infections occur.
In a statement, the Israeli Health Ministry announced that Israelis returning from Italy, where the contagion has worsened, would be required to go into quarantine at home for two weeks.
Expanding its precautionary steps, the ministry said it was also now urging the public "to reconsider the necessity of flights abroad in general, beyond the required isolation upon return from specific countries."
"The assessment is that there is a high probability the disease has already spread to other regions of Europe and many other places in the world," it said.
The ministry had already instructed Israelis returning from Japan, Hong Kong, Macau, Singapore, Thailand, and South Korea to go into isolation at home for 14 days.
Cases were confirmed this week in a slew of countries among patients who traveled to other nations where the virus is spreading. The first person to die from the virus in Greece had traveled to northern Italy before returning to Greece. And the first case in Latin America was a patient who traveled to Italy earlier this month.
Other cases have been linked to Iran, including the first case in Georgia.
Three New Cases Confirmed in US
Three more cases of the COVID-19 virus were confirmed by one of the top American health officials on Wednesday, bringing the total number of confirmed cases in the United States to 60.
Secretary of Health and Human Services Alex Azar, testifying before a congressional committee in the morning, said that two more passengers evacuated from the Diamond Princess cruise ship tested positive for the virus.
Testifying in the afternoon in front of a different committee, he said he was informed of another confirmed case—the first involving an American who either has a history of travel to an area where the virus is spreading or has had close contact with someone with travel history in more than two weeks.
Officials are still discerning the epidemiology of the most recent case, he said.
Azar cited the fact on Tuesday that no new cases had arisen outside those repatriated from China or Japan as supporting officials' argument that the virus was contained in the United States. He did not use the same words while speaking in the afternoon with the House Energy and Commerce Subcommittee.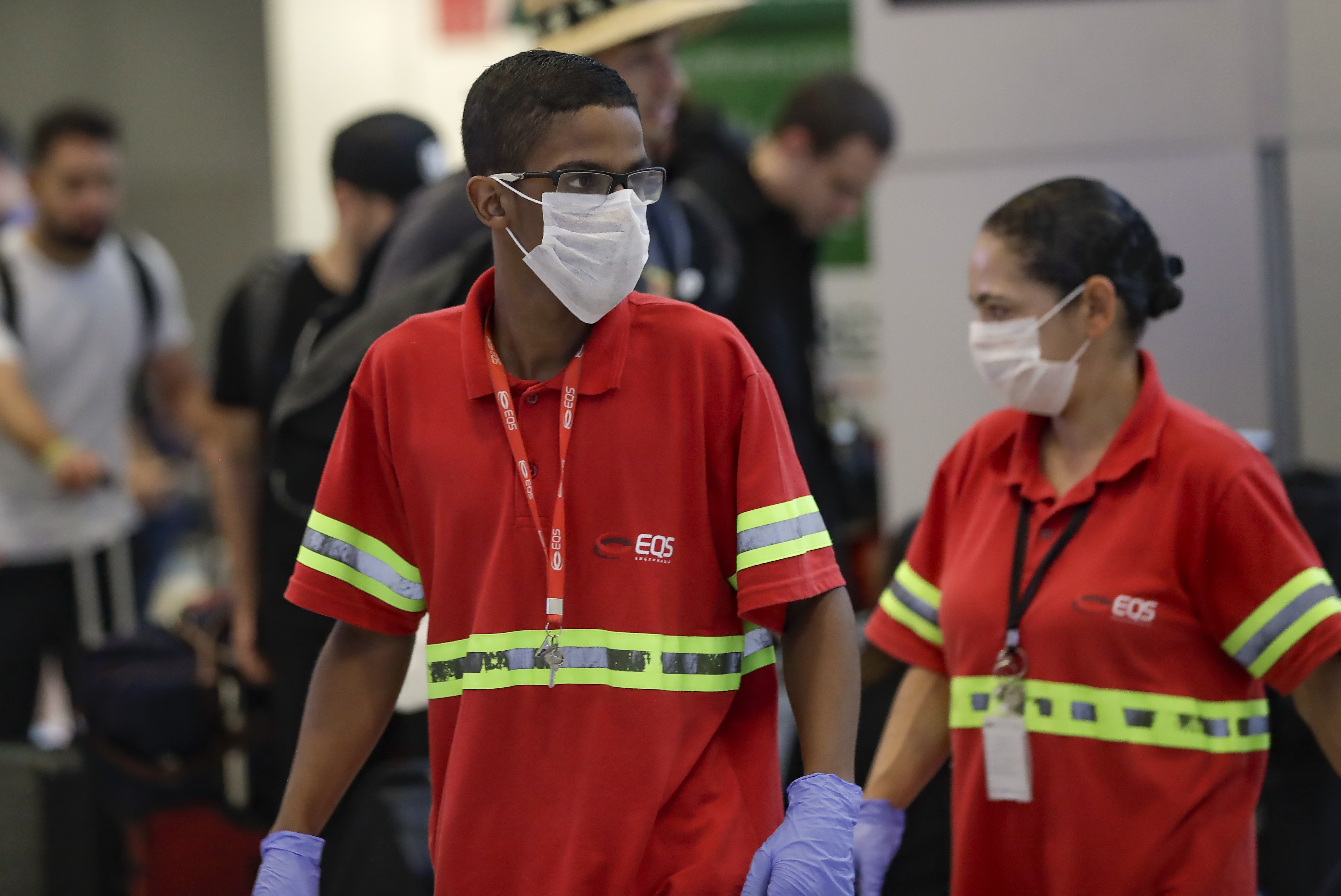 Brazil Confirms First Case in Latin America
Brazilian authorities said on Feb. 26 that tests confirmed the first case of the new coronavirus in the country. The 61-year-old man, who lives in Sao Paulo, traveled to Italy earlier this month.
The confirmed case is the first in Latin America. Previously, only the United States and Canada had confirmed cases in the Americas.
The man traveled to Italy between Feb. 9 and Feb. 21. He showed symptoms of the virus, including a fever, a cough, a sore throat, and a runny nose, authorities said in a statement.
Brazil has 20 suspected cases, one confirmed case, and 59 patients who have tested negative.
Leaked Documents Show Infections Much Higher Than Reported in China
The novel coronavirus outbreak in eastern China's Shandong province is much worse than officially reported, according to a series of internal government documents obtained by The Epoch Times.
Between Feb. 9 to 23, Shandong authorities underreported the number of infections every day, according to internal data compiled by the Shandong Centers for Disease Prevention and Control (CDC). The latter kept a tally of the number of patients who tested positive for the virus during nucleic acid testing—using a diagnostic kit to test body samples and detect whether they contain the virus's genetic sequence.
The Shandong CDC daily new infection numbers ranged from being 1.36 times to 52 times greater than the officially published data by the Shandong health commission and China's National Health Commission.
As of Feb. 25, the Shandong government stated that there were a total of 755 infections in the province. But the internal document showed that 1,992 people had tested positive for the virus via nucleic acid testing as of Feb. 23.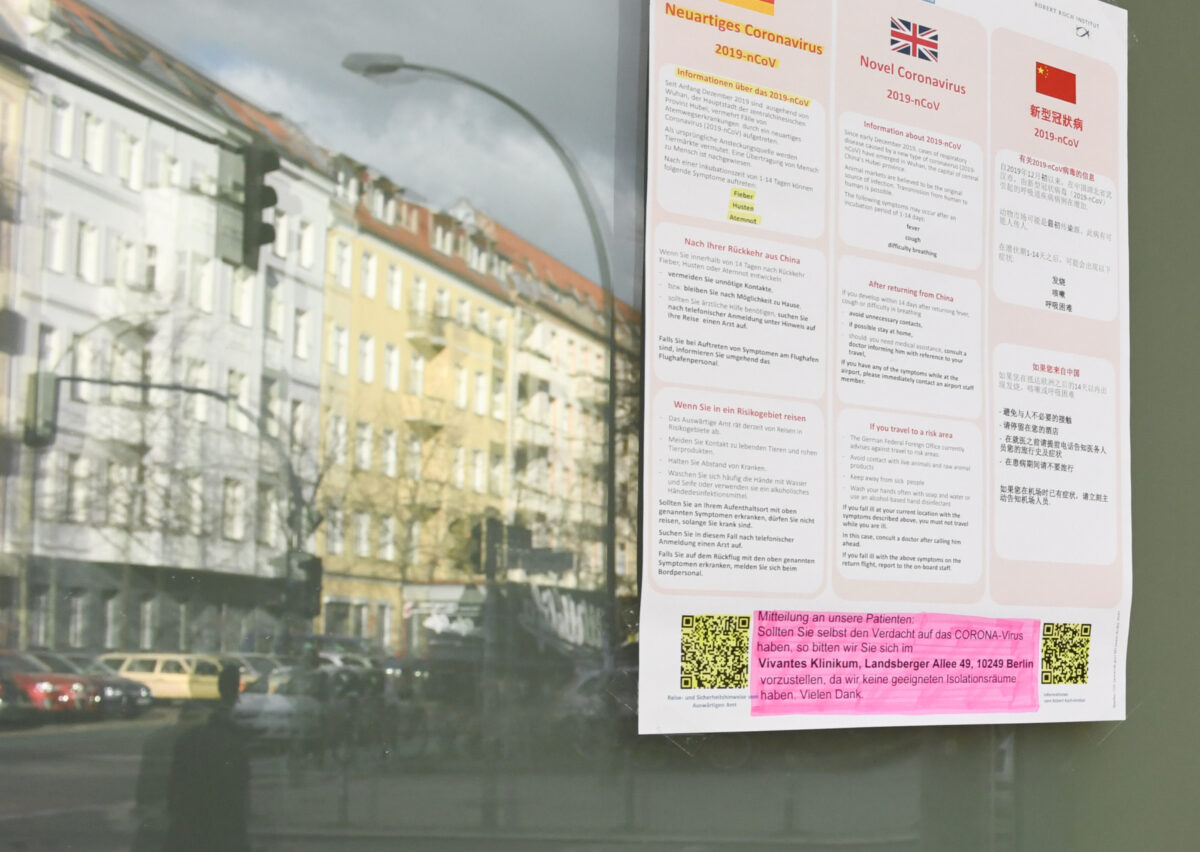 New Cases in Germany as France Reports Second Death
A 25-year-old man living in the southern German state of Baden-Wuerttemberg has tested positive for coronavirus after a trip to Milan, and another man further north is in a critical condition with the disease, authorities said on Tuesday.
The Baden-Wuerttemberg health ministry said the man in the southern state, who had likely become infected during his visit to Italy, had contacted authorities after coming down with flu-like symptoms. He will be treated in isolation, it added.
"People in close contact with the patient will be kept in home isolation and be asked about their state of health every day," it said. "As soon as a contact person develops symptoms, they will also be isolated in hospital."
In North Rhine-Westphalia, the state health ministry said the man there was admitted to hospital on Monday afternoon with symptoms of severe pneumonia.
"The patient is in a critical condition and is currently being isolated in the intensive care unit," the ministry said.
The new confirmed cases take to 18 the total number of coronavirus cases in Germany. There have been no deaths.
In France, meanwhile, a 60-year-old man, a teacher who didn't recently travel to any areas where the virus is spreading, died overnight at a hospital in Paris. Five other cases were confirmed in the country on Wednesday.
There are now 18 confirmed cases in France. Twelve patients have recovered from the virus. An 80-year-old Chinese tourist died in Paris on Feb. 14.
Russia Suspends Some Flights to South Korea
Russian Deputy Prime Minister Tatiana Golikova said on Wednesday that Moscow would suspend flights between Russia and South Korea from March 1 over coronavirus fears, except those operated by Aeroflot and Aurora.
Golikova said Russia would also stop issuing visas to some Iranian citizens from Feb. 28 and was advising Russians against travelling to Italy.
Flights arriving from South Korea and Iran would be received at a dedicated terminal at Moscow's Sheremetyevo airport, she said.
Other restrictions related to the outbreak which have been previously announced, would be extended by one month to April 1, Golikova said.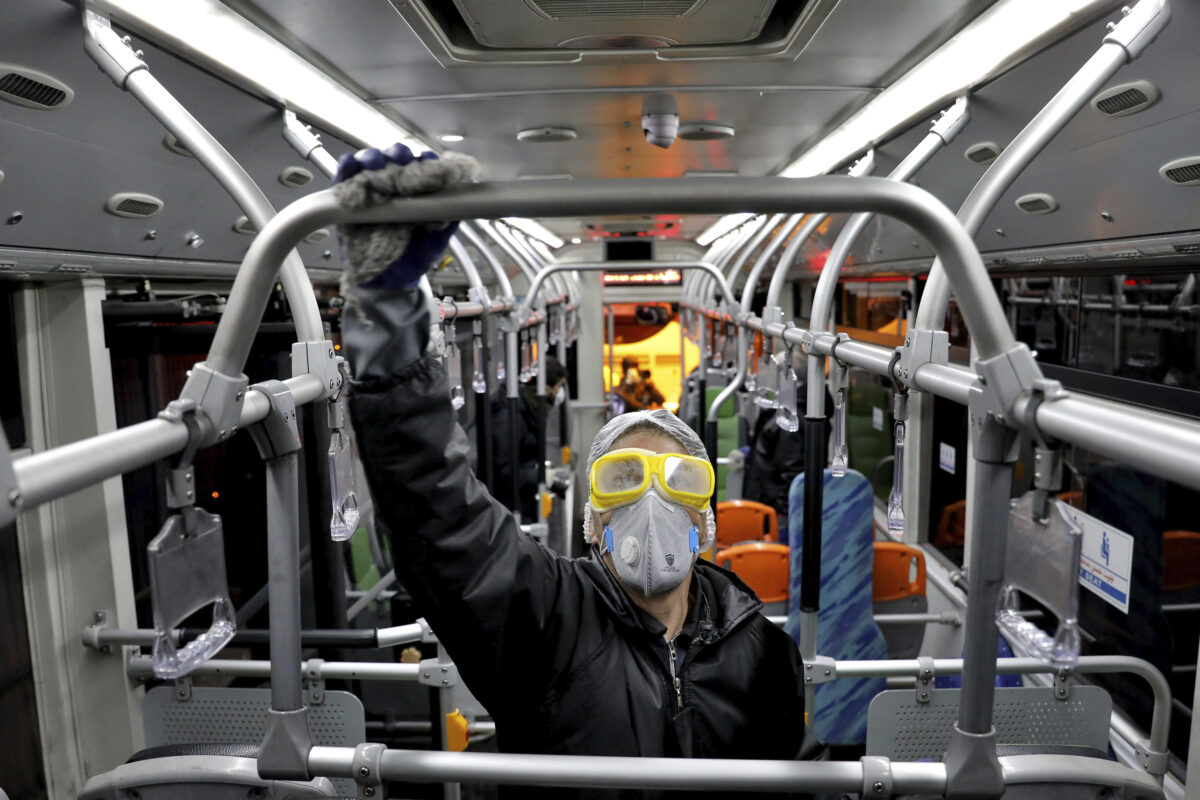 Iran Raises Death Toll to 19
Iran's president said Tehran has no immediate plans to quarantine cities over the new coronavirus rapidly spreading across the country, even as the Islamic Republic suffers the highest death toll outside of China with 19 killed amid 139 cases confirmed on Wednesday.
President Hassan Rouhani acknowledged that it may take "one, two, or three weeks" to get control of the virus in Iran, linked to most of the over 210 confirmed cases of the virus now spread across the Mideast. That comes after the top official in charge of Iran's response to the coronavirus tested positive for the illness after a day earlier trying to downplay the disease.
Still, Rouhani sought to portray the virus crisis in terms of Iran's tense relations with the United States.
"Coronavirus must not be turned into a weapon for our enemies to halt work and production in our country," Rouhani said, according to a transcript posted to the Iranian presidency's website.
Iranian state television reported Wednesday that 19 people have been killed by the new coronavirus amid 139 confirmed cases in the country so far.
The announcement by a state TV anchor came as Health Ministry spokesman Kianoush Jahanpour urged Iranians to avoid "nonessential travel," particularly to the hard-hit provinces of the country such as Gilan and Qom.
Experts remain concerned that Iran may be underreporting cases and deaths, given the rapid spread from Iran across the Persian Gulf. Ahmad Amirabadi Farahani, a hard-line lawmaker in Iran, alleged Monday there had been 50 deaths in the Iranian city of Qom alone, which was denied by authorities.
No Shortage of Drugs Due to Coronavirus For Now: US
The U.S. Food and Drug Administration (FDA) said on Feb. 25 that although there are currently no reported drug shortages due to the coronavirus outbreak, it anticipates the medical supply chain will likely be affected.
Stephen Hahn, commissioner of the FDA, told reporters Tuesday the agency has been proactively reaching out to hundreds of medical product manufacturers to gauge potential disruptions to critical medical products in the United States, and none have yet reported anticipated shortages.
"FDA is keenly aware that the outbreak will likely affect the medical product supply chain, including potential disruptions to suppliers [and] shortages of critical medical products in the U.S.," Hahn said.
"It's important to note that FDA is not aware of any medical product shortages at this time," Hahn continued, adding that the agency is monitoring several products that might be at risk, in particular shortages of medical products.
Hahn later elaborated and said that the United States could see shortages of personal protective equipment such as masks and gowns.
"There's no question that there's pressure on the demand side here," he told reporters. "We're keeping a very close eye on this and a forward-leaning approach, because we may in fact see some effect on the supply chain there."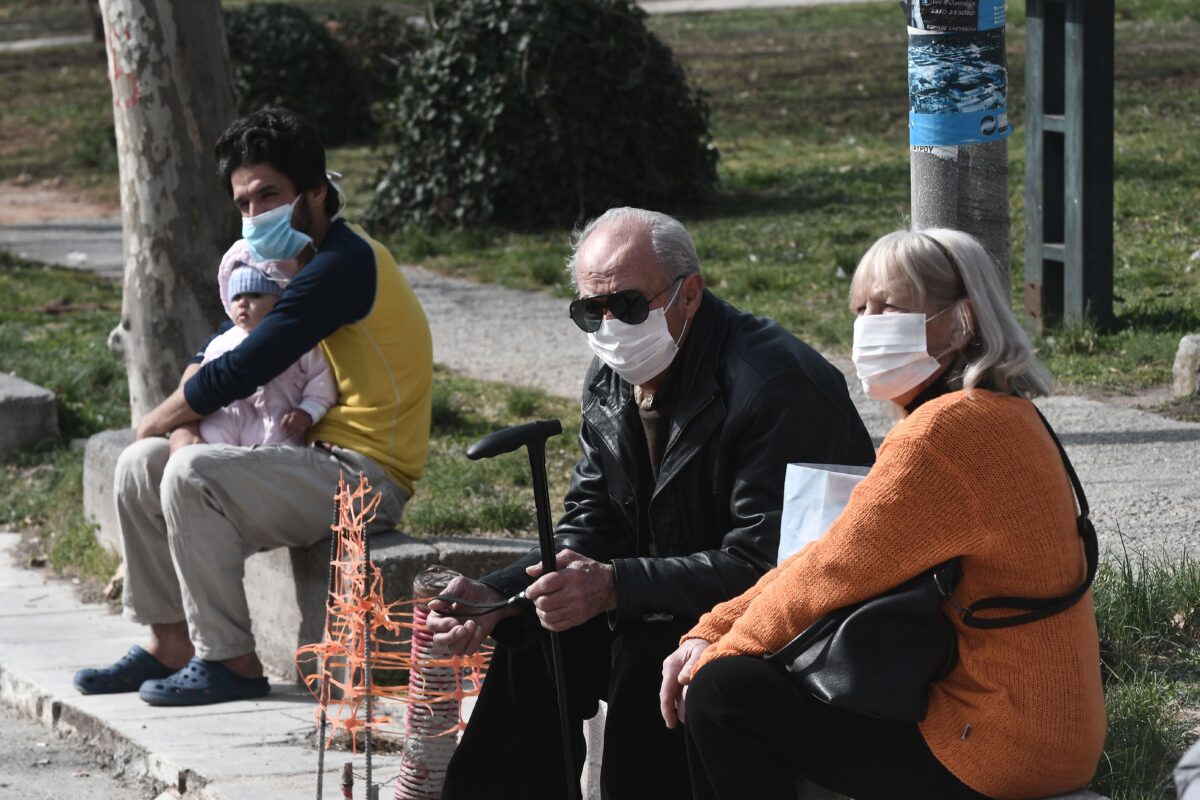 Australia to Close Schools, Cancel Sports in Event of Outbreak
Australia will close schools and cancel sporting events in the event of an uncontained coronavirus outbreak, Minister for Health Greg Hunt said on Wednesday, as the government accelerates plans to cope with a possible pandemic.
The new coronavirus, which causes the disease known as COVID-19, has jumped to about 30 countries and territories.
Australia has had 23 cases of the coronavirus but has thus far managed to head off a widespread transmission in the country.
That may change and Hunt met top state and territory officials on Tuesday to discuss plans if it does.
"If you had an outbreak in a particular city or state … you might close the schools or change the configuration of the hospitals to deal with that," Hunt told reporters in Canberra. "If it's in several cities or states, you do it according to the local needs at the time."
Preparations to cope with the virus come as sports-mad Australia is looking forward to the start of the National Rugby League and the Australian Football League seasons.
Hunt said some games could be canceled, though that would be a "last resort."
Australia has since Feb. 1 barred entry to anyone arriving directly from mainland China.
Last week, the government evacuated 170 citizens from the Diamond Princess cruise ship, which held been held in quarantine in a Japanese port with the virus running rife on board, and put them in quarantine for 14 days in northern Australia.
Hunt said an eighth person evacuated from the ship had tested positive for the coronavirus.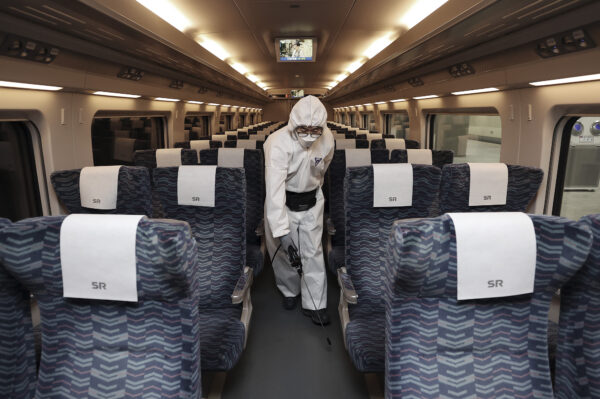 First US Soldier Infected in South Korea
A U.S. soldier has tested positive for coronavirus in South Korea, the U.S. military said, as the East Asian country sees confirmed cases of the virus surpass 1,100.
The U.S. Forces Korea (USFK) announced Tuesday that the 23-year-old soldier, who is stationed at Camp Carroll, is now in self-quarantine at his off-base residence.
Camp Carroll is located in the village of Waegwan, which is about 12 miles from the city of Daegu. Daegu and the broader North Gyeongsang province have seen the majority of known infection cases in South Korea.
According to USFK, the soldier visited Camp Walker, also in Daegu, on Feb. 24, and Camp Carroll from Feb. 21 to Feb. 25.
For updates from Feb. 25, click here.
Mimi Nguyen Ly, Nicole Hao, Frank Fang, Zachary Stieber, Isabel Van Brugen, Ileana Alescio, The Associated Press, and Reuters contributed to this report.