Cornell Tech a Hopeful Pillar of Silicon Alley
May 7, 2014 5:03 pm Last Updated: May 8, 2014 10:58 am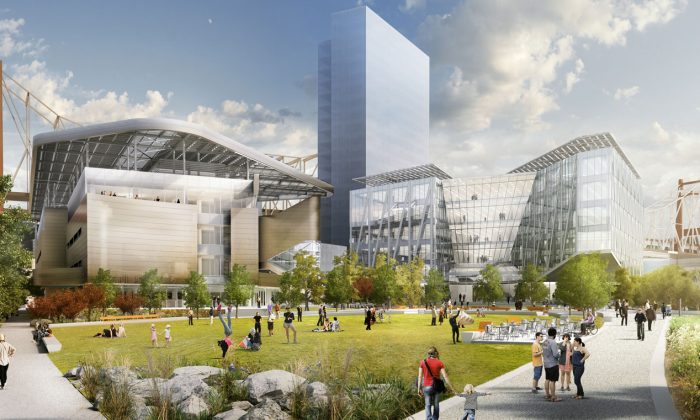 NEW YORK—A year ago, former Mayor Michael Bloomberg gave a keynote speech at Stanford University and challenged the students to bring the technology industry out of Silicon Valley.
"So I met his challenge," said John Basbagill, now a postdoctoral fellow at Cornell Tech in New York City. "I came here to bring technology to the architecture community. There's really no better place, in my opinion, to study issues in the built environment than New York."
From the way venture capital and startups branch out from Stanford University in downtown Palo Alto, it's easy to see the power of higher learning in fostering a strong tech community.
Bloomberg had been a huge cheerleader for bringing the tech industry to New York City. The $2 billion Cornell Tech Campus was his landmark achievement in this regard. Meanwhile, the gradual improvement in the city's quality of life has created a welcoming atmosphere for the tech community.
Now, as recent studies have proven tech to be a major economic driver for the middle class of New York City, Mayor Bill de Blasio has come on board as well. He is set to announce his technology plan during Internet Week on May 19.
Experimenting at Cornell
"I researched happiness before, and it wasn't that interesting," said Funda Kivran-Swaine, a PhD researcher at Cornell Tech. "I'm a very 'alone' person … but I was curious about when people have the opportunity to connect, and when they are connected, why are they still lonely?"
A conversation with Jacobs Institute associate professor Mor Naaman had sparked the question of the ailment of the connected age, Kivran-Swaine said, and she wondered whether lonely people had larger or smaller social networks. It quickly turned into a larger project, and became her dissertation.
"At the end of the day, I want to help people," Kivran-Swaine said. 
The dominant approach in studying language and emotion on social media in this realm has been to pinpoint people who might be at-risk or depressed, but Kivran-Swaine wants to take a preventative approach. 
"Social media sites give us some sort of unprecedented opportunity to observe people's behavior."
Cornell will launch its first connective media class this fall at its experimental center, the Joan and Irwin Jacobs Technion-Cornell Innovation Institute. Classes at Jacobs Institute will have more of a studio culture, Naaman said, integrating the city into the curriculum. 
The goal is to give students the tools to successfully launch a startup business upon graduation. Unlike the traditional university model, which takes years and years to transfer intellectual property, Cornell will act like an investor to students. It's a model the university expects to see academic institutions adopt worldwide, said Adam Shwartz, Jacobs Institute director.
Tech in New York City
While Silicon Valley is largely filled with high tech industries, New York City is the center of real estate, finance, fashion, and so on—a diverse group of mature industries. Cornell is taking advantage of the access to professionals from a variety of industries to connect students to the people they hope to work with, enticing them to stay.
"There isn't a corner of this city the industry doesn't touch," said Deputy Mayor Alicia Glen last month, releasing a report on the city's tech ecosystem.
Recent reports have shown New York City is becoming a serious contender with Silicon Valley for venture capital dollars, and the school will only help secure talent.
The school is currently tucked into the Google building and surrounded by bustling stores in Chelsea, but in 2017 Cornell Tech will move onto its Roosevelt Island campus. The hope is that, with the commercial space and large open spaces available to the public, it will be vibrant.
"We can invent the future a little bit, by using the city as a laboratory, and building systems that work for New York that may not be in any other place," Naaman said.
CORRECTION: An earlier version of this article incorrectly identified Ms. Funda Kivran-Swaine as a student. She is a PhD researcher. Epoch Times regrets this error.